Slime is all the rage. I mean, ALL the RAGE. Messy or not, kids fall in love with it time and time again! So many parents across the world are dealing with Borax-covered countertops, slimy dining room chairs and empty bottles of shaving cream strewn about the house. There's something that mesmerizes kids and they just can't get enough!
Kids love it and adults despise it! That's why we decided to help you plan your very own make-and-take slime party!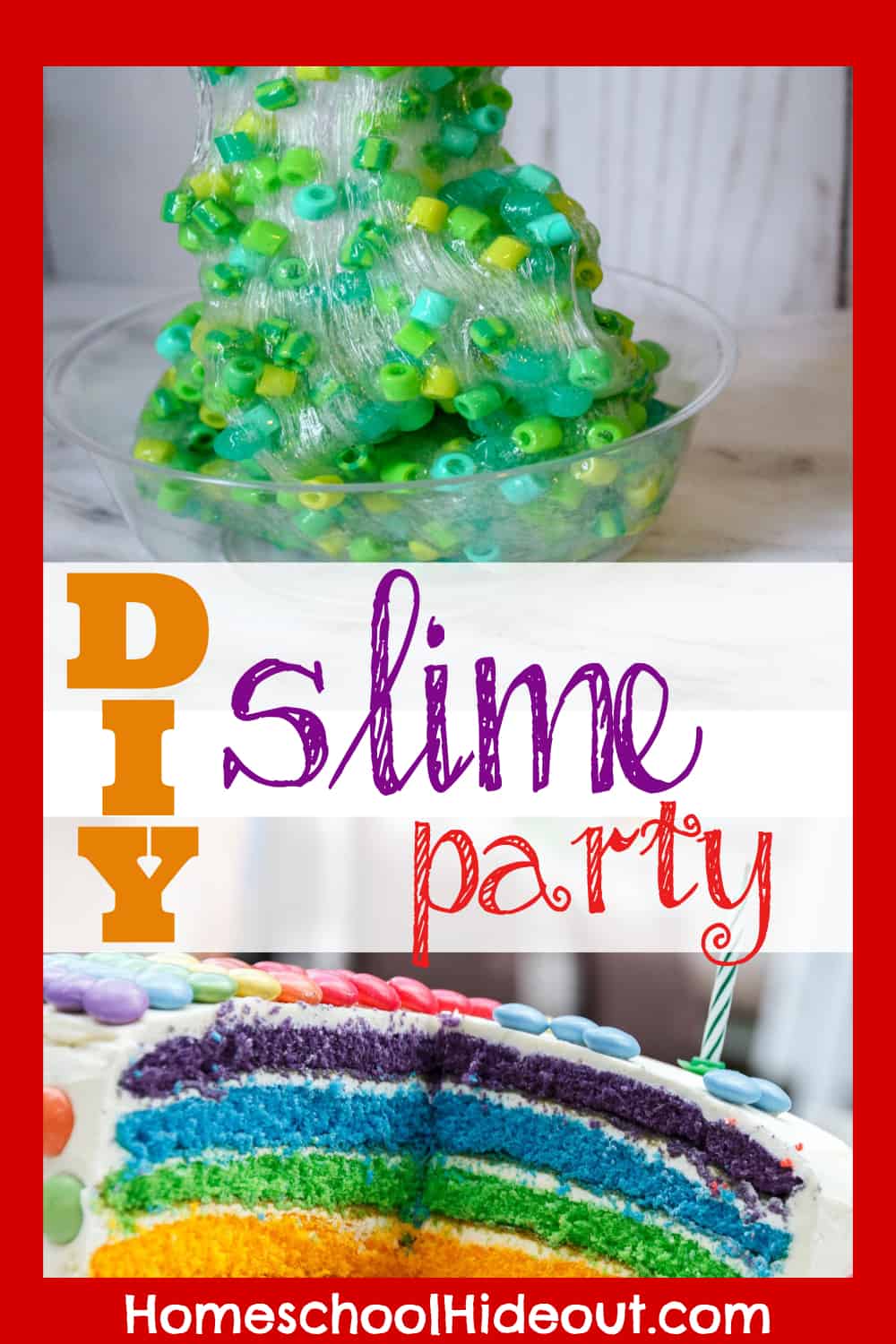 DIY Slime Party Essentials
Invitations:
There's not much that kids love more then receiving their own piece of mail. And opening up a birthday party invite may just be the most exciting part of a kid's entire week. While I used to love creating handmade invitations, it didn't take me long to discover that they were as time-consuming as they were expensive. Instead of wasting precious time and money, we just grab some fun and affordable invites from Paperless Post. They're already designed and ready to be customized. Check out the super cute splatter design, that's perfect for your slime party!
Set the Mood:
Gear up for your slime party with a fun T-shirt that screams your love of slime. But beware, your slime party WILL get messy! Make sure you provide enough cheap aprons that your guest can protect their pretty threads from the slimy mess.
Decorations:
The most important thing about a slime party is to keep it simple. Let the slime be the hit of the party. Simply decorate the table with a disposable table-cloth, as it WILL get messy. 😉
Activities:
Be prepared with plenty of ingredients and containers. The kids will want to create several different slimes and a variety of textures and colors. If you're not sure which slime recipes they'll love, check out our very favorites:
Each batch of slime only takes about 5-10 minutes to create, so be sure to have other activities and crafts ready to keep the kiddos busy.
Crafts:
Provide clear containers, stickers, paint sticks, and other fun art tools and allow the kiddos to design their own containers. You can even pick up some blank stickers and business cards to give their slimes a more professional look. They'll love creating, not just the slime, but an entire "brand."
Food & Snacks:
There's plenty of fun snacks that'll take your DIY slime party to the next level. For us, the cake was the main food, so we simply baked a couple of round cakes. After they'd cooled, we spread strawberry jam on top of one of the cakes and placed the second one on top of it. We covered both cakes with frosting and placed it in the cooler to chill. Once the frosting had hardened, we took our second batch of icing (in another color) and placed it in a bowl. This icing will need to be thin and more runny than the other. Simply pour the runny icing onto the middle of your cakes and let it drip off the sides. This will give the illusion of slime oozing off of your cake.

You can also dip Oreos or cake pops in the thin icing for the same effect! Or if you're up for a bit more work, check out this super fun rainbow cake.
Party Favors:
What's a slime party without some slime to take home!?! Have a few slimes set up for the kiddos to choose from as a treat bag. Or fill up your own goodie bags with a slime making kit. Kids will love being able to create their own slimes at home. Be sure to include add-ins, like beads, foam balls or small trinkets.
With so many kids obsessed with slime, your party is sure to be a hit! When all else fails, just remember that the KIDS don't even care about the littlest details. As long as they're having fun and getting messy, they will never even notice the things that we moms stress about the most! So just relax and enjoy your party.