Homeschooling high school is hard. With hundreds of high school elective ideas for homeschoolers available, it's no wonder it's a chore to narrow it down to just a couple. Most states require 24-26 credits to graduate, which leaves you with about 2-3 electives per year. Figuring out which ones work best with your schedule, budget and interests is a lot harder than one would think!
That's why we rounded up 100+ high school elective ideas for homeschoolers!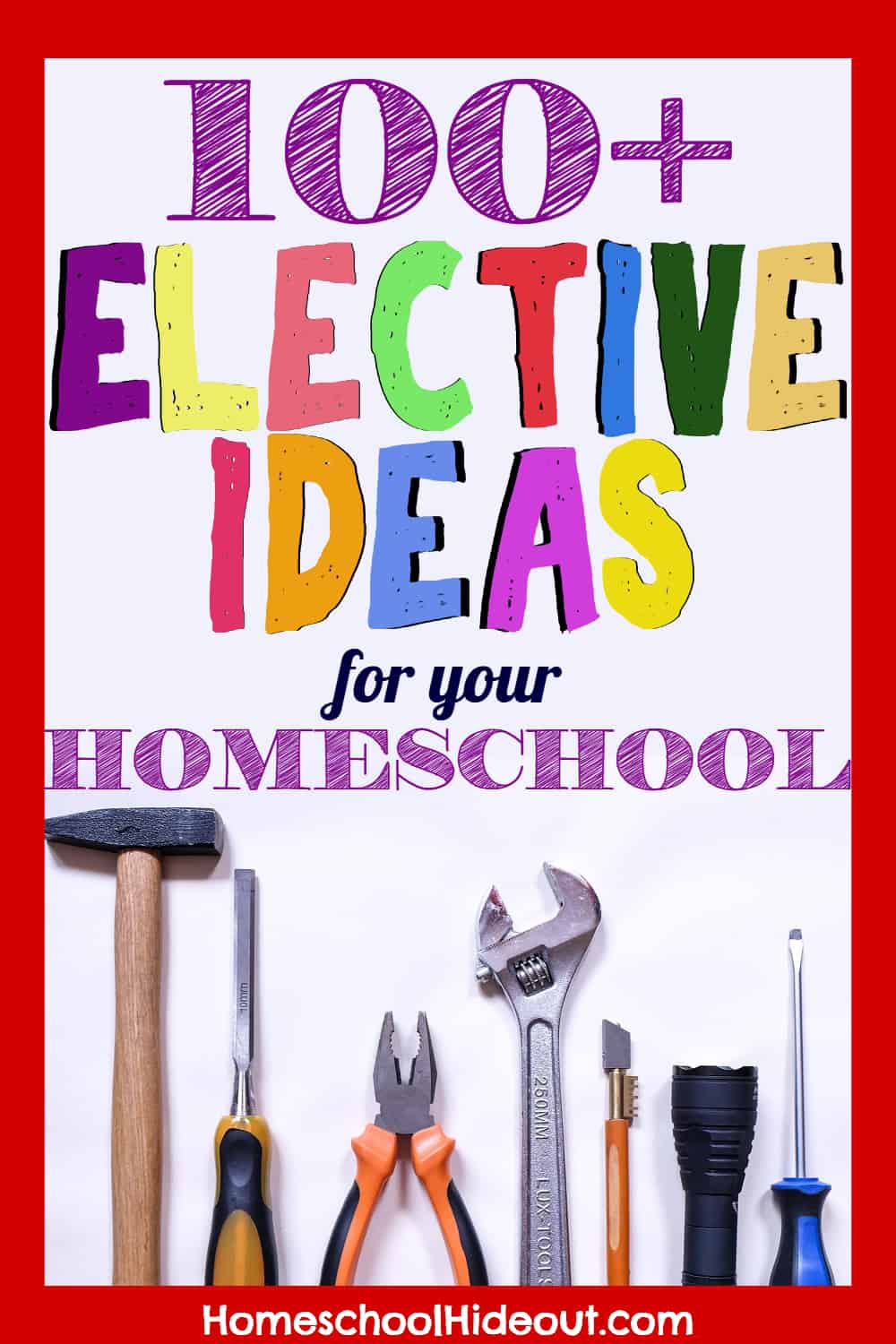 100+ High School Elective Ideas for Homeschoolers
Life Skills:
Prepare your kids for life after they move out by taking a "life skills" class in high school. This can cover everything you consider to be most important, from changing light bulbs to checking their own oil.
Foods/Cooking:
Allow your child to plan, purchase and prepare 2 meals a week. Not only will this teach them to cook, but also teach them to budget and plan wisely. For added fun, give them a theme to stick to. (Mexican, Harry Potter themed, meat less meals, etc.)
Entrepreneurship/Business:
Give your teens a head start in life by allowing them to brainstorm and create a new business. They can come up with a business plan, budget and hash out the details on their own.
Wood Shop:
Learning to work with your hands is a skill that is becoming less common. Allow your kids to complete wood projects. You can create anything from picnic tables to bookshelves!
Child Development:
I highly recommend every teen taking Child Development in high school. I didn't plan on having any kids, but 3 kids later, I'm thankful that I learned simple tips, like getting to a child's eye-level when talking to them.
Conservation/Nature Studies:
If you have an avid outdoorsman, conservation may be something they will love. Spend time outdoors trying to figure out what you can do to help in nature. A visit with the local Conservation Department will be super helpful.
Auto Mechanics:
From the basics like changing oil to the more detailed things like building a motor, auto mechanics is a class that will pay off for years to come!
Keyboarding:
Improve typing skills with a keyboarding class. This is perfect for anyone who plans to be an essay writer, work in an office or just wants to type more words per minute.
Pursuing a Career Certification
Instead of a traditional elective, your homeschooler could begin taking courses towards a career or job certification so they can begin work once they graduate from high school. As most people know, college degrees such as an associates or a bachelors are becoming more expensive and are often not applicable for the careers our little ones are pursuing.
Getting certified for certain careers is often more economical, and helps them begin working with a much higher pay out of high school than they would have earned otherwise.
The beautiful thing is that they can begin taking these courses while they're in high school instead of an elective for a variety of careers in IT, or even healthcare. As a first step, you could search for
programs and schools in Medical Billing and Coding
, Certified Nursing Assistants, Dialysis Technicians, and many more!"
Foreign Language:
Most colleges require at least 1 year of foreign language to apply but with so many options, it's easy to find something that tickles your fancy. From English, German, Russian and Portuguese to Latin, Italian and Hebrew, there's something for everyone!
Agriculture:
Raising your own animals, learning all about them and understanding their needs is a great way to earn a credit in agriculture studies.
Horticulture:
Growing your own garden can easily be considered one of the most popular high school elective ideas for homeschoolers. If you're worried about not spending enough time on your plants, consider looking into how you can use plants in medicine, food and irrigation.
Theater:
Many homeschool families join forces with their local theater to ensure their teens get plenty of exposure to theater. From stage hands to the star of the show, there's plenty of opportunities to learn.
Dance:
From ballet to interpretive dance, studying it can be tons of fun for those passionate about it!
Musical Instruments:
Learn to play a new instrument or two with a musical based class. Choose between piano, voice, guitar, ukulele, tuba, trombone, drums or all of the above!
Sports:
If your kiddo spends hours playing sports, it's fine to include it as a high school elective. From baseball to golf, there's a sport that everyone will enjoy!
Art:
Art is a great high school elective because there's so much to choose from! Painting, pottery, drawing, or sculpting are just some of your options.
Digital Marketing:
Learn the tips and tricks to successful marketing in the digital age. From utilizing the internet to understand what makes people click the "buy" button, digital marketing is a booming business.
Genetics:
Learn how you came about your eye and hair color as you explore genetics. The results will be as interesting as the entire class!
Wilderness Survival Skills:
From building a fire to seeking shelter from the weather, being able to survive in nature is a great skill to have! One thing to remember, you can generally forage for enough food for days but you have to know what's edible and what's not!
Film Making:
How cool would it be to create a film, written and directed by your high schooler? Not only does this teach editing skills, techniques and introduce technology but it will also create an amazing keepsake you'll treasure for years to come.
Creative Writing:
Creative writing is one of our favorite high school elective ideas for homeschoolers because it forces them to think outside the box. Exploring different types of writing and completing unexpected assignments helps build a strong writer.
PE:
Biking, running and other action-packed activities are perfect for earning a PE credit in your homeschool!
Game Design:
Teens tend to spend hours in front of devices, so allowing them to create and design their own game is a great way to help spark their creativity!
Culinary Studies:
Ever wonder how chefs create such amazing foods? Explore culinary creations and figure out how to create foods that will give your taste-buds a party!
Geography:
Learning the lands of the world is a great way to experience the world without ever leaving your home.
Forensics:
Learn to pay close attention to details with a forensics science class. Kids will love becoming detectives to try to solve the cases presented.
Psychology:
Take a peek inside the human brain with a fun psychology class. Learn about everything from Pavlov's dog to human development.
Blacksmithing:
Learn the basics of metalworking with a blacksmithing class. Towards the end of the year, you will have some awesome keepsakes, like knives that you've created with your own hands.
Marine Biology:
From dolphins to coral reefs, there's so much to study in the ocean! Learn all about wildlife, water and everything in between with a Marine Biology class.
YouTube:
Start your own YouTube channel and figure out how to grow an audience as you share your passion with others. From gardening to board games, there's an audience for literally everything!
Coding:
Create softwares, apps and websites using coding. The sky is the limit as you learn to tweak even the smallest details.
Health & Wellness:
Learn the importance of physical, mental and emotional wellness while understanding how your health contributes to all.
Economics:
Explore how households, governments and society use their resources in this interesting class.
Social Media:
These days, social media is a mega-market. Learn ways to use social media responsibly, grow a business and explore other benefits of technology.
Current Events:
Take a closer look into events that are happening in the world around us every single day. From the issues in America to poverty and wealth in other countries, discover how issues vary from country to country.
Bible:
One of our favorite high school elective ideas for homeschoolers is digging deeper into the Bible. Help your kids to question everything and seek answers for some of life's toughest questions.
Computer Science:
Techy kids will enjoy learning more and more about computers as they discover the world if IT, system analysis, and so much more.
Yearbook:
Keep your high school memories close by with a fun and hands-on yearbook class. Allow your child to include photos of field trips, class projects and even personal events in their yearbook. It's something they'll treasure for years to come.
Ag:
Discover the importance of the agriculture industry. From irrigation to farming, ag is incredibly important and a fun subject to study!
Photoshop
Erase fine lines and blemished with the touch of a brush. Create a glorious purple sky in the background. Swap out silly kids for a more presentable image of them. All these things can be done once you learn your way around Photoshop.
Web Design:
Create your own website and custom design with simple software and basic knowledge. You can create a website just because or to launch a future career.
Art History:
Ever wondered what Manet thought about while painting his famous works? Or where Picasso painted? Learn all about famous works of art and the history behind them with an art history class.
Screenwriting:
Write your own scripts for movies, short films, commercials or TV shows. Learn all about the industry, as well as tips and tricks to help you succeed.
Anatomy & Physiology:
Have a future nurse or doctor? Learn the human body and so much more with a human anatomy and physiology class.
Intro to Literature:
From British to American literature, there's something about reading popular books from other cultures that bookworms just love.
Mythology:
Study greek myths, roman myths or Hittite mythology in this fun elective.
Sign Language:
Often used as a foreign language credit, sign language is fun to learn and opens up many opportunities for you life.
Marketing:
Learn basic marketing strategies that will help boost sales, grow a business and make your company a household name.
Astronomy:
From the skies to the planets, there's so much to learn about astronomy! The universe has so much left to explore and there's no time like the present.
Critical Thinking/Logic
Solve word problems, figure out puzzles and put your brain to the test with a fun critical thinking and logic class.
World Religions:
Explore the religions of people all around the world while trying to discover how their beliefs originally came about.
Photography:
Learn everything from the rule of thirds to the laws of light in a fun and hands-on photography class.
Architecture:
From famous structures to how to design jaw-dropping buildings, architecture is a great choice for kids who love design.
Veterinary Science:
If you have a kiddo who wants to be a vet, there's no reason not to get started early on learning all about animals and veterinary science.
Real Estate:
Have a kid interested in homes? Real estate is a great way to get inside and see the insides of homes. Here they can see what sells well, learn design tricks and discover a huge opportunity to make some money.
Carpentry:
Learning to install trim, hang doors and set cabinets are skills that kids can easily learn, if given the chance.
Leadership:
Let your kiddos grab life by the reigns when they learn important leadership skills. Whether they will head up an entire company or just the PTA, these skills will forever come in handy.
Test Prep:
Shave thousands of dollars off your college education with a test prep class. You can boost your ACT score, figure out where to spend more time studying and learn test-taking tips.
Public Speaking:
Don't let fear hold you back! Public speaking is easy when you learn how to do it correctly. Your nerves will ease up once you know HOW to address an audience, as well as simple tricks to make you a great speaker.
Human Development:
Learn all about human development, from conception through death and you'll understand yourself and other humans so much better.
First Aid:
From CPR to how to stop bleeding, first aid is a skill that you pray you'll never need but if you do, you're prepared.
Construction:
Ever wanted to build a tiny house? How fun would it be to learn to run electric, water lines and hang sheet rock while creating your own tiny house!?!
Drivers Ed:
There are few things as important in life as learning to safely drive a vehicle. Learn the basics of car care and how to carefully drive a car, while earning credit for school!
Wood Carving:
Whittle, chip and carve your way to gorgeous works of art with a wood carving class.
Personal Finance:
Learning to manage your money is a skill that will pay off for years to come. Learning from pros like Dave Ramsey and Suze Orman or just use common sense saving, just like your grandparents did!
Poetry:
Studying poetry is a fun way to learn about different cultures, rhythm and prose. From reading poetry to writing your own, it's fun and works well for those who enjoy writing.
Women in History:
From Rosa Parks to Hillary Clinton, dig in and learn what's shaped some of the most famous woman who ever lived.
Fashion Design:
Whether you want to design a new wardrobe or just a prom dress made out of Duct Tape, fashion design is a fun way to learn about current trends.
3D & Animation:
Create fun animation and 3D designs with your computer or using old-school pencil and paper. Explore all the different types of animation, as well as how 3D images work.
Interior Design:
Learn basics like rug size,where to hang curtains and how to create a fluid movement in your home with a hands-on home interior class.
Pet & Animal Care:
If your kiddos love animals, there's no better class than animal care. Future vets will love learning about different animals while some kids prefer to learn all there is to know about one specific animal.
Sociology:
Explore the human society when you dig deeper during a sociology class. From culture to relationships, sociology covers a huge area of interaction.
Weight lifting:
Encourage your kids to push their limits with a weightlifting class. Build muscle, tone your body or just learn how to get the shape you want, while getting healthy, too!
Microsoft Office:
Become a pro at everything from Microsoft Works to Excel spreadsheets and all other programs that Microsoft has to offer.
Engineering:
From popsicle bridges to hand drawn sketches, applying math and science to projects will make engineering a great class for teens.
Stop Motion:
Who knew that moving inanimate objects to create a video could be so fun? Learn tips and tricks, while perfecting your editing skills.
Herbology:
Learning which herbs you can use to help you feel better is a skill that you will use for the rest of your life! Kids will enjoy digging deep into history and learning how herbs have been used for hundreds of years.
Costume Design:
Whether you've signed up for a theater class or you just want to create a gorgeous Comic Con costume, learning to design your own costume is as fun as it is handy!
Speech & Debate:
Whoever thinks it's a great idea to teach teens to debate must be crazy. That's generally a built-in skill. 😉
Learning to debate with class, making valid points and presenting your opinions in a tactful manner is a skill that many adults could stand to learn, as well!
Welding:
Welding is in HUGE demand right now. By allowing your kiddos to get a head start on their training, they can enter the workforce early and start earning big bucks!
Journalism:
If you kids enjoy writing and reporting, journalism is something that may be a great fit for them!
Volunteering:
Wether you choose to volunteer at a soup kitchen, food pantry or the Ronald McDonald House, volunteering is one thing that pays you back in blessings!
Accounting:
Math buffs will enjoy accounting and it's a skill that will pay them for the rest of their life!
Cosmetology:
If you've got a teen who loves doing hair and makeup, they can easily take a cosmetology class as a high school elective. Encourage them to try new styles, perfect their techniques and create their own YouTube videos to inspire others.
Horsemanship:
Learning to care for your horse, budget for their needs and learn the ins-and-outs of horse shows is a great elective for equestrian lovers of all ages.
Outdoor Explorations:
If your kiddo enjoys hiking, fishing, hunting or camping, an outdoor exploration course may be just what they need! Spending time outdoors is always loaded with benefits for your physical and mental health.
Alternative Energy Science:
Learn all about alternative energy ideas and how to save money on electric bills when you study alternative energy science. From solar panels to energy efficient homes, there's plenty to learn.
Myths and Legends:
From the Loch Ness Monster to The Spooklight, kids will love trying to learn the truth about myths and legends from years past.
Meteorology:
Studying weather patterns, learning the tools of the trade and even visiting your local news station is just the tip of the iceberg of what you can experience when you study meteorology.
Cartooning:
Budding artists will enjoy fine-tuning their drawing skills with a cartooning class. From basic illustrations to comic book drawings, teens will enjoy learning new techniques and skills.
Bee Keeping:
With the convenience of bee kits, it's never been easier to start your own hive. With bees around, your plants will be pollinated and you'll always have a fresh supply of honey on hand. And that's just 2 of the perks!
Robotics:
If your kiddo enjoys tinkering with robotics, you can easily create a high school elective for them. Simply give them a couple of projects that require them to stretch their thinking and skills outside of the box.
History of Rock & Roll:
Learn all about how music has evolved over the years and how rock and roll completely changed the way we listen to music!
Geneology:
Trace your roots by diving in to your genealogy this year. With technology like ancestry.com, it's easier than ever to find out who your ancestors were! Be sure to check your local library for free access to the site instead of spending hundreds on your own membership.
Crime Scene Investigation:
If your teens love Horatio Caine as much as mine do, choosing crime scene investigation may be a good choice for them! Let them learn the tips and tricks to solving murders, the tools of the trade and the technology that makes it all happen!
Leather Working:
If your kiddo loves creating things with their hands, leather working is one of the perfect high school elective ideas for homeschoolers to explore. Learn to design, cut and set everything from wallets to chaps.
Personal Safety:
In this day and age, you can never be too careful. Prepare your kids for the ugliness in the world with self-defense classes, internet safety tips and teaching them to be alert.
Blogging:
Did you know that bloggers often make a 6 figure income? It's a fairly easy job that has incredible perks, like working from home and setting your own hours. Get your kiddos a head start by allowing them to start a blog about something they're passionate about.
Cultures of the World:
Explore the cultures of the world, from Africa to Russia and from Hungary to Peru! Teens will love learning all about other country's cultures.
Criminal Justice:
For those who enjoy Court TV, they'll fall in love with learning all about criminal justice system.
When it comes time to start looking at high school elective ideas for homeschoolers, be sure to check back here, as we'll be updating the post with your favorite classes! Be sure to leave a comment below to let us know which electives your kids have loved the most!
---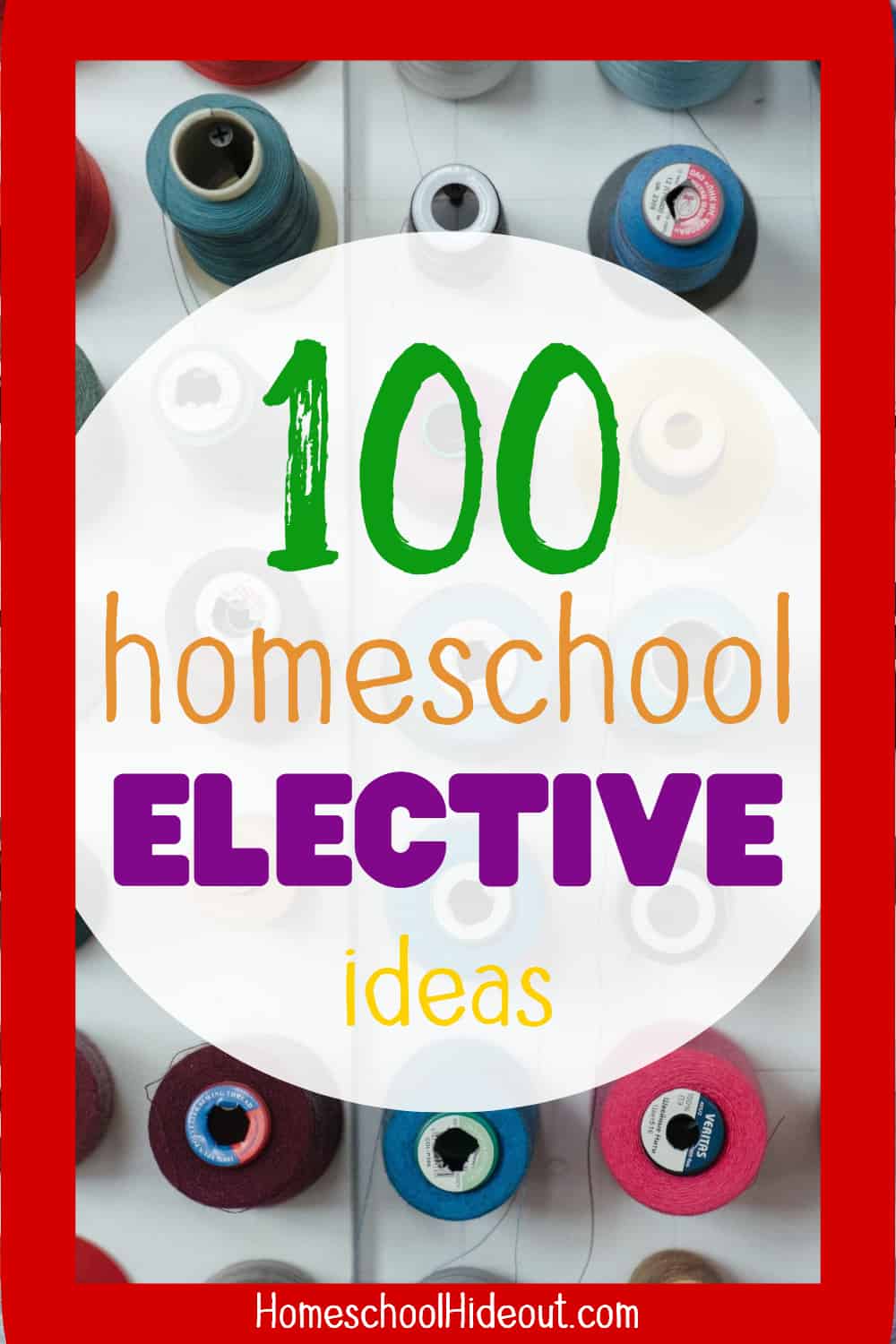 ---
Still struggling to plan the high school years? Check out this book, which we personally used as a guide to plan all 4 years of high school in under an hour!