There's nothing I love more than an adorable themed birthday party. Even better is when you can keep it on a tight budget, using things from around the house to set the mood. That's why I love these fishing party snacks!
When my little guy wanted a fishing birthday party, I had no shortage of decoration ideas. All I needed to do was set up a few fishing poles, serve the snacks inside a clean tackle box and hang a few fishing nets as the perfect background.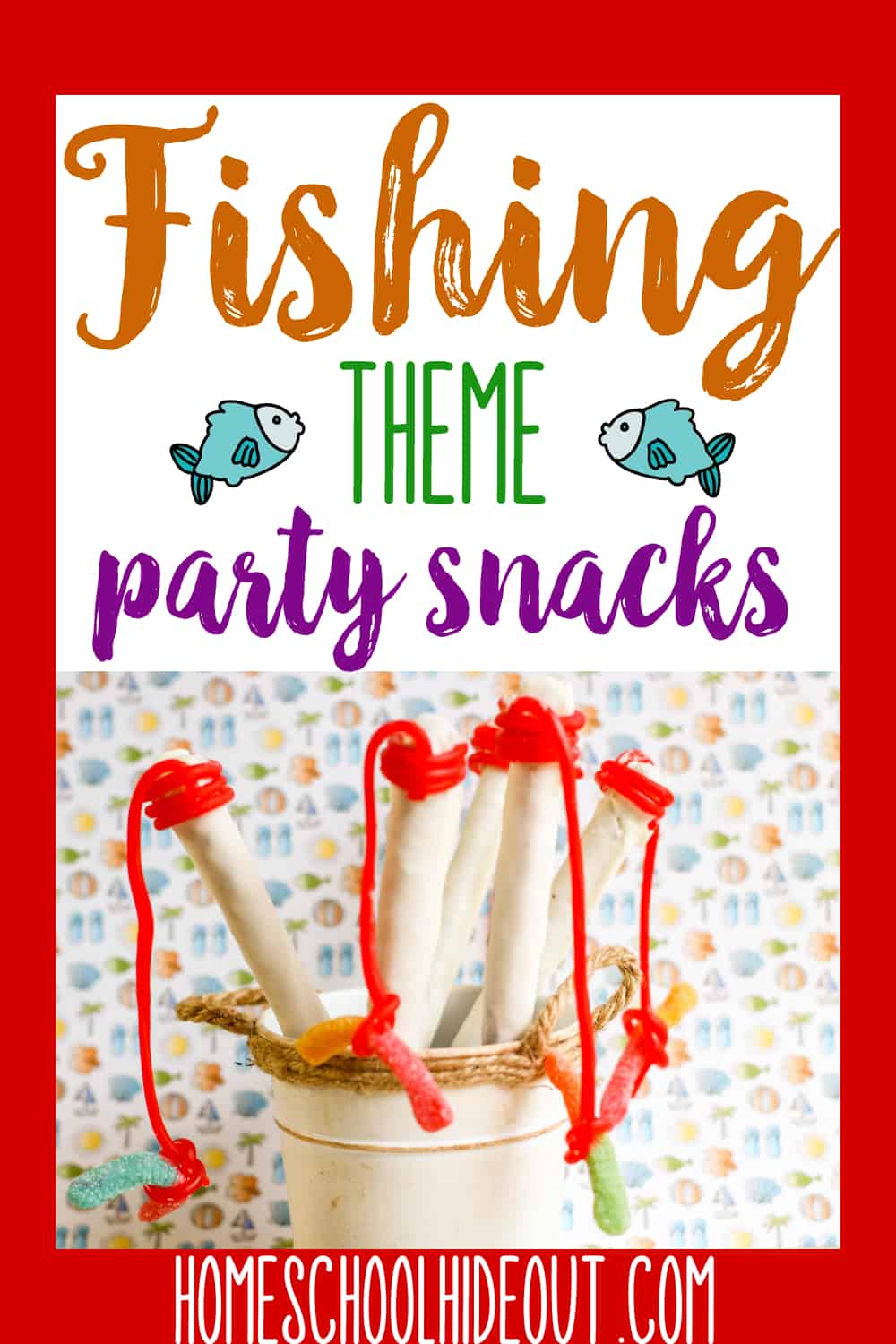 Fishing Party Snacks
But finding cute snacks to serve wasn't nearly as easy! Of course, I planned to serve Goldfish but I wanted something sweet to go with our favorite cheesy crackers. That's when I came up with these quick and easy fishing party snacks.
Fishing Rod Ingredients
White candy melts or vanilla-flavored almond bark
Twizzlers Pull and Peel Licorice Candy
Gummy Worms
This slideshow requires JavaScript.
Fishing Rod Instructions
Melt the candy coating according to package directions giving special care not to overheat the candy. If the candy coating is overheated, it will be too thick. You can add 2 teaspoons of vegetable shortening or coconut oil to help thin the candy but do not add any other type of liquid as the candy will seize and harden.

Pour candy coating over two-thirds of the pretzel rod and shake gently to remove excess. If applying sprinkles, do so immediately rotating the pretzel rods to coat all sides. Larger sprinkles work best if placed individually.

Place pretzel rod on waxed paper or cooling rack. I prefer waxed paper, because it releases easier, once dry.

Pull Twizzlers into individual strands. Dip one end of a Twizzler into melted candy coating and press against the coated end of a pretzel rod. Once the candy coating is set, use another Twizzler to wrap around the rod, using melted candy to hold the Twizzler in place. Allow to harden completely.

Tie the loose end of each Twizzler around a gummy worm.

Let pretzel rods dry completely before packaging or serving. Store in an airtight container at room temperature. Placing in the refrigerator may cause the pretzel to soften.
A few other things to make your fishing party the cutest thing ever!
There's not much I love more than a good ol' themed party!
I'm always looking for new ideas! Drop me a comment and let me know which themed parties have been a hit with your family.