When I was a little girl, I loved the excitement that came each year when May 1st rolled around. We spent the whole year brainstorming May Day ideas, from baskets to flowers to places we could hide after ringing doorbells! Then, towards the end of April, we spent several days preparing our baskets and treats to deliver anonymously to our neighborhood friends.
As an adult, I was shocked to find that many folks don't even know what May Day is!
You mean to tell me that they've been missing out on all this fun, year after year? Such a shame.
May 1st is one of only 4 cross-quarter days, meaning it falls between a solstice and equinox. (The other 3 cross-quarter days are celebrated on Groundhog Day on February 2, Lammas on August 1 and Halloween on October 31.)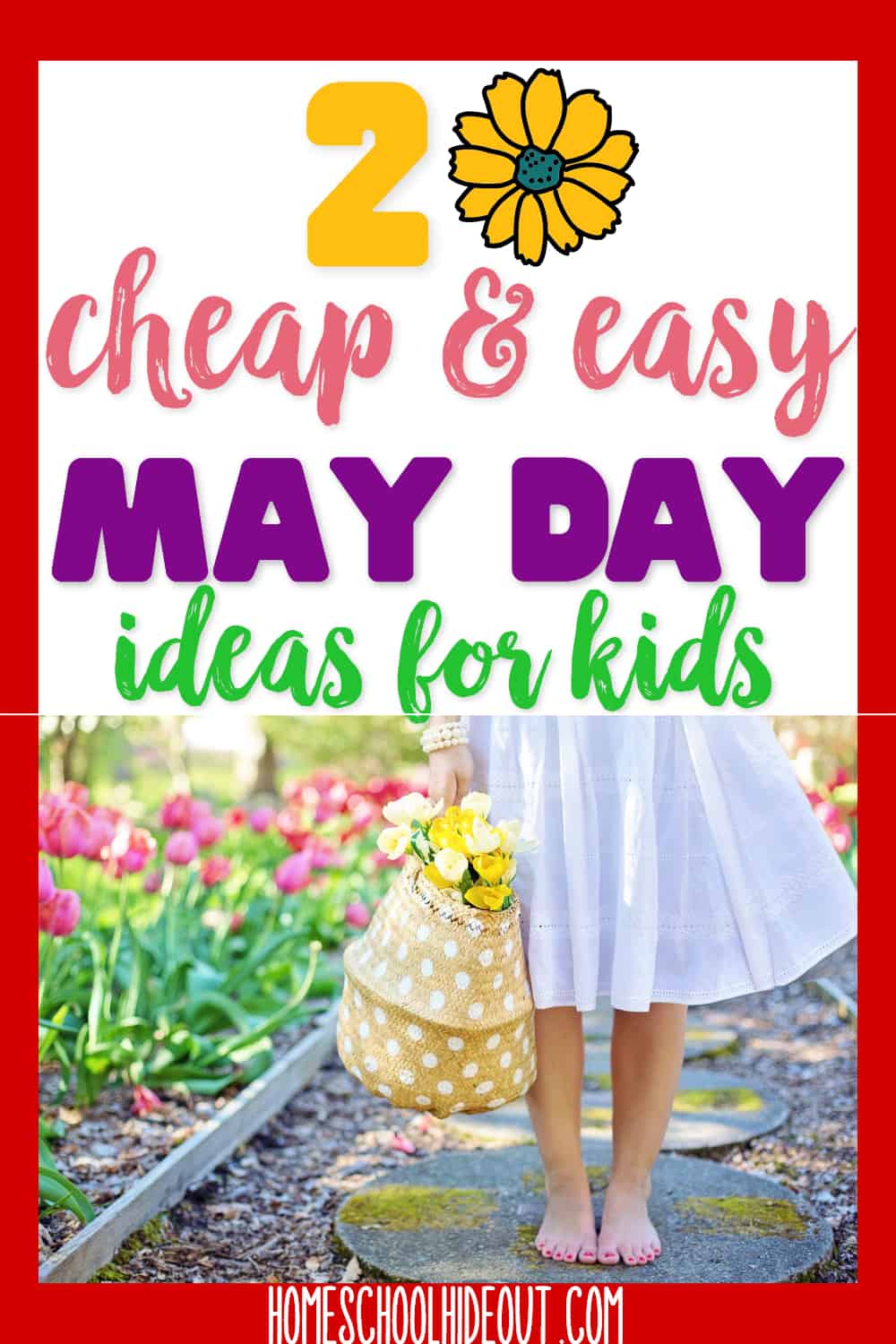 May Day originates from the ancient festival of Beltane. There are 2 commonly known traditions: the Maypole Dance and the anonymous giving of May Day Baskets filled with flowers and sweet treats.
May Day Baskets can be as simple or complex as you want them to be.
From store-bought items to home-grown goodness, there is always enough time to whip up a great May Day Basket that your neighbors are guaranteed to love.
The first thing we do is determine who will be receiving one of our May Day Baskets. We sit down with a pen and paper and the kids begin listing people whom they wish to deliver to.
Then we decide what goodies to fill our baskets with. Like Easter baskets or Christmas stockings, the possibilities are endless. However, the cost can add up quickly if you aren't careful.
This year, we decided to do May Day on a budget. With the kids' help, we came up with a list of items we could use to keep the costs down. By doing so, it has allowed us to create even more May Day baskets for more neighbors and friends to enjoy.
May Day Containers:
Tin Cans-
Dig through your recycling pile and find some tin cans. Simply hot glue a ribbon handle to the inside of the can and you have created a bucket. Let the kids decorate a strip of paper and attach it to the outside of the can for a personalized touch.
Paper Plates-
Simply fold a cheap paper plate in half, staple the side edges closed and you have a quick and easy container for your flowers. Delivering sweet treats? Fold a paper plate into a "to-go box" and fill with your yummies.
Paper Cone-
One of the most common May Day Basket ideas is to roll a piece of paper into a cone shape and attach a handle with brads or glue. These hang perfectly on door knobs.
Woven Paper Basket-
If you have plenty of time to work on your May Day projects, a simple basket made from weaving construction paper strips together is always a hit. The recipients will be able to use your basket long after May Day and are sure to appreciate the hard work your child put into each strip.
Brown Bags-
Short on time? No problem-o. Toss your goodies into a brown paper bag, tie with a pretty ribbon and leave it on the doorstep. Neighbors will love the gesture and won't mind the lack of effort. If you have a few extra minutes, let the kiddos decorate the bags.
Plastic Cups-
Those red plastic cups now come in all sorts of spring colors. Poke a hole on each side, thread a wire through and call it a done deal.
Baskets-
The dollar store carries all kinds of baskets in all shapes and sizes. Drop by and pick up a few for a quick and easy container. Line it with some pretty tissue paper if you want to add some color.
Mason Jars-
Wrap the mouth of the jar with wire or ribbon and these cheap containers will hang perfectly from doorknobs.
Leftover Party Hats:
You can usually find these in colorful fun prints at the dollar store. Simply use the cone-shaped hat as your basket and the chin strap to hang it from the knob.
Fill It With Flowers:
Fresh Flowers-
Whether you swing by the supermarket or spend hours picking wild flowers, your recipients will love the fresh bouquet found hanging on their door knob.
Tissue Paper Flowers-
Tissue paper flowers are both quick and easy for kids to whip up. You can generally pick up packages of colorful tissue paper at the Dollar Tree so you can afford to make a rainbow of colors for each bouquet.
Egg Carton Flowers-
This is a fun craft for anyone who has a lot of egg cartons lying around. Cut and shape each cup as a flower. Paint with bright colors and glue to a painted popsicle stick or pipe cleaner stem.
Lollipop Flowers-

Simply cut a flower shape from construction paper and insert a lollipop through the middle
Potted Plants-
Spruce up a terra-cotta pot with some paint then add a couple of potted flowers. You can generally buy them for about $2 for 6. These are perfect for grandparents who like to place them in the window sill and be reminded of your kiddo often.
Hand print Flowers-
Who doesn't love an adorable hand print craft? Cut out your little ones handprints and add a fun stem. Whether you use paint or let your kids decorate each hand print, this is one May Day Basket that won't be forgotten.
Other Contents:
Candy Bouquets-
Neighborhood kids will love a candy bouquet in place of flowers. By hot gluing small candy to skewers, you are sure to make their day!
Baked Goods–
Spend the day baking up a storm and surprising neighbors with your tasty treats! Brownies, cookies, Rice Krispie treats, Chex-Mix, muffins, trail mix or any other fun snack would be perfect!
Seed Packets-
A fun alternative for the green thumb in your family is an assortment of seeds. Arrange them in a fun basket or container and let them grow their own May Day flowers.
Homemade Art-
Instead of a basket, consider leaving a canvas painted with your favorite spring flowers. Not only is it fun to receive, but they can also display it all year round.
Activities-
Splurge and make one basket even better with added bonuses like Redbox gift codes, bowling alley gift cards, theater tickets or other special tokens. Consider this basket the "golden egg" and allow the kids to choose who receives it each year.
Looking to spread the cheer to others besides your friends, family and neighbors?
Consider delivering a May Day Basket to one of the following:
Fire Departments
Police Departments
Dentist Offices
Churches
Doctor's Offices
Grocery Stores
Libraries
Any other place you visit frequently with your kids!
Helpful Tips:
You can always leave the baskets on your favorite people's car mirrors or windshield so they'll have a fun surprise waiting after a long day of work.
If you are leaving baked goods, you may want to consider leaving a note with your name. While not as fun as anonymous baskets, most people wouldn't eat a home-baked treat without knowing who dropped it on their stoop.
If you are leaving chocolates be sure the recipient is home or will be receiving the basket quickly, before the candy has a chance to melt under the hot sun.
It's always a good idea to decide which kid will deliver each basket ahead of time, so you aren't spending extra time in their driveway and becoming more likely to be spotted.
Remember your mission is to hang the basket on the door knob, ring the doorbell and bail before the lucky recipient spies you. If you get caught, the recipient will give you a kiss in exchange for the treat.
This fun holiday tradition is almost a forgotten one, but by celebrating it with these 20 fun May Day ideas, your kids will make memories that they'll never forget!
Grab these quick and easy printable May Day tags
when you join our weekly mailing list!
---
PIN IT FOR LATER!