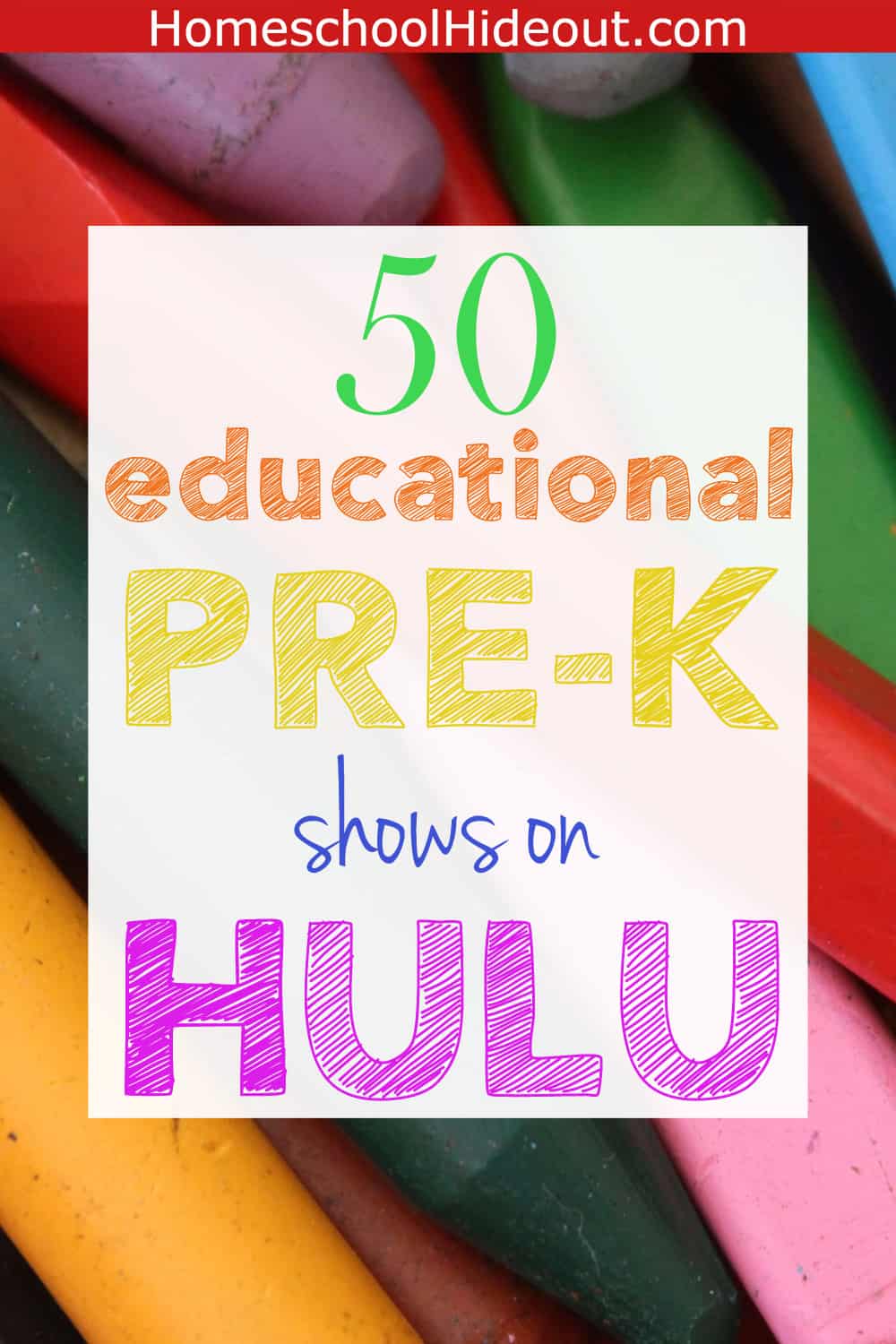 Some days with preschoolers can be downright rough. Between bouncing off the walls and the mood swings of a pregnant woman, the energy they require is more than some of us can muster on any given day. With constant attention needed, to say that preschoolers are exhausting is an understatement.
Some days, we NEED to plop our kiddos in front of the TV for a few minutes of peace and quiet. (Is that even a thing when you have young kiddos at home?!?) It's nice to have a safe list to turn to when your brain needs some "Mommy Time." We know the dire need for quality preschool shows that don't turn your brain to mush. That's why we rounded up 50 of the best educational preschool shows on Hulu for you. Now, go kick back and relax (or pick up your preschooler's mess from lunch) while your kiddo grows his mind and keeps you sane while watching his favorite shows.
50+ Educational Preschool Shows on Hulu
I Spy
Ruff Ruff, Tweet and Dave
Sid the Science Kid
Color Crew: New Adventures
Harry the Bunny
Color Crew
Tayo the Little Bus
Baby Class
Baby U
BabyFirst Nursery Rhymes
Songs & Rhymes
Charlie and the Numbers
Billy Bam-Bam
Oliver
Big Bugs Band
Stick with Mick
Bath and Bed
Cuddlies
Maya and Yaya
Grandpa Joe's Magical Playground
Draco
Jammers
Eggbird
In the Giggle Park
Tulli
Pitch & Potch
Playtime
Flip and Flash
Doc McStuffins
Paint Me a Story
Tiny Beats
Kenny and Goorie
Pim & Pimba
Hungry Henry
Look Around You
Hippa Hey
Best of Baby TV
Vegimers
Tricky Tracks
Crafty Rafty
Sheriff Callie's Wild Wild West
Wooly
Mr. Snail
First Discoveries
Walter & Dude
Things I Do
Summer Time
Handy Manny
Henry Hugglemonster
Miles from Tomorrowland
Bunnytown
From letter and numbers to colors, there's an educational preschool show on Hulu for everyone! The hardest part is picking which one to watch next!
If you're not currently a Hulu subscriber, now is the PERFECT time to sign up!
(And make it a goal to see how many of the educational preschool shows on Hulu you can watch before your free trial expires!)
Looking to continue educating your kiddos at home? Check out some other resources that will make your life SO MUCH EASIER!
Educational Shows to Stream
100 Educational Shows on Netflix
100 Educational Shows on Amazon Prime
Need to make homeschooling easier on you?
Homeschool with Usborne Books and More
Think you can't afford to homeschool? Think again!
Smart Ways for Homeschoolers to Spend their Tax Return