With technology constantly changing, it's important that we utilize it to work for us, rather than against us. With new resources, such as Amazon Prime and Netflix, there's no reason you're still watching boring documentaries time and time again. Add some excitement to your day with educational shows on Hulu.
At under $12 a month, Hulu is a great alternative to mindless garbage often found on cable TV. And for just a fraction of the price, you can still catch your favorite reality TV shows, newscasts, family sitcoms and other popular TV shows, as well as an entire library of movies and shows.
From family classics like Family Matters to hilarious modern movies, like Daddy's Home, there's something for everyone of Hulu. Kids will fall in love with some of the hidden treasures of Disney. (Aristocats, Jungle 2 Jungle and The Sword in the Stone, just to name a few.) Parents will love having all of their favorite guilty pleasures in one spot. (Real Housewives of Atlanta, Keeping up with the Kardashians, and Saturday Night Live.)
But along with all the fun and witty shows, there's also a treasure chest of educational shows on Hulu. From documentaries to reality TV, there's enough to learn something new everyday!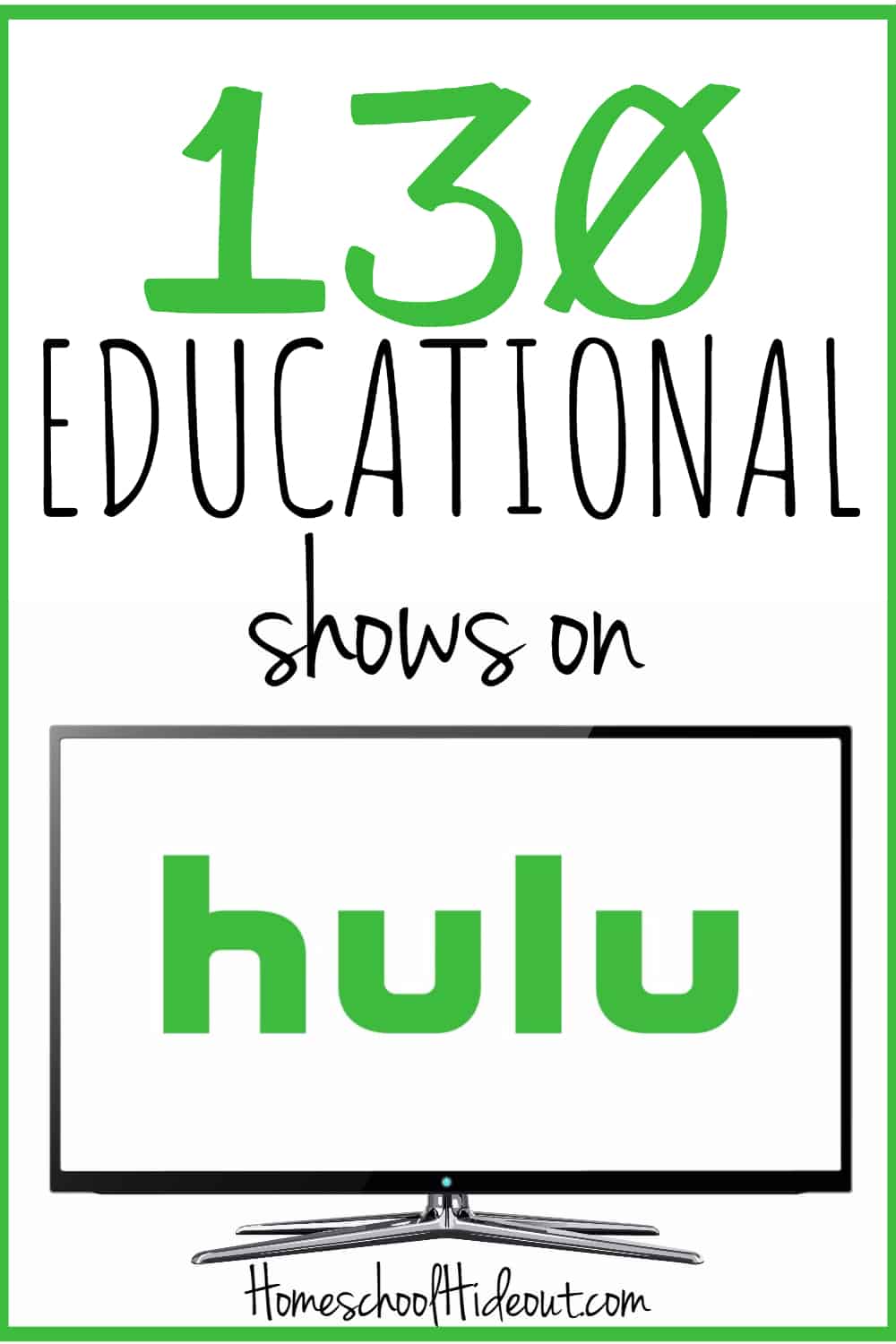 9/11: 15 Years Later
He Named Me Malala
Man on Wire
March of the Penguins
Bigger, Faster, Stronger
Barbara Walters Presents: American Scandals
Mosquito
Shark Dive
Wrenched
Dark Side of the Sun
---
Sonic Sea
Sacred Cod
Racing Extinction
Dr. Oakley: Yukon Vet
Killing Colorado
Telescope
Hero with a Thousand Faces
14 Minutes from Earth
Future Baby
The US vs. John Lennon
---
Forged in Fire
Michael Jackson: Life, Death and Legacy
Soul
7 Days in Syria
Journey to Space
How to Build a Time Machine
Rancher Farmer Fishermen
Burt's Buzz
Man-Eating Python
Roving Mars
---
Ghosts of the Abyss
Butterfly Girl
The Reagan Show
Food Evolution
Coal Rush
Straight/Curve: Redefining Body Image
This Small
WalMart: The High Cost of Low Prices
Rethink Afganistan
Mad Hot Ballroom

---
The Cove
The 25,000 Mile Love Story
Cup of Culture
Touch of the Light
The End: Inside the Last Days of the Obama White House
Men in the Arena
Under the Gun
From the Kill Pen
Chicken People
The Boy From Geita
---
A Conspiracy to Rule: The Illuminati
At the Fork

The Hunting of the President
Money for Nothing: Inside the Federal Reserve
Born Rich
No Place on Earth
A Place at the Table
Sit, Stay, Ride: The Story of America's Sidecar Dogs
Crossfire: The Plot that Killed Kennedy
Ben Collins: Stunt Driver
---
Sherpa
American Sasquatch Hunters
Life in a Walk
Trumped
See the Keepers: Inside the Zoo

WIN!
Milk Men: The Life and TIme of Dairy Farmers
The Kennedy Curse: The Unauthorized Story of the Kennedy Family
Fat, Sick and Nearly Dead
Dr. K's Exotic Animal ER
---
My Father's Vietnam
Tanked
RiverMonsters
WildWest Alaska
Nasa 360
Don't miss out on more lists of educational shows!
Life After: Chernobyl
Curse of the Frozen Gold
Horrible Histories
Myth Busters
Gold Rush
---
Alaska: The Last Frontier
Deadliest Catch
Dual Survival
Alaskan Bush People
Man vs. Wild
American Tarzan
Trailblazers
Cooks vs. Cons
Nasa X
How It's Made
---

What on Earth?
Survivorman
Ghost Adventures
Rick Steves' Europe
Ghost Adventures
Expedition Unknown
Xploration Space
DIY Sci
Xploration Earth 2050
Six
---
Xploration Animal Science
Nature Knows Best
Vikings
The Curse of Oak Isand
Barbarians Rising
Mountain Men
Xploration Awesome Planet
Hunting Hitler
Roots
The Kennedys
---
The Incredible Dr. Pol
Animal ER
Savage Kingdom
Snake City
Big Cat Week
Destination Wild
Live Free or Die
Doomsday Preppers
Wicked Tuna
The Boonies
---
Nasa Television Documentaries
The Long Road Home
Animals
Surviving 9/11
National Geographic Live
Shark Super Highway
Homicide Hunter
Disappeared
Anita
Scott's Pizza Tours
---
If you're not currently a Hulu subscriber, now is the PERFECT time to sign up! Click here for a FREE 2 week trial.
(And make it a goal to see how many of the educational shows on Hulu you can watch before your free trial expires!)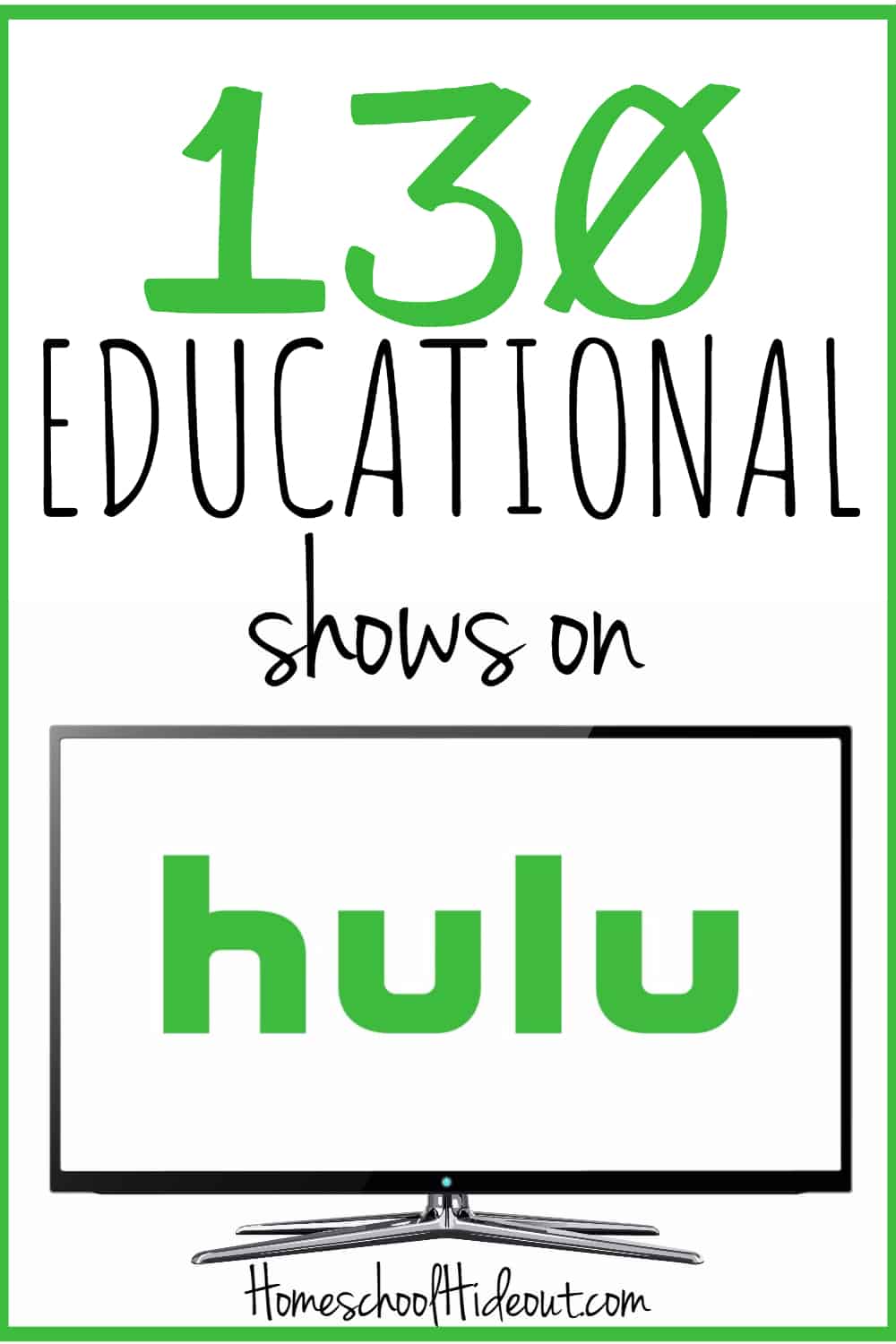 With so many options, you can take your pick of educational shows on Hulu!
The kids will love it and you will, too!
---
This post is part of iHomeschool Network's 100 Things Roundup.
Click below to check out more homeschool inspiration from the top homeschool bloggers.