If you've been around here for long, you know I'm what I like to call a "lazy mom." No, I don't sit on the couch all day eating potato chips but I do like to find myself shortcuts to make my life easier. One of the best things I've ever done for our homeschool is allowing myself to let our TV teach our kiddos. Between Netflix, Hulu, Amazon Prime and YouTube we've never lacked educational shows to watch. But when I stumbled upon Curiosity Stream, a whole new rabbit hole opened! Now, I'm pumped to be able to homeschool with CuriosityStream, too!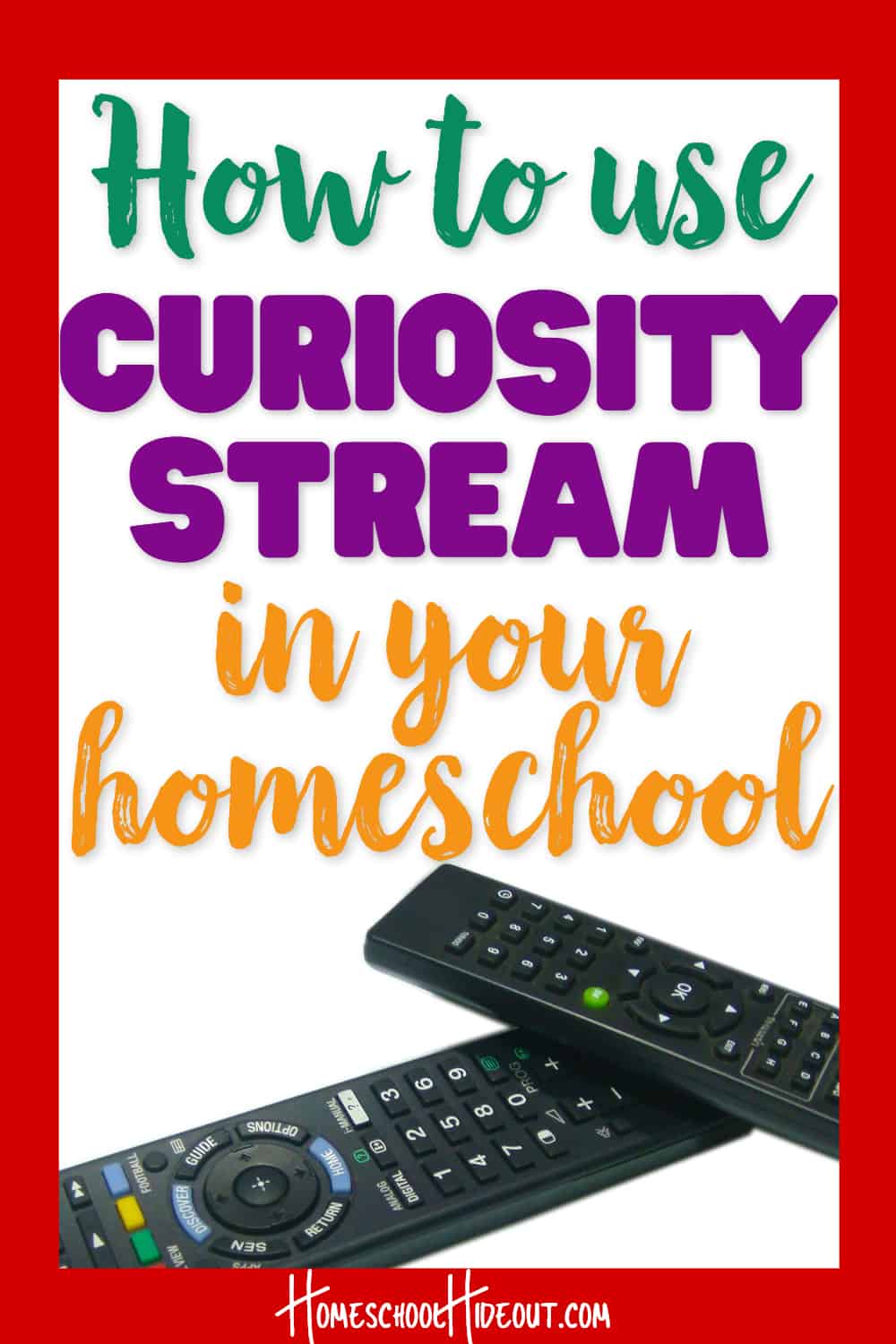 What is CuriosityStream?
CuriosityStream is an online streaming service that offers thousands of documentaries and educational shows to curious viewers. Each week, new series and films are added to the expansive library, helping to discover new interest or dive even deeper into the things that inspire the most.
From nutrition and nature to history and geography, there's literally something for every single person. Our family has fallen in love with CuriosityStream and I've fallen in love with the fact that my kids are enjoying learning. After all, what mother wouldn't be happy that their kids have traded in hours of "King of the Hill" to binge-watch 18 episodes of "To the Moon and Beyond?" CuriosityStream has literally changed the tune of our family's TV programs.
Is it Budget-Friendly?
So how much does an educational film streaming service cost you each month? I'll give you a hint: CuriosityStream will cost you no more than the Andrew Jackson in your wallet. That's right, folks. For $20, you can have your own subscription to CuriosityStream. But here's the bombshell: it's not $20 per month! In fact, it's only $20 for the entire YEAR! For only $1.67 per month, your family will fall in love with history, nature and health! That's less than the cost of renting one movie from Redbox and much, much cheaper than the monthly price of other streaming services. 20 buckaroos is a price that makes this homeschool mama smile! Not to mention that if you plan to homeschool with CuriosityStream, it'll save you bukus of bucks on supplemental curriculum!
How and Where Can I Watch?
I was bummed to find out I couldn't stream CuriosityStream on our old XBox 360 console. But, that thing was already about to kick the bucket, so it wasn't a huge deal. All I had to do was grab an inexpensive Amazon Fire Stick and I was up and running!
If you're new to streaming, using a VPN can make all the difference! You can find a list of the best vpn for streaming and tips for making it work for you.
Because I'm not all that tech-savvy, I headed to the CuriosityStream website to find out what devices support the service and this is what I found:
Any laptop, desktop, PC, or Mac via a modern web browser

Amazon Kindle (2012 or later)

Amazon Fire TV Stick and Amazon Fire TV version 5.0 and up (2014 or later)

Roku 2, Roku 3, Roku 4, Roku TV, and Roku Streaming Stick version 8.1 and up

Google Chromecast via either the Chrome browser, Android or iOS devices

Chrome extension for easy access to the web app

Apple iPhones, iPods, and iPads iOS 11 and up

Android TV running Android version 5.0 and up

Apple TV 3rd generation and earlier via Air Play

Android device running version 4.1 and up

Apple TV 4th generation HD and 4K Apple TV

Xbox One
Is Curiosity Stream Kid-Friendly?
Absolutely! In fact, it offers a feature that other streaming services lack, a "Kids Mode." All you have to do is toggle the button in your account to turn on the feature, then it will filter the sensitive or mature things that most parents want to avoid.
Kids Mode will filter for:
Visually explicit violence in recreations such as "Ancient Rome: The Rise And Fall Of An Empire"
Factual Content with disturbing imagery such as "Annihilation"
Visually explicit sexual content both in nature and in human interaction such as "Nature's Weirdest Events" "Pleasure And Pain".
Pause, Please!
If you're anything like me, you tend to get thrown for a loop in the summer months. These months are spent traveling and spending time outdoors instead of in front of the TV. You don't want to pay for a subscription that you won't be using, so CuriosityStream has made it easy to pause your plan. In fact, you can pause your monthly plan for 1, 2 or 3 months before being billed again! (Note: This feature isn't available for those who subscribe to the annual plan.)
How to Homeschool with CuriosityStream
Having access to this crazy-awesome subscription is a huge blessing but unless you actually USE it, it's not too helpful. So, I wanted to share 3 simple tips to make sure you're getting the most out of your subscription.
Every Sunday, I look over our plans for the week. Once I've went over all of the kids' stuff, I know what we will be studying. I take those topics and simply type them into the search bar on CuriosityStream. There's always something that goes along with our studies so I simply add them to our watchlist.
I'm not a fan of eating dinner in front of the TV, but I do allow the kiddos to watch something educational while they eat lunch. With CuriosityStream, I simply turn on whatever I want and let the kids watch TV while they eat. One huge tip: YOU pick what you watch or else you're likely to spend all of your lunch time scrolling through and trying to find something everyone agrees on!
Take Advantage of Collections:
CuriosityStream has done a lot of the hard work for you by organizing the content into collections. Pick a collection and watch one episode per day until you've completed that topic. I've found this also helps us waste less time while trying to pick what we want to watch.
Sign Me Up!
Right now, CuriosityStream is offering a deal that you just can't afford to miss! If you sign up for an annual membership before September 15th, 2019, you will receive a $10 gift card! That means you can subscribe to CuriosityStream for an entire year for only $10! You just can't beat that!