Have you ever found a curriculum that had you waiting on the edge of your seat to see what they produce next? The sheer excitement over their products can send you into a frenzy? For me, that curriculum is The Good and the Beautiful. We've used everything from their history to their math and I'd be lying if I said I wasn't super impressed with all of them. That's why I was so excited to learn that The Good and The Beautiful High School 2 would be releasing just in time for my girl's sophomore year!
Last year, I bought The Good and the Beautiful for the first time for all 3 of my kids. And while they are an absolutely amazing curriculum provider, I was especially blown away with their High School Language Arts course. You see, it was everything I wanted in a curriculum. It used classic books, took a hands-off approach and was designed with God and my child in mind. So you can imagine my worry when I started to wonder if we'd have to find something else to use this year. I crossed my fingers, toes and legs, in hopes that it would release in time for us to start school! And it did! I was so excited to get my hands on our curriculum that I had to share, for those of you who have been patiently waiting, like me!
The Good and The Beautiful High School 2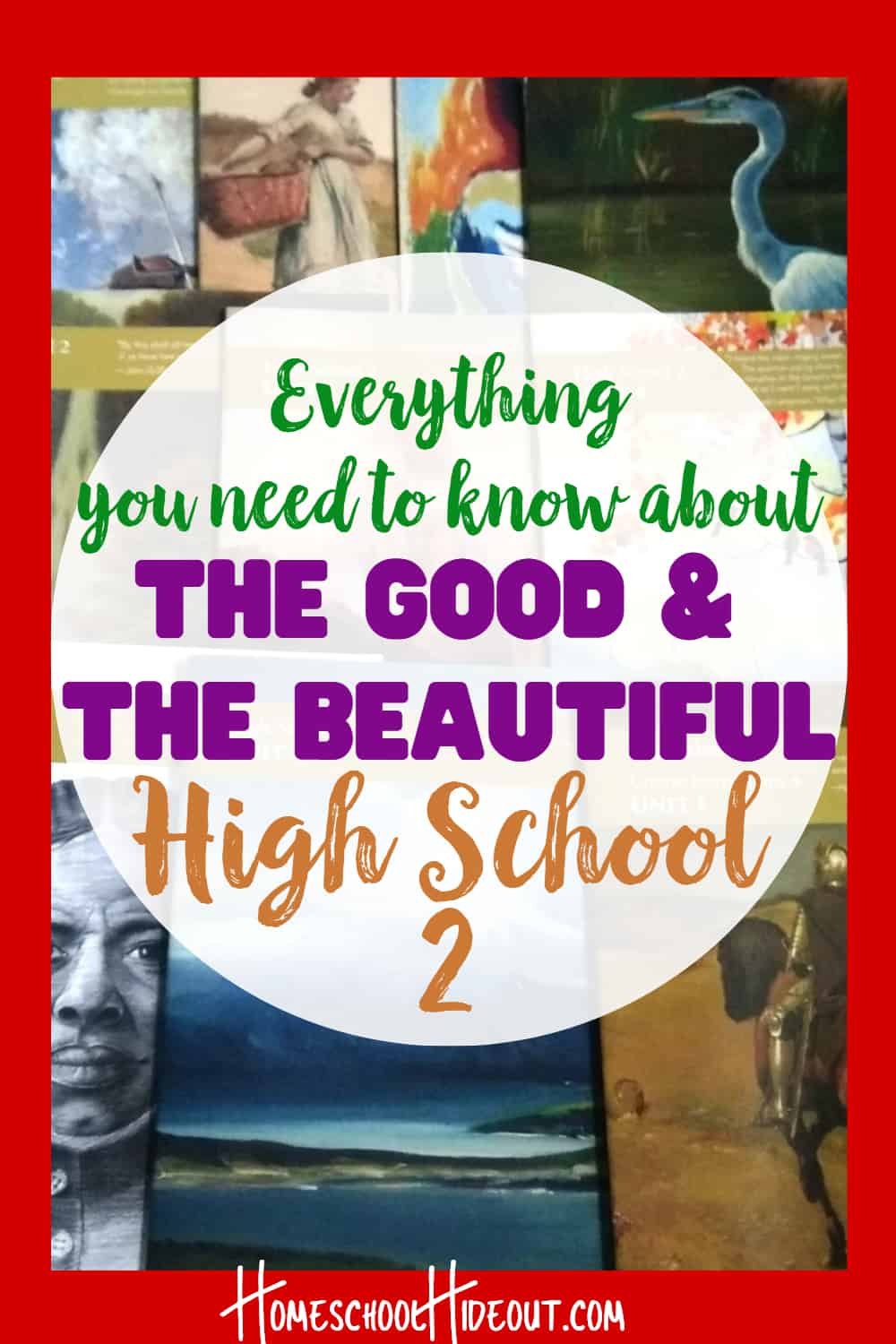 About The Good and The Beautiful
If you've never heard of The Good and The Beautiful (TGATB), you're in for a treat! The Good and the Beautiful is a high quality curriculum company who believes in the goodness of our world. They focus on character, God, nature and wholesome literature. Best of all, they believe in making your homeschool as simple as possible, using a family-style approach to teach all ages at once. They have truly taken the planning and pain out of homeschooling! In fact, they know the struggles of homeschooling and even offer their grades 1-5 language arts program completely FREE to download! If that isn't the most amazing thing I've ever seen a curriculum company do, I just don't know what is!
Supplies Needed
One of the best parts of The Good and The Beautiful High School 2 is the simplicity of it all! There isn't a huge list of supplies to buy to go along with it and the ones that are listed, can probably be found in your pile of art supplies. Either way, you don't need to worry about spending a fortune on supplies!
All you'll need is:
TGATB Writing Guide
High School Cards (Geography, Poetry and Roots)
High School 2 Booklets
Course Videos
And the following books:
Men of Iron
Harriet: The Moses of her People
Sagebrush Surgeon
A Girl of the Limberlost
The Christoph von Schmidt Collection
All of the items listed above can be easily purchased from The Good and The Beautiful website. I totally suggest doing this, to save yourself a huge headache. Although, if you did use TGATB High School 1, you already have the Writing Guide and High School Cards. I still ordered the entire pack, then simply sold the cards and Writing Guide on Facebook Marketplace, along with the reading books from High School 1. That way, the buyer only needed to purchase the workbooks from TGATB website.
You will also need some art supplies to complete the accompanying projects in each booklet. For these, you will need:
Watercolor Pencils
Paint Brushes
Watercolor Paper and Drawing Paper
Basic Supplies, like pencils, rulers and a black marker
Flat Cardboard or Masonite Board
Thick Vine Charcoal & Compound Charcoal
Charcoal Pencil
Kneaded Eraser & Blending Stumps
1/2″ artist tape or masking tape
Artist Workable Fixative or aerosol hairspray
The Workbooks
One of the things I love most about The Good and The Beautiful High School 2 is the way the books are organized. Instead of one huge textbook, students work through consumable workbooks, just like they did in TGATB High School 1. Each workbook takes between 11 and 14 days to complete, depending on whether you opt to do the course 4 or 5 days each week. Since we started school early this year, I've allowed my daughter one month to finish each book. Knowing her, she will finish more than one per month because she likes to get "ahead" on her schoolwork. Even working at the suggested 45-70 minutes per day, you can easily finish the entire course in one school year. That includes the detailed art project at the end of every booklet.
What's Included in The Good and The Beautiful High School 2
Language Arts
Using beautiful literature, the Language Arts covers everything you need!
Sentence Diagram
Memorization
Vocabulary
Editing Practice
Spelling Dictation
Insights Journal
Course Reading
This slideshow requires JavaScript.
Geography
I was stoked to find how much geography is covered in The Good and The Beautiful High School 2! I love how they naturally incorporate geography into the language arts program. High School Year 2 covers some amazing places:
Solomon Islands
Africa
Canada
US National Parks, including Grand Canyon National Park and Sequoia National Park
Hawaii
Ozark Mountains
Blackfoot Mountains
The Badlands
Biomes
This slideshow requires JavaScript.
Art
As someone who has pushed art studies to the back of my mind for far too many years, I was excited to see that The Good and The Beautiful High School 2 offers the same amazing art studies as the first high school curriculum. This year, we look forward to learning more about:
Different Types of Art Through the Middle Ages
John Constable
African Art and Culture
Literature
Using the most classic literature of the past, you can look forward to learning about authors and heroes of the past, perfectly entwined with your language arts, history and geography studies.
Phillis Wheatley
Harriet Beecher Stowe
Paul Lawrence Dunbar
Archibald Lampman
Florence Crannell Means
Chester Nez
Henry Wadsworth Longfellow
Christoph Von Schmid
---
Don't miss this review of The Good and The Beautiful!
---
---
If you're looking for a high quality language arts program that offers your student independence yet guidance, this is just what you need! With tasteful literature that inspires students, The Good and The Beautiful High School 2 is exactly what our homeschool needed!