Finding friends for your homeschooled teen can be a struggle. While they don't quite fit in with public school kids, they don't really want to spend the best years of their lives holed up in their bedrooms, either. It's a struggle to find homeschool teen activities that aren't flooded with younger kids and hovering parents.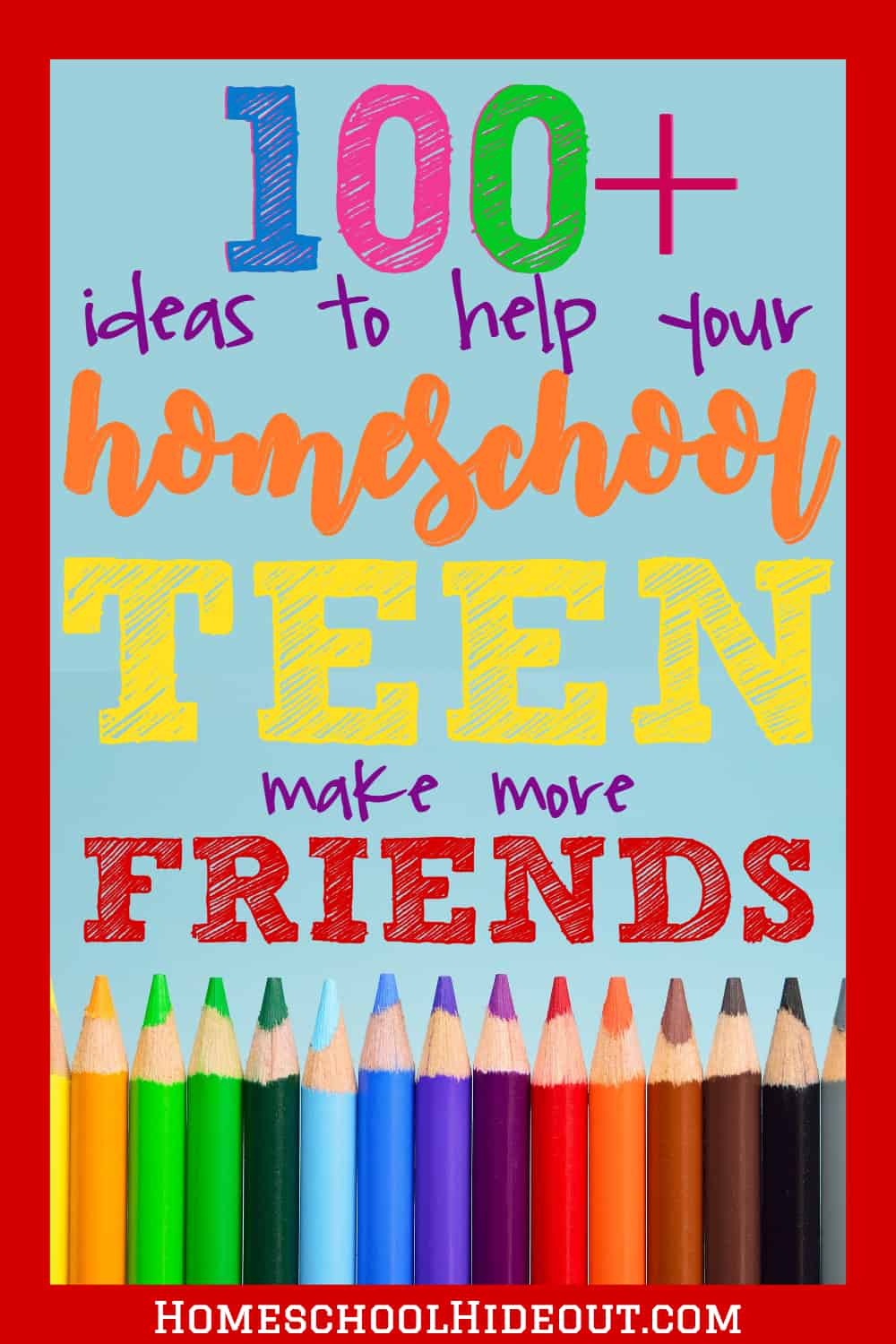 We've been there and we know it's tough. That's why we rounded up 100+ homeschool teen activities to help your teen connect with kids their own age.
Potluck Dinner:
Kids will enjoy the chance to just hang out with each other, without a lot of organized activities. Instead of ordering pizza, make them each bring a dish. You can set a theme, like "Mexican food" or "finger foods" to ensure you have a little bit of everything.
Minute to Win It Games:
Minute to Win It is my jam, y'all! If I'm hosting a party, you can bet there will be hilarious games included. Kids will beg to do this again, so make sure you're committed, once you show them how fun you can be. 😉
Floating:
Grab a raft and spend the day floating down the river. This gives kids a chance to get to know each other, as you spend hours doing nothing but talking and having fun!
Book Club:
A book club is the perfect way to get teens to connect with each other. You will need to meet once a week or so to discuss the book but the teens will look forward to it!
Teens in Charge:
Help the kids plan a dinner to serve to their own parents, grandparents or other members of the community. They can work together to plan the menu, decorate and serve the food! They will have to work closely with each other and will need a little bit of supervision. (Unless you want to eat frozen pizzas, served on paper plates.) 😉
Pie Eating Contest:
No need to make an entire pie. Instead, simply fill a pie plate with whipped cream and see who can down it the fastest. For extra fun, don't allow them to use their hands! Kids will get a kick out of seeing their friends' faces covered in whipped cream.
Chili Cook Off:
Once your teens have gotten to know each other, hosting a chili cook off will be a fun competition. Allow them to bring their chili to your gathering and everyone present can vote on their favorite.
Outdoor Movie:
There's just something that kids love about an outdoor movie. You can allow them to pick the movie but be sure to schedule some "free time" to just hang out and talk before you get started or else they'll talk through the entire movie. (Ask me how I know!) 😉
Girls Night Out/Boys Night Out:
Teens are generally more comfortable around the same-sex. It's a good idea to take certain days and only invite boys or girls. Do something fun that the other sex doesn't usually enjoy. (Spa days for girls and video game days for boys, for instance.)
Debate:
Nothing helps you get to know each other quite like learning your personal beliefs. Host a friendly "debate" where teens can talk about their points in a respectful way. (Some ideas include homeschooling vs. public school, college vs. trade school, death penalty vs. lifetime sentences, pro-life vs. pro-choice, etc.)
---
Board Games:
Board games are a sure-fire way to make people laugh. Some kids will be too self-conscious to play some of our favorites, like Battle Sheep, but they'll play games that don't put too much pressure on them. Once they feel more comfortable, you can start playing different games.
Our top picks to start out include:
Bowling:
Have the teens meet you at the local bowling alley and play a few games. Chances are, your bowling alley will even show you "behind the scenes" if you ask. The teens will get a kick out of seeing where the ball goes after it hits the pins.
Kickball:
Kickball is our go-to teen time activity. The kids love it and come home exhausted! For super cheap entertainment, play teens vs. parents! If you have enough kids and don't feel like breaking a hip today, simply divide the kiddos up and let them play.
Geocaching:
Teens will love going on a real-life treasure hunt as they search for geos. If you have a large group, take them to a park or other area where there are several geos and let them race to find them all first. Each group will need a cell phone or other device with GPS.
Bingo:
Everyone loves Bingo, but you can make it even more exciting by offering prizes to each winner. Check out our list of prize ideas to help keep your own costs down.
Pizza Party:
Sometimes teens just need some time to hang out and not do anything but get to know each other. Grab a couple of pizzas and have the parents hang out and chaperone from a distance. (This is key. Teens do no like being hovered over.)
Bonfire:
Host an annual bonfire for the teens in your life. The teens will have fun roasting hotdogs and marshmallows. Parents can join in and sip hot cocoa, as they chat. (This is also a good event for the families of teens to get to know each other.)
Volleyball:
Nothing says friendship quite like spiking the ball at each other. Volleyball is a great option because even a beginner will have fun. Be sure to teach the basic rules of the game before you begin, so everyone knows what to expect.
Coffee Shop:
Teens are a weird species. They are stuck between being a kid and an adult and they're struggling to find themselves. Hanging out at a "grown up" place like a coffee shop will make them feel mature and super cool. 😉 If they are struggling to make conversation, hold a coffee taste test. Buy several different types of coffees and get each kiddo their own empty cup. Pour a little bit of each coffee into everyone's cup and let them rate the flavor.
Disc Golf:
Grab your favorite frisbee and head to your nearest disc golf course or grab a set to play at home. It's played just like regular golf except you use discs instead of golf balls. For added comfort, don't forget to wear the right shoes for disc golf.
---
Donut Run:
Teens hate mornings but they'll be excited to wake up early and meet their friends at a donut shop. The simple sweet treat is a great way to get kids together, without much pressure. You could even hold a donut hole eating contest, where the winner gets a prize!
Soccer:
Head to your local soccer fields and spend a couple of hours playing. Much like kickball, the kids will come home exhausted and full of laughs!
Camping Trip:
Obviously you won't want the teenager boys and girls to sleep together, but camping can be fun. You'll need plenty of supervision but a camping trip is a surefire way to get to know each other and really connect.
Swimming:
Whether you hit up a local creek or the city pool, teens will have a blast! Water does all the entertaining, so there's no need to plan activities to keep kids interested. Just give them water and watch them have fun!
Capture the Flag:
Teens can work together to capture the other team's flag with this classic game. If you want to make it even more fun, try out this glow in the dark version.
Corn Maze:
One of our favorite homeschool teen activities is visiting a local corn maze each year. The kids work together to find their way out of the maze, without any adult help.
Food Bank:
Allow your teens to build friendships while doing good deeds for others. Head to your local food bank and let them put your group of teens to work. The workers will love seeing helpful teens and the kiddos will learn life lessons, while connecting with others.
Hay Rides:
If one of your local families has a trailer, this will be a huge hit! Simply throw some square hay bales onto the trailer and pull the teens around town. They will get loud and rowdy but will have a ton of fun while driving around.
Holiday Party:
Teens still enjoy celebrating holidays! Host a fun get together for each holiday and give each party its own twist. For Christmas, you might do a gift exchange. For Valentine's Day, you could do a cookie exchange. A costume contest would be fun for Halloween.
Cooking Class:
Talk to a local chef about hosting a cooking class. Chances are, they will love to share their knowledge with your kiddos. If you want to host your own class, simply head to a large church or event hall where there's plenty of room for everyone.
---
Yard Games:
Horseshoes, cornhole, croquet or tether ball can provide hours of fun for teens. Set them up and let the kids play until they wear themselves out!
Slip & Slide:
It's amazing how much fun teens can have when you give them water and some freedom! They'll want to add some Dawn dish soap to their slip and slide to make it even better. Soon, they'll likely create their own model, using rolls of plastic and their imagination!
Escape Room:
Escape rooms can be a bit pricey so be sure to ask for a homeschool discount or group rate. The teens will love to race against the clock as they solve the clues. You can even play escape room games at home!
Rock CLimbing:
Indoor or outdoor, doesn't make a difference. Kids will enjoy it all the same!
Book and Movie Night:
Have each kid read a book and then get together to watch the movie version together. This is the perfect time to use your outdoor theater, as well!
Go Carts:
Racing around the tracks has never been more fun! Teens will love getting the freedom to be behind the wheel and parents will enjoy letting them drive wild while being safe!
Fundraisers:
Let the teens host their own fundraisers then spend the money on meetups for the rest of the year! They can hold a bake sale, car wash or hit up local businesses for donations. Aim to raise enough money for a monthly meet-up with fun activities at each event.
Tag:
Who says teens don't want to play tag. The childhood game is much more fun when long-legged teens are playing!
Scavenger Hunt:
Give the kids a scavenger hunt of epic proportions! Instead of keeping them in the park, send them out and around the town. Make them find a veteran, a plastic spoon or a gravestone that contains their first or last name. Each team will work together and can even take an adult chaperone with them, for safety.
Nerf War:
Have each teen bring their own weapons and see who can last the longest without getting shot! (Be sure to bring a Sharpie so the kids can write their names on their own bullets!)
---
Mystery Party:
Check out how you can DIY your own party or check nearby cities for local events.
Pokemon Go:
The craze has swept the nation and thankfully, it's finally losing it's steam. But teens will still enjoy running around town collecting Pokémon.
Arcade:
Give the teens each $10 and let them have some wild and fun times in the local arcade.
Flashlight Hide and Seek:
Hide and Seek gets even more fun when you wait until the sun goes down to play! The only player with a flashlight is the one who is "it." The fun part? You don't even have to "tag" them, you just have to shine your light on them to "find" them.
STEM Challenges:
Give each teen the same items and see who can beat the challenges. Try seeing who can build the strongest bridge, who can create something that will float but hold the most weight, or maybe build the tallest structure with toothpicks. The challenges will have kids laughing and scratching their heads to figure out the best way to beat the challenge.
YMCA:
The YMCA is the perfect place for teens to hang out. It's safe and full of fun possibilities. Our local YMCA boasts a basketball court, volleyball court, racquetball, ping-pong, swimming and foosball.
Tennis:
Head to the courts for a great time. The good news is that tennis is fun for all ages and easy to learn. Even if their skills are lacking, you will still have a blast..
RacquetBall:
My husband loved racquetball as a teen and he hasn't changed much, over the years. It's a fun game that a lot of teens aren't even aware exist. Find a local racquetball court and make it a weekly meet up.
Laser Tag:
Laser tag is a great idea for teens because it's full of adventure and laughs but doesn't put too much pressure on the newbies who aren't quite comfortable yet.
Mini Golf:
Mini golf has long been a favorite of teens in our area. For just a few bucks, kids can enjoy an hour of entertainment while they work on their skills.
---
Paint Ball:
Teens will get a kick out of shooting each other with paint balls but beware, they will leave bruises! (Trust me! I went paintballing as a teen. As fun as it was, those little suckers hurt when they hit ya! Thank goodness for all the adrenaline.) 😉
Skating Rink:
One of our favorite homeschool teen activities is meeting up with others at the skating rink. Local rinks offer homeschool skates throughout the week, so we basically have the place to ourselves. It's a fun way to sneak in plenty of exercise, too!
Ice Skating:
Combine a freezing cold rink and some sharp blades and the teens are guaranteed to have a blast. Find a local rink and ask if they'll provide lessons for your first visit. After that, teens will naturally pick up on the skill quickly.
Snow Cones:
Head to your local snow cone shack and let the kids invent their own flavors. Try mixing unexpected flavors and see which you all like the best.
Star Gazing:
Kids may be more open when the lights are out and you're laying under a blanket of stars. Next time there's a meteor shower, have all the kids gather in the backyard and gaze at the stars together. They'll enjoy talking about everything under the stars…literally.
Swap Meet:
Designate a space and time for the teens to bring their old "junk" to swap. No money needs to be exchanged. Simply let them share their outgrown clothes or electronics with other teens. They'll be surprised at the good stuff their friends no longer want! It's the perfect time to talk about reducing, reusing and recycling.
Pottery Class:
I was stoked when I learned that a local coffee shop was giving pottery lessons. I was even more excited when I found out that 1 hour lessons were only $8! Teens would love to learn pottery and it's the perfect time to connect with other kids their age.
Trampoline Parks:
♪♪ Jump around! Jump around! Jump around! Jump up, jump up and get down! Jump! Jump! Jump! Jump! (Everybody jump) Jump! Jump! ♪♪
Egg Drop
Allow teens to construct a device that, when dropped off the roof of your house, will not let the egg break. They can do whatever they want to soften the blow but only 2 things are forbidden: researching designs online and hard boiling the egg. 😉
Snack Day:
Have a day strictly dedicated to snacks. Have each kid bring an ingredient and then create the snacks together. Some ideas include:
Trail Mix
Nachos
Chex Mix
Ice Cream Sundaes
Sandwiches
---
100+ HOMESCHOOL TEEN ACTIVITIES!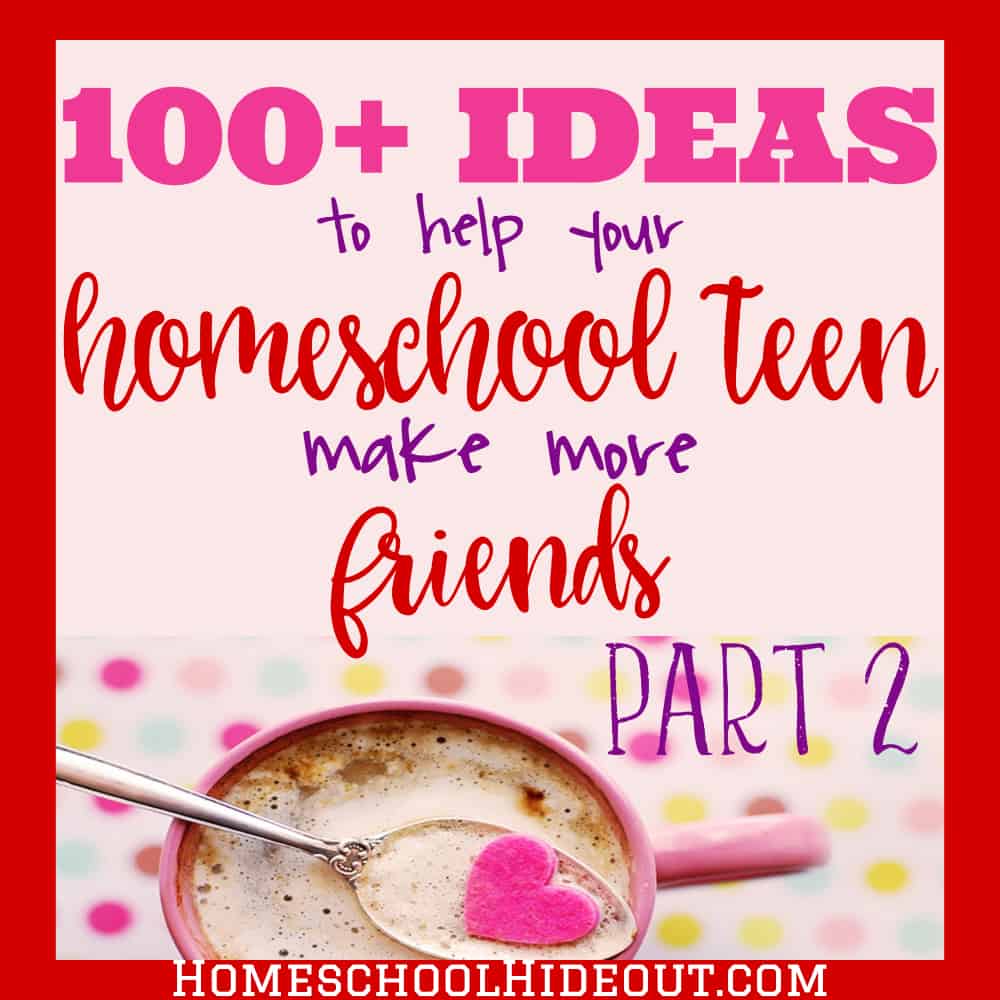 PIN IT!!!
This post is part of iHN's 100 Things Roundup. Click below to see even more from the top homeschool blogs!
---
Still struggling to plan the high school years? Check out this book, which we personally used as a guide to plan all 4 years of high school in under an hour!