The room started spinning as the truth began torturing me. The doctors, whispering medical terminology that I didn't recognize. The look on the nurse's face. The line that was no longer jolting upwards with every beat. I couldn't avoid the facts.
My baby was dead.
It hit me like a ton of bricks, yet all I could do was lay motionless on the stone hard table, with my bulging belly exposed while the ultrasound tech fetched the doctor. I couldn't think or cry. Even breathing was nearly impossible. All I could do was stare at the computer monitor. Only a month ago, I'd watched my baby's strong heart beat march across the screen, like a warrior forging into battle.
The tech came back into the room, gently wiped the gel from my stomach and told me the doctor was waiting for me in the exam room. I asked her the hardest question of my life, praying for a tiny ounce of hope but the laws kept her from telling me what I already knew.
Back in the room, the doctor sat me down. Then he told me what I already knew.
There was no heartbeat. No reason. Nothing he could do or say that would make me feel better.
He went on to tell me that I was lucky to have had 2 perfectly healthy babies. This baby could have been riddled with disease or health problems, something we'll never know for sure. His words still echo in my mind today: "God has already given you 2 perfect children. He didn't want this baby to burden your family with it's flaws." I couldn't even comprehend what he was saying. An alive baby was what my heart longed for. Instead, I would leave with only a reason to cry myself to sleep for months to come.
The day had started like any other. My mom was riding along to my appointment with me so she could keep an eye on Miss Manners, who was only 1 at the time. After the appointment, we were planning a day of shopping and lunch. My husband's 10 year high school reunion was that weekend and I was looking for the perfect outfit to accentuate my growing bump.
What was supposed to have been a joy-filled day turned to the worst day of my life in the blink of an eye.
My doctor said I would need a D&C as soon as possible. He was willing to let me go home for a few hours. He knew I needed time gather my thoughts and let it all sink in. In the span of one doctor's appointment, my world had flipped upside down, crushing my spirit along the way.
I felt like a zombie, going through the motions of what came next. I had to ask the receptionist to write down all of the information for my D&C appointment because I simply couldn't focus. Carrying the instructions, I stumbled into the parking lot, still holding back my tears. As soon as my mom saw me, she knew something was wrong. She jumped from the car and wrapped me in her arms. Finally the tears came. I couldn't even get the words out but I handed her the paper with the words "D&C: Check in today at 3:30" scribbled on them and she burst into tears.
We stood there, holding each other on the sidewalk for what seemed like hours until I finally could cry no more.
I sat down on the sidewalk and dialed my husband at work, with shaky hands. I knew he would be devastated but I had to talk to him. Through the sobs, I told him that there had been no heartbeat. He instantly started crying and was on his way home before I even hung up the phone.
I crawled into the passenger seat and curled into fetal position.
My mind wandered to my first pregnancy. I had been a senior in high school when I had broke the news to my parents that I was pregnant. My mom had looked at me like I was stupid and said "Tiffany, you can't be pregnant. You're on your period right now." (Duh. Teenagers aren't the brightest are they?) But I had the pregnancy tests that said otherwise.
The next day was Friday and my mom took me to the only doctor she could get me into, a local family doctor. He took my blood and sent it off for tests. That doctor didn't hesitate to tell me that I had experienced a miscarriage. He said that the positive pregnancy tests and the bleeding were sure signs that I'd lost a baby. My boyfriend (who is now my husband) and I spent the entire weekend in tears.
It's amazing how much a miscarriage messes with your mind.
We thought we had lost a baby that we'd only known about for 3 days yet we were torn up in a way that words can't explain. The following Monday morning, I got a call at school from the doctor's office. The blood work was done and the doctor had been wrong. I was still pregnant. The 72 hours of hell had all been for nothing.
Back in the car, 5 years later, I prayed this doctor was wrong, too. But I knew he wasn't. I had seen the flat line on the screen. No matter how I much I wished, my baby's heart had stopped beating.
I came home and fell into my waiting husband's arms. Together, we cried more than we'd ever cried before. Then we packed my bag and headed to the hospital to deliver a baby that we would never get to hold. My mom made all the necessary phone calls to let our families know what was going on.
The next few hours were a blur.
The doctors came in and talked to us. Luckily, I wasn't awake for the procedure. The baby that I had carried for 24 weeks was removed from my body using cold, metal tools. There was no baby waiting for me when I woke up. No soft blanket or adorable feet to admire.
The doctors explained that the baby had stopped developing around 17 weeks. There was no rhyme or reason, as far as they could tell. At my 5 month appointment, the heart was beating just fine and showed no signs of trouble. Yet just weeks later, my baby had no heartbeat.
As the nurse wheeled me out of the hospital, I looked up through swollen tear-filled eyes and saw my family and friends.
My parents, my brothers, my nephew, my best friend, Amanda, my husband's parents, his sister and her husband were all there. I will never forget the looks on their faces as they tried to manage a smile of encouragement for me. For a split second, I remember thinking how lucky I was to be wheeled out of the hospital with my entire family at my side. The devastating image of a mom being sent home without her baby in her arms and no family around to support her still haunts me. In the darkest hours of my life, my family was a blessing that so many women don't have.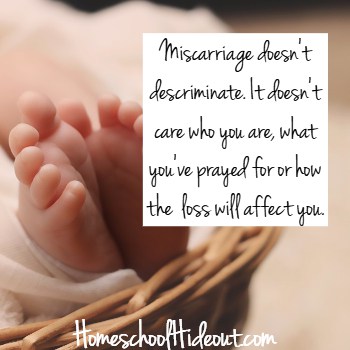 For the next few weeks, I went through the motions. I cooked. Cleaned. Bathed my kids. Greeted friends and family as they brought over food, flowers and awkward hugs. I did everything as normal, yet I was in a daze.
I can't remember when I finally started feeling like a human again but it was well-after my due date.
No one spoke of the day anymore. There is no groups on-hand with support for miscarriage moms. No one asked me how I was doing. No one hardly mentioned my baby again. Understandably, it was a hard subject to bring up, especially when they knew how badly I was struggling to keep it together.
But I wanted to talk about my child.
I wanted someone, anyone, to tell me that they understood how I felt. I didn't want to hear that my baby was in a better place and I certainly didn't want to hear that God does everything for a reason. Simply put, I was tired of trying to fill awkward silences, while people struggled with what to say to me.
10 years after that dreadful day and I still rarely speak of my miscarriage. Recently, my nephew brought up that day and we had a great conversation about it. Afterwards, I wondered why more people don't speak of miscarriages. In all of my years as a "Miscarriage Mom," I've had exactly one conversation about my baby. Yet daily I wonder what he would be like. How he would compliment our family and I dream of what he would look like. I wonder if my baby would be more like me or my husband. Would he love sports like his Grandpa or have a witty sense of humor like his oldest sister? Sadly, I'll never know.
So why exactly does no one speak of my baby or offer support for miscarriage moms?
After leaving the hospital, I don't think I heard the word "miscarriage" for months. No one brought it up and I quietly tucked my loss deep down, so I didn't make others uncomfortable. Yet mothers everywhere are suffering in silence, alongside me. When a friend announces her pregnancy, I quietly say a prayer for the loss of a child and that she will never experience the hole in my heart. I pray every day for my kids to never know the feeling of a lost baby of their own. I flinch every time I fill out paperwork and have to list which surgeries I've had because I know they'll know my "dirty little secret."
The hole in my heart opens and I bleed a little every year as July 10th approaches. Some years it's easier than others. Some days, I can make it through the dreadful day without tears. Other years, I go through the motions of the day, only to find myself weeping in the shower, trying to wash away my hidden pain.
---
October is National Miscarriage and Infant Loss Awareness Month and we need to do better at offering support to miscarriage moms.
One in four pregnancies end in tragedy, although the numbers go down significantly after the first trimester. Still, that is a HUGE percentage pf women who are keeping their heartbreaking stories to themselves in order to avoid the awkward conversations. Thousands of women across the country need the support for miscarriage moms that simply isn't offered.
This year, take the time to show someone that you haven't forgotten their lost child. It doesn't have to be a big deal. Simply try one of these ways to show support for miscarriage moms in your life.
Send her a card:
A few words during the month of October, on her due date or on the day she lost her baby can help a mom get through the rough days. No matter how long it's been, send her your love in the mail. Trust me, she will keep your card and reread it on the days she needs some encouragement.
Bake her something :
If you aren't nervous or awkward, this is the perfect way to let a mom know you're thinking about her. Swing by her house with a platter of cookies, some homemade bread or an easy casserole and let her know just how strong you think she is. It's a small sentiment that will mean the world to her.
Share your story with her:
If you've experienced a loss, take the time to share your experience with another woman. Most women who have lost a baby or child are always looking for someone to connect with over such a taboo subject. Use your experience to help them avoid the awkward feelings that generally follow the topic. She'll love hearing your story and you will leave her feeling like she isn't' alone.
Ask her about her pregnancy:
As simple as it can seem, asking a woman about her miscarriage or loss can really help her feel connected. Tucking away your story and never sharing it with anyone makes you feel sad and depressed. By asking her to tell you about her journey, you'll open the flood gates to memories that she's been aching to rehash. Be prepared for tears, as you'll both be touched by her feelings.
Give her life:
In the days following my miscarriage, my friend's mom delivered a gorgeous rose bush to me. The following year, on the anniversary of my miscarriage, my mom bought me another rose bush. When I look outside and see them, blooming with gorgeous flowers, I can't help but think of my baby. The plants continue to grow and remind me of the beauty my baby brought to me, through the kicks and butterflies that only I ever felt. The simple gesture lives on, even years later. Each spring, I watch for my roses to bloom, as a sign that I've lived through another season of my life and once again, I'm stronger than I'd ever imagined.
Miscarriage is one of the nastiest and most horrible experiences I've ever felt. It's simply not fair, not predictable and not easy to recover from. Being there to listen and offer support for miscarriage moms is something that needs to be done more often. In sharing my story, I pray that other moms will find the strength to open up about their darkest hours and use that as a way to connect with other moms, who have also been there.
CHIME IN: How do YOU offer support for miscarriage moms?