Are you sick and tired of fighting your kids to do their math? Maybe you don't have enough time to sit down and teach math for an hour or two each and every day? Or perhaps you're like me and your kiddo's math is simply too hard for you to understand anymore. I've been there. It's not a fun place to be but you do have options! I started my kiddo on geometry with Mr. D Math and our homeschool days turned brighter!
This post was sponsored by Mr. D Math and I was compensated for my time.
A positive review was not required but we genuinely enjoy Mr. D Math!
Benefits of Online Classes
Students can work at their own pace
Online classes boosts the student's confidence
Allows students to learn from another person's point-of-view
Gives students access to some of the best teachers in the world, from the comfort of their home
One-on-one help for struggling students
Students learn good study habits and become more self-motivated
How It Works:
Mr. D Math uses video lessons to teach the students.
Kiddos take notes and complete assignments.
Students are responsible for grading their own work.
Then they correct any mistakes they may have made.
Once they've done this, students take a quiz to make sure they fully understand the concepts being taught.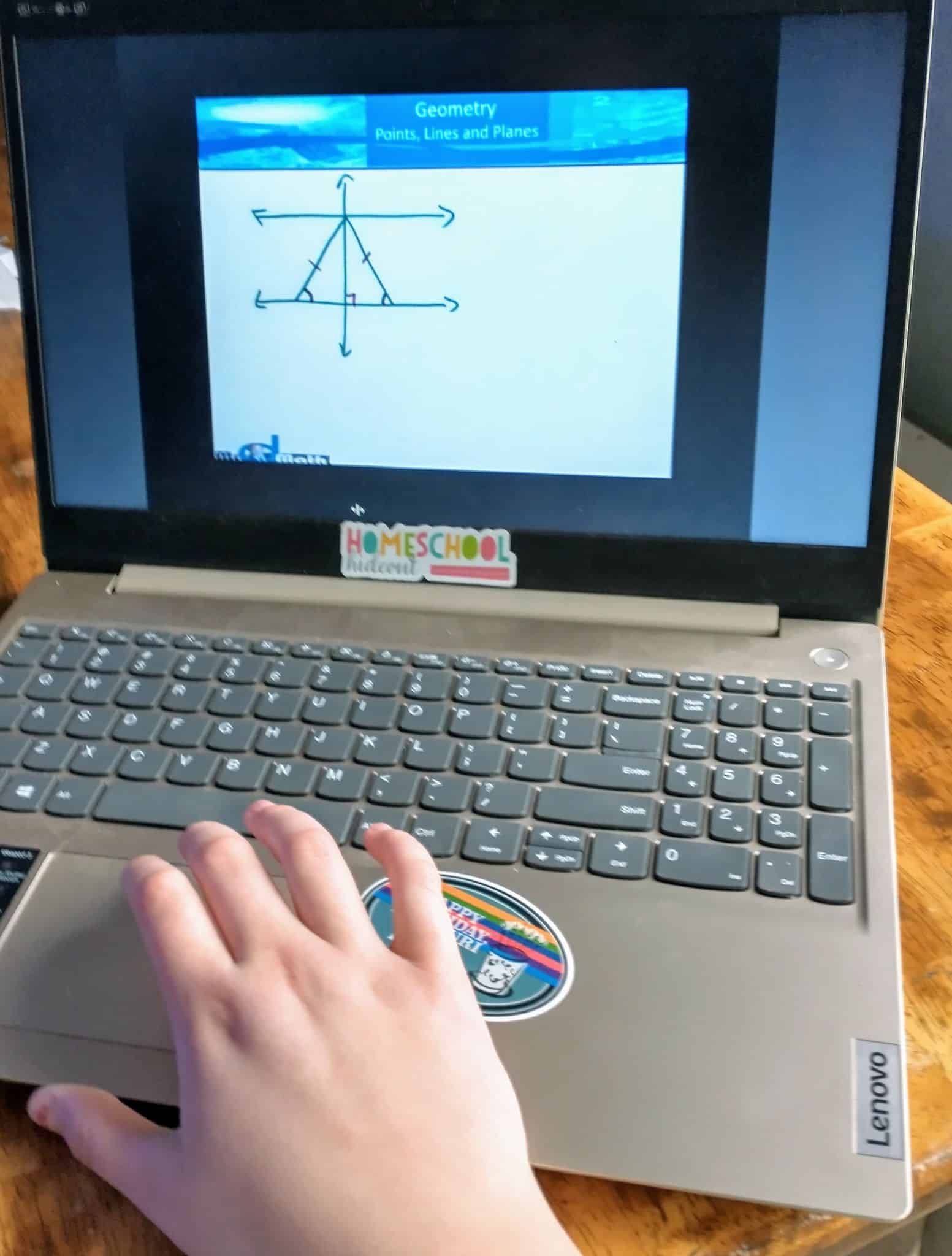 Teaching Geometry with Mr. D Math
Mr. D Math teaches in a way that makes it easier to understand. He approaches teaching differently than any other math program we've ever used. I love how it's broken down into easy-to-digest chapters.
Points, Lines, Planes & Angles
Reasoning & Proof
Parallel & Perpendicular Lines
Triangles
Quadrilaterals
Similarity
Right Triangles & Trigonometry
Area & Perimeter
Surface Areas & Volume
Circles
Transformations
Geometric Probability
Why We Love Mr. D Math
Mr. D Math focuses on upper-grade math. Since they're not trying to teach "it all," they can focus on using the most effective techniques to ensure their students are learning. While other curriculum stretch themselves thin trying to be the best for all grades, Mr. D Math teaches what he knows best.
Mr. D Math also offers extra help sessions, where students can go to get help when they're stuck. In my own opinion, these sessions are the most valuable asset to the entire curriculum. Having a seasoned teacher who is able and willing to help you better understand your work is worth its weight in gold. It really helps relieve the stress of both the students and parents.
When you find something that works for your family, you want to stick with it. I'm so thankful that Mr. D Math teaches everything for high school:
Pre-algebra
Algebra 1
Geometry (which is what we're using this year!)
Algebra 2
Pre-Calculus with Trigonometry
If I can just get my kids prepared for pre-algebra by the time they're in 8th grade, I won't have to teach math ever again!
Using Geometry with Mr. D Math has made our school year go so much smoother! It's worth the investment to have a live teacher, who is not only a good educator, but also encouraging and personable for our kids to connect with.