Cinco de Mayo is often celebrated as Mexico's Independence Day. But it isn't their Independence Day at all. In fact, Mexico's Independence Day is September 16th.
Cinco de Mayo is actually the celebration of Mexico's battle victory in the city of Puebla in 1862. Mexico had nearly half as many men in their army but still managed to claim a short-lived victory over France. Within a month, France managed to capture both Puebla and Mexico City, claiming the final victory. Still Mexico is proud of the unity and sacrifice it managed to provide on that day.
Ironically, the people of Mexico hardly celebrate Cinco de Mayo today. The city of Puebla holds a parade, battle reenactment and festival, complete with food and fun but the world's largest Cinco de Mayo celebration is held in Los Angeles. Cinco de Mayo is often compared to St. Patrick's Day. It's a big deal in America but other countries hardly celebrate it, let alone understand what they are celebrating.
There are several ways you can incorporate Cinco de Mayo into your homeschool day. Whether you choose to celebrate by researching the Mexican-American War or learning all about mariachi bands, there are plenty of ways to celebrate Mexico's amazing culture in your homeschool.
As lovers of Mexican food, it was only right that we celebrate Cinco de Mayo by hosting a Mexican feast, complete with our favorite tasty yet simple recipes.


Guacamole:
Guacamole is the prefect snack for all ages. Being simple to make and incredibly healthy, makes it a win-win.
Just slice 3 avocados in half, remove the seed and scrape all of the flesh into a large bowl and mash. Add 1 diced onion, 1 diced tomato and a few pieces of cilantro, diced. Mix together well then add juice from 1 lime and 2 Tbsp. of garlic salt. Need heat? Add a bit of a diced jalapeño pepper.
DID YOU KNOW: You can avoid having your guacamole turning brown by leaving the seed in your freshly made guacamole.
Chips:

Simple homemade chips are a fun way for kids to help out with your feast.
Allow young kids to cut a corn tortilla into eighths with scissors or a pizza cutter and arrange in a single layer on a greased cookie sheet. Mist the chips with 1 Tbsp. of vegetable oil and 3 Tbsp. of lime juice. Mix together 1 tsp. of each chili powder, cumin and salt and sprinkle on the chips. Bake at 350° for 7 minutes. Stir and bake for another 7-8 minutes or until crispy.
Salsa:
Salsa is one staple in every Mexican meal. With only a few ingredients, this yummy recipe can be whipped up in under 5 minutes! It's the perfect addition to tacos, burritos, enchiladas, tostadas and so much more. The best part? You can whip it up for under $5!
Pico de Gallo:
In Mexico, the salsa is more like pico de gallo. Luckily, we LOVE pico de gallo just as much as the blended version of salsa and it's just as easy to make.
Start by adding 3 large diced tomatoes, 1 small onion and 1 jalapeño to a large bowl. Add in 1/2 bushel of chopped cilantro, juice from 1 lime and 1 tsp of salt and black pepper. Mix together and enjoy with your tortilla chips.
*Fun Fact* Pico de Gallo means "beak of rooster" when translated, due to the shape your finger and thumb make when grasping the chips. Now when you dip your chip, you will always envision a rooster pecking at your pico de gallo. And you can say you added 2 new words D(rooster and beak) to your Spanish vocabulary!
Carnitas:
We absolutely LOVE carnitas at our house. They are perfect for crowds and a cinch to make. This delicious crock pot recipe from One Good Thing By Jillee is our go-to recipe. Using ingredients that I generally have on-hand, this sky-rocketed to the top of my list as one of my favorite Mexican meals. We've turned to this recipe to feed large crowds at birthday parties and Christmas dinners. It's so easy to simply prepare it and have a ready-to-cook meal with very little clean-up required.
Bunuelos:

Mix 1 cup of sugar, 1 tsp of ground cinnamon, 1/2 tsp. of ground nutmeg in a large baggie. Cut flour tortillas into triangles using a pizza cutter or scissors. Fry the tortillas in vegetable oil until golden brown and crispy. Drain on paper towels for a few minutes. While the tortillas are still warm, add them to the baggie and shake, coating them in deliciousness. This makes the perfect snack or dessert and kids love that they can help make it.
Mexican Drinks:
Every fiesta needs a good drink to wash down your delicious food. We opted to visit the Mexican food section of our grocery store and pick up a selection of drinks but you can find competitively priced drinks on Amazon. Horchata, watermelon agua fresca, frozen (virgin) Margarita mix and Mexican sodas are just some of the yummy drinks they had available.
Homemade Tortillas:
Making your own tortillas is a great way to understand how other cultures live. They don't buy tortillas from a grocery store but instead, make them fresh daily. We also use a cheap tortilla press, which helps keep a consistent size and shape while eliminating the need to roll out each tortilla with a rolling-pin. Homemade tortillas are a lot of work but the end result is worth it!
Mexican Street Corn:
Anyone who has been to Mexico can attest that Mexican Street Corn is one of the best parts of vacationing there. It's so easy to make at home, you won't need to head south for your favorite treat anymore! Grill a dozen pieces of corn on the cob as usual. Spread a thin layer of sour cream (or mayonnaise) on your cooked corn. Then roll it in a pound of crumbled feta cheese and sprinkle with cayenne. Top it off by drizzling lime juice over it. A real taste of Mexico, without ever leaving the house!
Super Simple Fried Ice Cream:
Did you know that fried ice cream isn't always fried? Me neither! I was shocked when my neighbor informed me that my favorite cereal is the secret ingredient I needed to mimic the local Mexican restaurant's "specialty" dessert.
With only 2 ingredients, this recipe is one that we serve up all year long! It's so easy, my kids can make it with no help at all. (Mommy win!)
---
Grab some fun party supplies!
Don't forget the decorations!
This Cinco de Mayo, encourage your kids to celebrate the little victories and not dwell on the defeats.
Sometimes it's the underdogs who surprise you the most!
PIN IT!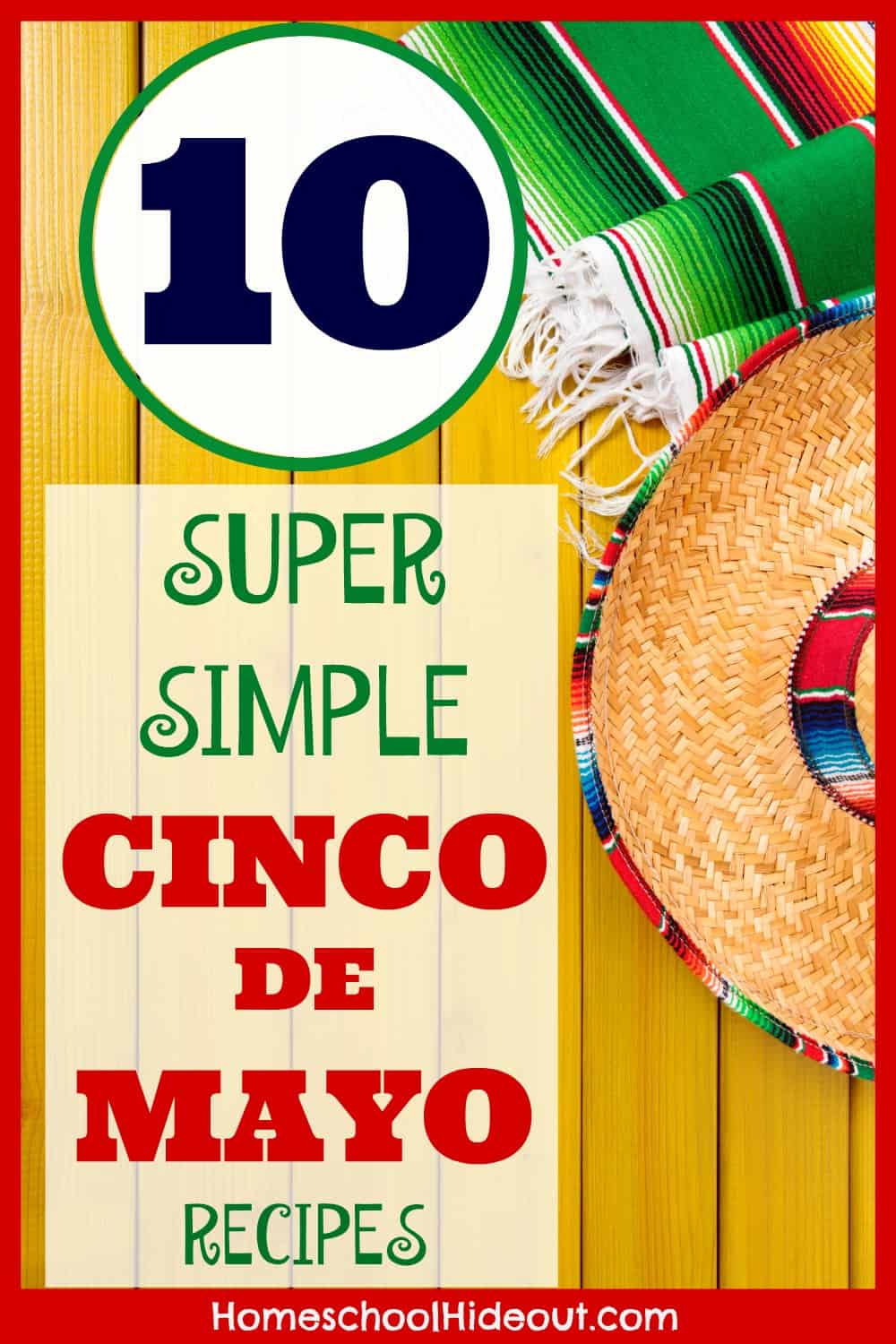 Cinco de Mayo Inspired Books