Am I the only person who thought fried ice cream was ACTUALLY fried? Surely not. When my neighbor told me that they don't actually fry fried ice cream, I was shocked. All these years, I've been deceived. Why didn't they call it "cereal ice cream" or "impostor ice cream?"
I mean, that's what it really is, after all.
She told me stories about working in a Mexican restaurant and having to crunch up Cornflakes, mix in cinnamon and sugar and how the cereal gave the ice cream its crunch.
While her version sounded delicious, it also sounded like a lot of work. I wanted an easy fried ice cream recipe and that's where this baby was born. This recipe only requires 2 simple ingredients but you know you'll want to add a few more for toppings. 😉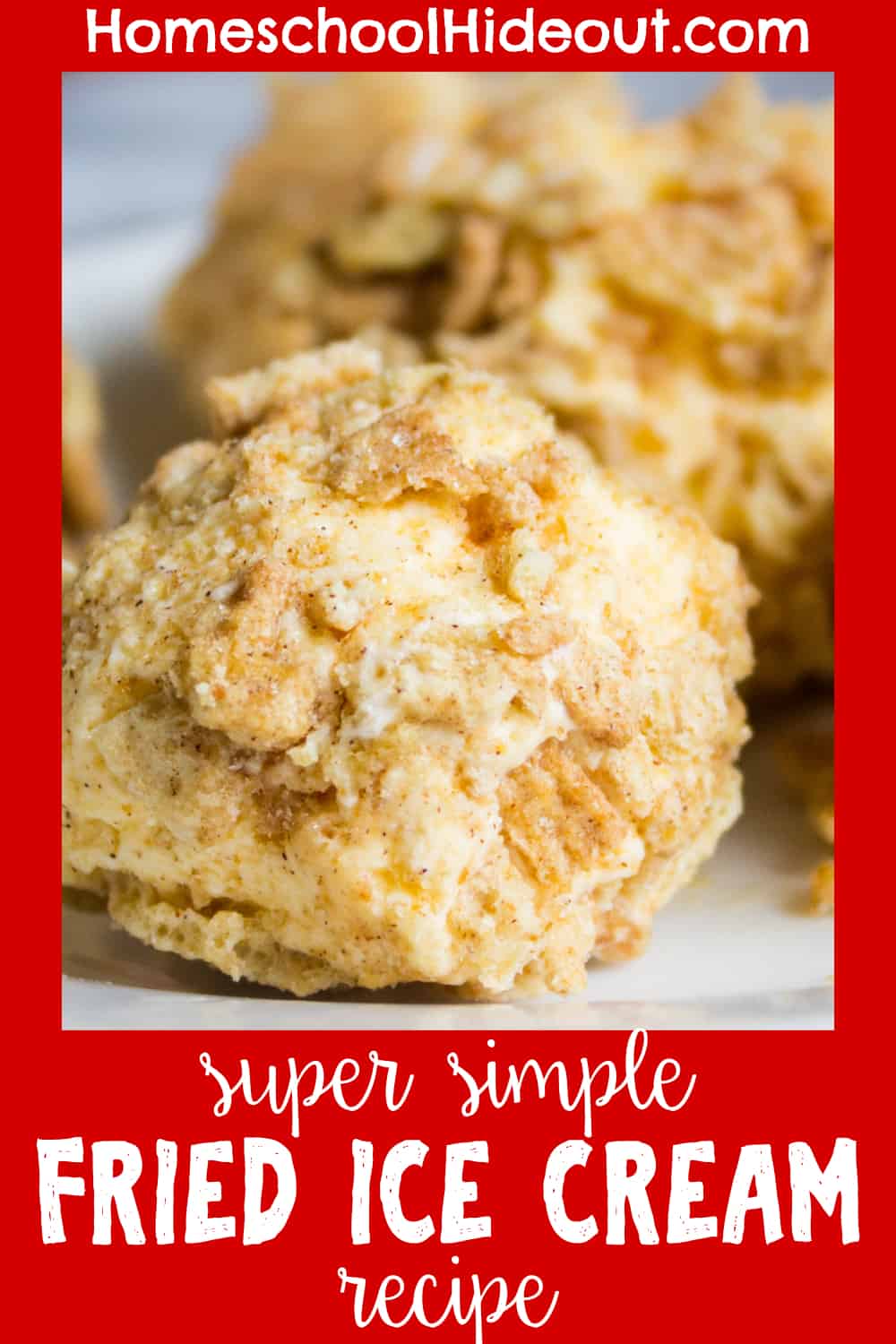 Super Easy Fried Ice Cream Recipe
Ingredients:
1 Box of Cinnamon Toast Crunch
Vanilla Ice Cream
Toppings of Choice

Instructions:
Scoop equal sized balls of ice cream onto freezable plate.

Allow scoops of ice cream to

sit for a few minutes while they soften.

Once soft, form ice cream into balls using your hand.

Stick the plate of ice cream balls in the freezer for 30 minutes or until frozen solid.

In the meantime, pour your Cinnamon Toast Crunch into a small bowl.

Using your hands, crush the cereal into small pieces.

Once your ice cream has hardened, remove frozen balls from freezer and place in the cereal.

Toss the ice cream balls around in the cereal, until evenly coated. You can completely cover the balls or only use a little bit of cereal. The choice is yours!

Serve the fried ice cream on individual plates.

Finish off with toppings of your choice. We love caramel and chocolate syrup with whipped cream.
This slideshow requires JavaScript.
Tips
:
You can just leave your ice cream in its natural shape but it won't be as pretty!

Kids love crunching the cereal with their hands but it can get messy! If you don't want cereal dust on your hands, just use a plastic baggie instead of a bowl. Then you can crunch the cereal easily without the mess. (You can even use a rolling pin to quickly smush the cereal with very little effort!)

Be sure to use a bowl to coat the balls of ice cream, as the frozen ice cream balls will stick to a plastic baggie.
With this easy fried ice cream recipe, you'll fall in love with the crunchy sweetness it offers! No longer is fried ice cream only for Cinco De Mayo. With as easy as this is, you can have it all year long!