We recently took a trip to Branson in search of the best Branson attractions for families. Our family had so much fun and made some awesome memories. We can't wait to visit Branson again and try out even more fun attractions.
Most Fun Branson Attractions for Families
If you're looking for hands-on excitement, you can't miss Beyond the Lens! I love how much the kids enjoyed it and soaked up so much information, without even realizing they were learning. That's a homeschoolers dream!
From The Prince of Pop to Bigfoot, there was so much to see and do. We loved reading all about the conspiracies around JFK, while my husband enjoyed the Bigfoot exhibit best.
And of course, the kids loved all the photo ops!
We also rode Flyride, which takes you across the USA, seeing some of the most beautiful landmarks in the country. From the Statue of Liberty to Yellowstone, it was an awesome experience that allowed us to get splashed by ocean waters and smell the gorgeous mountain's evergreens.
If you're going to be visiting Branson soon, you've got to check out Beyond the Lens. It's hands-on, educational exhibits are super fun and you'll make tons of memories together.
As with many attractions in Branson, Beyond the Lens offers discounts for homeschoolers! And these are are some of the best discounts I've seen:
$16.99 plus tax for the Techno-Tainment Combo (includes exhibits and FlyRide),
$9.99 plus tax for Beyond The Lens! exhibits only
$7.99 plus tax for FlyRide only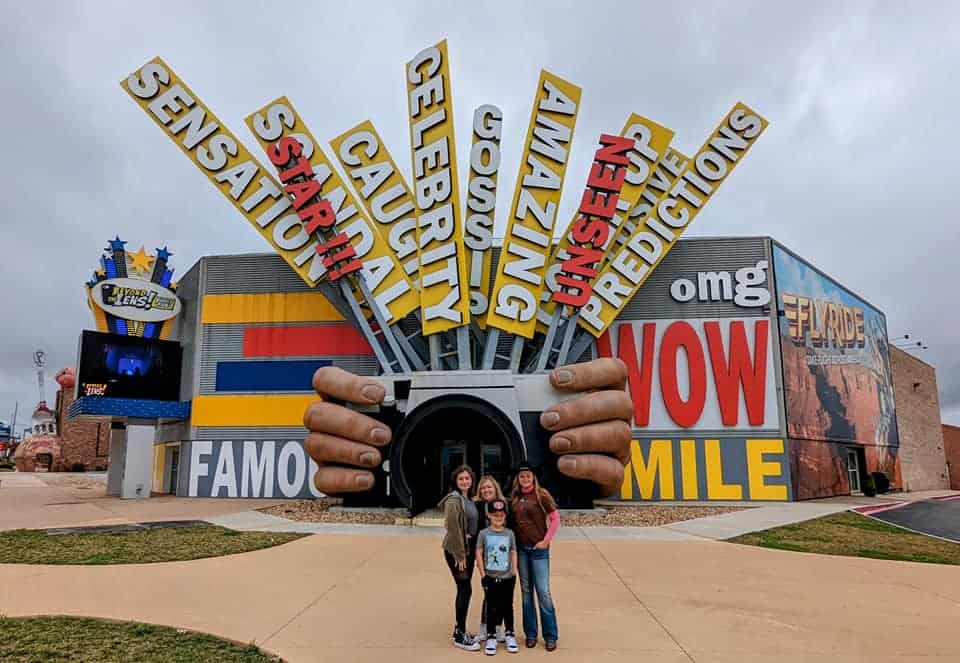 As always, we were on a budget while in Branson, so we typically don't purchase any photos from shows. However, one of my very favorite things about Beyond the Lens is that they have cameras set up throughout the museum. You simply scan your barcode then "say cheese!" At the end of the day, you can purchase the photo package. This included a folder with 2 large photos, a keychain, magnet and another wallet-sized photo. Then, on top of that, you get access to ALL of the photos you took throughout the day! (I wish I'd known about this sooner! We would've taken more photos!) Best of all, the price for ALL of that is only $25!!! And I think that might be the best darn deal in Branson!
While visiting Branson, you've got to watch The Haygoods! From the intense pyrotechnics to the high-energy dancing, it was epic.
The kids said "That wasn't a Branson show: it was a rock and roll concert!" And I couldn't agree more.
The upbeat songs and insane energy from the cast was more like a Vegas show than what you'd typically find on the Branson Strip.
From Michael Jackson and Bruno Mars to "Proud Mary" and "The Cotton Eyed Joe," the music was perfect for all ages!
If you're expecting a relaxing show, with mellow music that you can kick back and enjoy, this isn't it! I guarantee your foot will be tapping and you'll be dancing along to the upbeat tunes!
My favorite part about The Haygoods was that their concessions were actually affordable! We got a large soda and large popcorn for just $8! The kids were excited about this treat!
If you're looking for a big production from a family who grew up right here in the Ozark Mountains, you've got to check out The Haygoods! Trust me, you won't be disappointed! There's a good reason they sell out over 1,100 seats at each show!!!
If you haven't seen the Hughes Brothers Country & BBQ show in Branson, you've got to go!
Not only do they serve you a scrumptious BBQ meal but it's easily one of the most underrated shows in town.
I'm not usually a huge "music show" fan, so I didn't have very high expectations but we were all blown away with the performance. They had us laughing the whole time!
The acts were great! From country to gospel, they hit all of the best songs, that ALL ages can enjoy!
I asked my family what they thought of the Hughes Brothers:
Steven: "personable, fun, engaging"
Barrett: "second best show"(I was shocked! I thought he would be bored during this show but he rated it #2, only after Illusionist Rick Thomas!)
Emersyn: "Way better than I expected. Not just for old people."
Natali: "Really good harmony, brings good energy, good family-dynamic."
I personally felt like they were the best singers we saw in Branson. Their show is family-oriented and they offer other shows where the entire family joins in! I loved the Brother's personalities and how they each shined in their own way!
For the price of a BBQ dinner, you get that AND a show! You just can't beat a deal like that!
If you're looking for a high-energy show the whole family is guaranteed to love, Illusionist Rick Thomas is the one for you!
I spent the entire show saying "How the heck did he do that!"
His acts were perfectly combined with his inspirational stories about never giving up on your dreams.
If you enjoy crowd participation, you can't miss this. I'II be bet there were 8-10 acts that involved audience members! During one act, he invited the entire audience onstage to watch up close as he cut his wife in half.
We've seen a lot of magic shows in Branson over the years but this one leaves you feeling different. It's a really welcoming and engaging show that truly gives off the vibes of Branson: family, big dreams and a spirit of patriotism.
Plus, he does something that no other show has done for quite awhile: he hangs out in the lobby after the performance so you have a chance to visit or ask questions.
The dedication he has to making his audience happy is unmatched.
Our family voted this one of the top 3 shows in Branson!
Next time you're in town, swing by the Andy Williams Moonriver Theater and prepare to be amazed.
Watched an amazing show this afternoon at Dick Clark's American Bandstand Theater in Branson. Legends in Concert Branson did not disappoint.
With fun songs like "Mamas, Don't Let Your Babies Grow Up to be Cowboys," we sang and bopped right along with the performers.
It was a step back in time, that introduced the kids to some of the legends! Older folks will DEFINITELY love this show best but we enjoyed it, just the same.
The show performance changes a whopping 4 times a year, so there's always a new "legend" in town!
When we visited, the legends were Waylon Jennings, The Temptations, The Blues Brothers and Elvis.
These were all before "my time" but we still enjoyed it! I would love to see a "Legends" concert directed towards the 30-40 year old crowd. You know, Brittney, Garth Brooks, Michael Jackson, N*Sync. 😉
Next time you're in Branson, check them out and see what legends are in town!
If you want "sit on the edge of your seat" thrilling, you can't miss The Amazing Shanghai Acrobats. Talk about breath-taking!
Their stunts were incredible. Emersyn even got called up on stage to help with the "Shadow Puppets" act.
From climbing to daring heights to juggling unbelievable items, this show will have you "oohing" and "awwing" the whole time.
I loved the fire-eater, while the kids enjoyed the acrobatic flips and tricks.
Between the illusions, acrobatics, jokes, impressive strength and jaw-dropping stunts, this show is a can't miss!
We've seen a lot of shows in Branson and this is easily in the top 3! It's fun for all ages.
The Amazing Acrobats of Shanghai offers a Family Pass, making this a MUST-SEE while in town! You can get tickets for up to 2 adults and 3 kids for under $110!
The Track Family Fun Parks is THE place to be in Branson! After a long day of sitting through shows, this is the perfect way to let the kids burn some energy before heading back to the hotel.
From bumper cars to the giant Ferris Wheel, there's something for everyone here!
I'm not usually a super-adventurous person but when I loaded into the go-karts with Bear, we became young and care-free once again! We zipped around corners, flew over the hills and kept the pedal to the metal as we sped past the others. It was truly a fun and relaxing experience.
With 3 locations in Branson, you can pick which track looks the most fun for you!
Besides go-karts for all ages, The Tracks also offers bumper boats, the Skyscraper, batting cages, bumper cars, the Ferris wheel, laser games, golf and arcade games.
You can grab an all-day pass and ride until you've exhausted yourself! Trust me, this will be the most fun your kids will have.
Next time you're in town, check out these Branson attractions for families! You'll have the time of your life!