Oh my golly, ya'll!
It is FINALLY my favorite time of year. The summer heat is dying down. The crazy schedules are coming to a halt. The days of watermelon and popsicles are being replaced with warm bowls of chili and pumpkin spiced lattes.
Which is totally cool with me because while I do love summer, fall is pretty hard to beat.
I love everything about fall.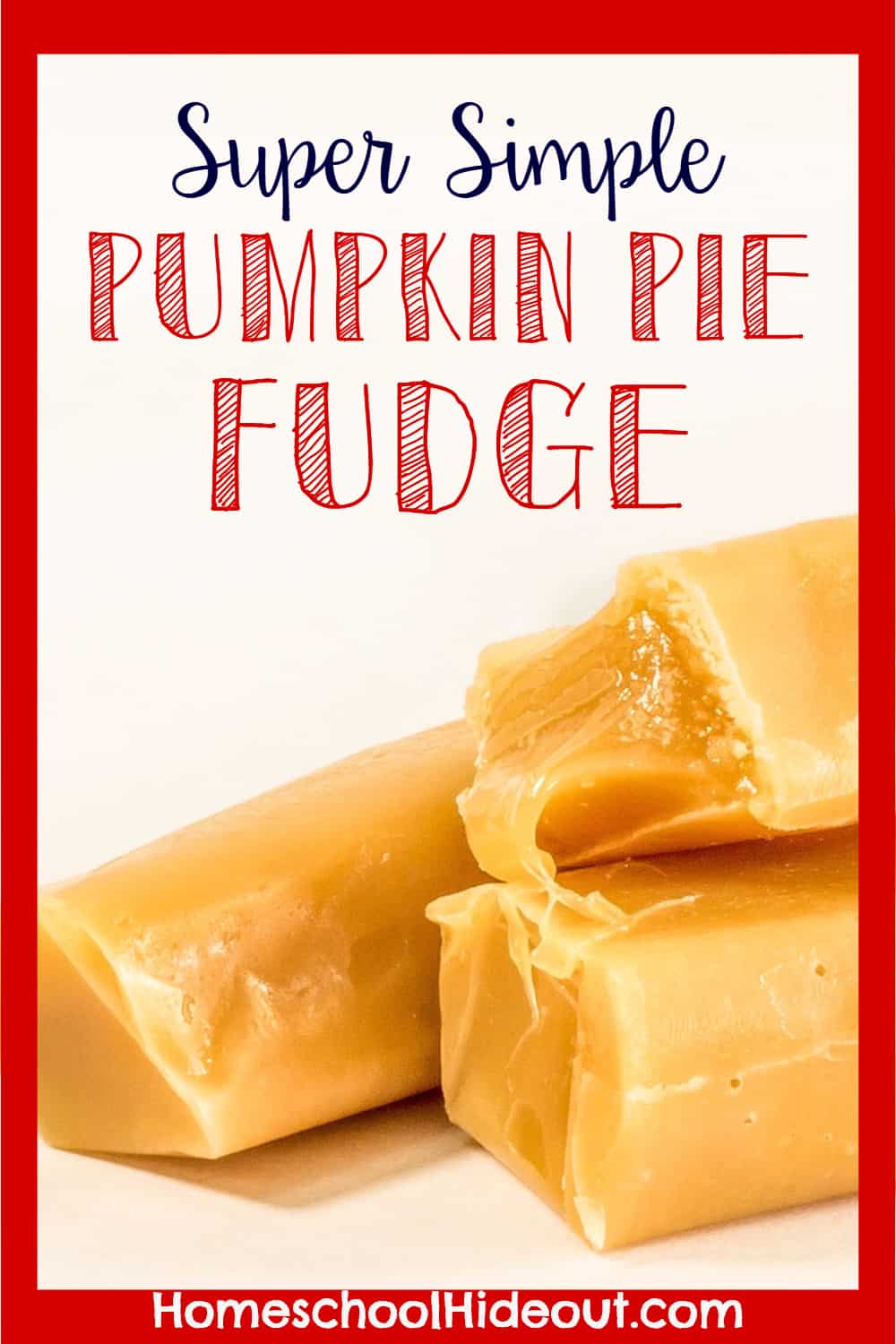 The sights and sounds of the coming weather makes me want to grab a sweater and curl up with a good book next to a warm, cackling fire. But the delicious treats that fall promises are hands down my favorites. From pumpkin bread to pumpkin cookies, pumpkin spiced coffees and pumpkin pie ice cream, I want to devour it ALL!
But while I was flipping through my personal cookbook (Yes, I still have an actual printed cookbook, not just a Pinterest board!), I noticed there was something missing. There was not a simple PUMPKIN PIE FUDGE recipe anywhere to be found!
So what's a pumpkin-crazed girl to do?
Find one, of course! (Ha! You thought I was going to whip up an amazing recipe, right off the top of my head, didn't you? Well, you should know better!) 😉
I found this promising recipe from Cooks.com and immediately knew it would be perfect.
And, boy, WAS IT!
It was so incredible that I couldn't NOT share!
Super Simple Pumpkin Pie Fudge
Combine sugar, brown sugar, pumpkin, evaporated milk, butter and pumpkin pie spice in medium saucepan.

Bring to a rolling boil over medium heat, stirring constantly.

Boil for 10 to 12 minutes or until candy thermometer reaches between 234°F. to 240ºF, while stirring constantly.

Quickly mix in morsels, marshmallow crème, vanilla extract and pecans. Stir for 1 minute or until morsels are completely melted.

Immediately pour into pan.
Cool on wire rack for 2 hours or until completely cooled. Cover tightly and refrigerate.
There is no doubt your family will love this simple pumpkin pie fudge recipe so much that they'll be begging for it for months to come! The good news is, with ingredients you probably already have on hand, this little gem is quick and painless to whip up!
So grab a snuggly blanket and a big ol' plate of pumpkin pie fudge and enjoy the most heavenly time of year.