Homeschooling can be stressful and overwhelming, if you don't have a plan in place. It's important to teach kids how to plan and set goals each month, week and day. But it's hard for kids to remember that they need to do this over and over again! That's why our printable homeschool planner is so useful. Just print it out and keep it on their desk, front and center!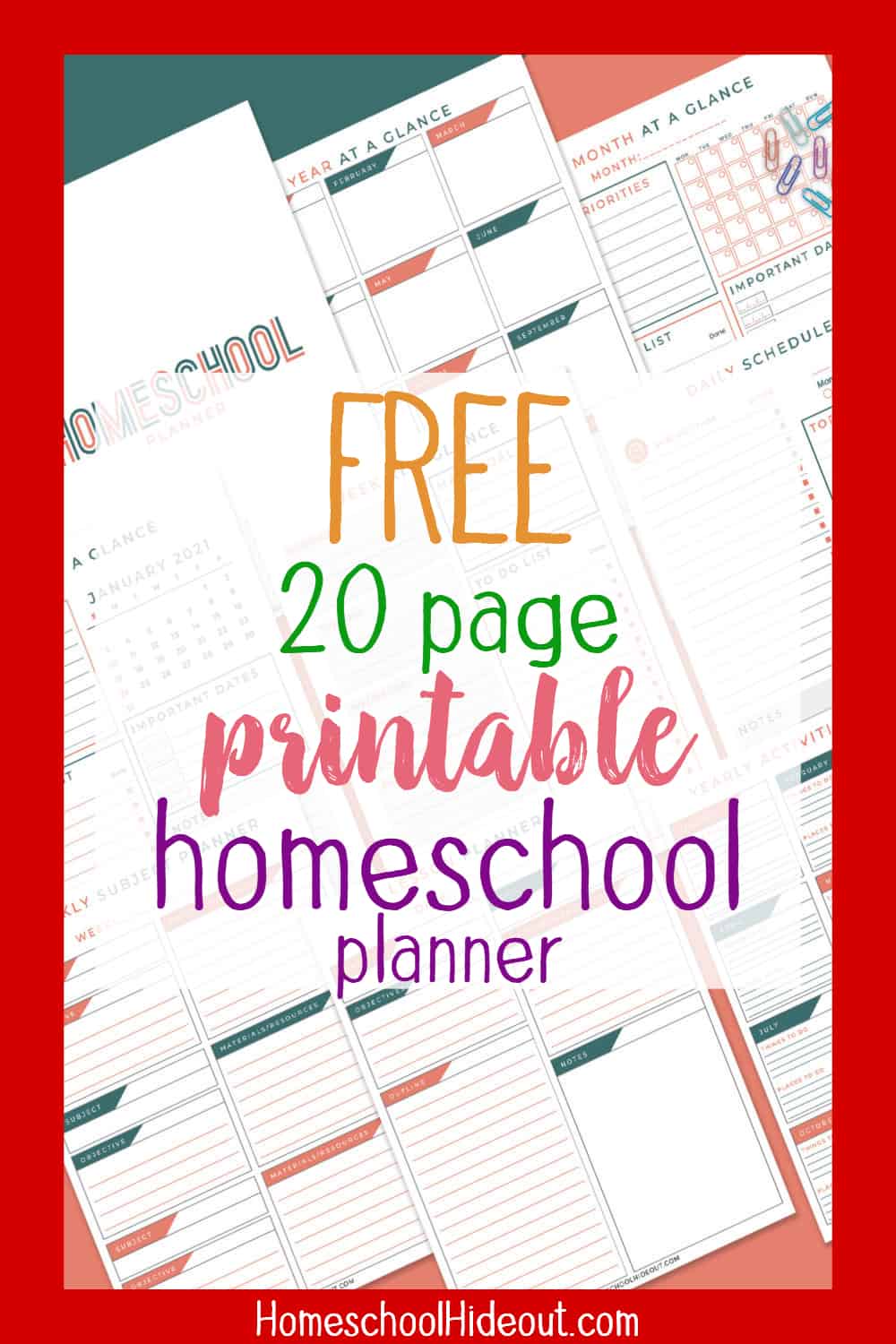 Printable Homeschool Planner
Year at a Glance:
This page is a great way to break down your subjects so that you can see exactly what you need to do each and every month. For instance, if you plan to homeschool from June until April, you can divide your lessons between 10 months. Then simply write the lesson numbers you need to complete each month in the box.
Month-at-a-Glance:
This is one of my favorite pages in our printable homeschool planner because it allows you to set short-term goals and encourages you to achieve them. It's easy to see your top priorities, important dates, to-do list, notes and a monthly calendar!
Week-at-a-Glance:
This page is a great addition to the printable homeschool planner because it allows students to see what they need to do between Monday and Friday! They also can note their main goals and to-do lists. The little check-boxes make completing tasks fun!
Daily Schedule:
This page breaks down your daily tasks for each day and also has a spot for your top priorities, notes and to-do lists. Write which subjects you need to complete each day and mark them off as they get finished.
Weekly Subject Planner:
This page allows you to note your objective in each subject, as well as what materials you'll need. While we created this printable homeschool planner with students in mind, this page is perfect for moms who are planning their homeschool for the week!
Lesson Planner:
It's easy to plan a lesson when you use this page! It has empty space to plan your subject, objective, outline, topic, materials, resources and notes. Creating unit studies has never been easier!
Yearly Activities Planner:
This printable homeschool planner page is broken down into 12 months. There's plenty of space to write what activities you want to do, as well as where you'd like to go. This is one of our favorite pages because it ensures we're constantly learning and seeing the world around us!
Monthly- at-a-Glance Pages, January through December:
These pages are ready to go for the 2021 year! They're just like the other month-at-a-glance pages but have the calendars filled in and ready to go!
If you're looking for an effective and cheap (FREE!) printable homeschool planner, this one has it all!
You can grab this planner, as well as all of our other subscriber FREEBIES, when you sign up for our weekly newsletter!