There's no denying that I've dropped the ball on some homeschooling activities over the last few years. When I started homeschooling my third kiddo, hands-on science experiments were halted. Fun field trips were pushed to the wayside. Baking cookies and recreating the Statue of Liberty with Legos wasn't made a priority.
The truth is, being a work-at-home homeschooling mom is HARD. I feel like many weeks (months…maybe even YEARS at this point?) I'm just trying to do the bare minimum to keep our school afloat. And to be honest, that isn't fair to Bear. His older sisters got the best homeschool mama ever. I had lots of energy and devoted my time solely to their schooling. However, things change.
I knew I needed to do something different but I needed it to be easy to do. That meant quick and easy lessons that are planned for me, easy hands-on science activities and fun experiments that would excite Bear.
The Sonlight Science Kit was exactly what we needed!
WANT TO WIN THIS AMAZING CURRICULUM?
DON'T MISS THE GIVEAWAY AT THE BOTTOM OF THIS POST!
This post is sponsored by Sonlight. I received the product for free and was compensated for my time.
As soon as I ripped open our package from Sonlight, I knew I was going to love it! The program offers everything a busy mom could want in a homeschool curriculum.: hands-on science experiments, gorgeous literature and open-and-go lesson plans.
All About Sonlight Science
The updated kindergarten curriculum from Sonlight is made up of 5 effective components:
Instructor's Guide:
While this isn't the most FUN part of the curriculum, it's the backbone to making it work effortlessly. Each lesson is laid out for you, taking all the guesswork out of teaching.
Gorgeous Literature:
What homeschool mom doesn't love good, quality books? One of my favorite things about Sonlight's science curriculum is the amazing books that come with the kit. They are educational, vibrant and easy for kiddos to understand.
I love that you don't sit down and read through each book in one sitting. Instead, you read specific pages and then dive deeper into those topics through hands-on science experiments and fun activities.
Reading specific pages instead of the whole book makes lessons shorter, while helping young kids better understand the topic they are learning about.
Activity Sheets:
The activity sheets are the perfect way to make sure your kiddo is learning! While the rest of the curriculum is based on fun, hands-on projects, the worksheets help ensure that your kids are understanding what you're teaching. They also make great samples of work for your recordkeeping.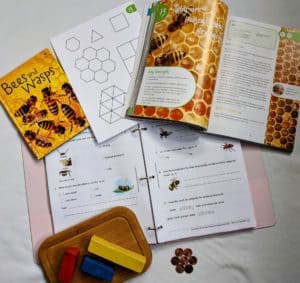 What I love best about these worksheets is that they are included in your instructor's guide. There's no need to flip around or hunt down another set of worksheets. Everything you need for that day is right there in your handy-dandy binder.
(Did I mention that these worksheets AND the instructor's guide come pre-punched and ready to slip into your 3-ring binder? This one little feature makes planning and teaching so much easier!)
Discover & Do Book & Supply Kit:
You can imagine how happy I was when I opened our Sonlight package and found an entire box full of supplies we'd need for our hands-on science activities.
From PVS pipe, popsicle sticks, shiny paper, Ping-Pong balls, rubber bands, bouncy balls and even a bag of cheese balls, it's ALL right there, ready to go!
This slideshow requires JavaScript.
If every curriculum came with a box of ready-to-go supplies prepared for the hands-on science activities, the world would be a much better place.
Discover & Do Videos:
Each week, kids can watch a video about the topic they've been learning about. The videos feature funny commentary and simple-to-understand explanations of the hands-on science activity.
Each video walks students step-by-step through the hands-on activity, making it easier to follow along. You can pause if needed but the extra commentary allows students to work at their own pace, while not falling behind.
The video component is an amazing addition to this curriculum. The explanations and silly personalities make it engaging for kids and I'm able to allow someone else to teach for a bit.
Most videos are about 10-12 minutes long and jam-packed full of information!
Who Sonlight Science Works Best For:
Most curriculum are geared towards one specific type of learner, but because of the different components offered in Sonlight's science curriculum, it's perfect for every kid.
The hands-on science activities are great for kinesthetic learners.
All of the amazing books and videos are great for auditory learners.
Logical learners will love the worksheets.
It's important that kids learn through all different ways and Sonlight has done an amazing job of providing that.
What's Included:
Instructor's Guide that allows you to choose between a 4-day or 5-day format
36 hands-on science experiments, including everything you need to complete them
Fun and educational videos for every experiment
11 gorgeous educational books
Student worksheets
Why I Love Sonlight Science
To be honest, Sonlight's hands-on science curriculum has made me a better homeschool mom. Bear thinks I'm fun again and I don't feel flustered, trying to squeeze in time to complete a bunch of complicated activities.
Generally, when you find a curriculum that is quick and easy, you also lose some of the quality. But somehow, Sonlight has managed to provide hands-on science activities that kids love in a way that doesn't stress moms out!
When the world throws a pandemic at you and you're already overwhelmed, the simplicity of a high-quality curriculum is something to be appreciated.
Win A Set of Sonlight Curriculum!