Many are choosing to take the homeschooling route to provide students with a more focused learning experience. Whether you are looking for a hands-on homeschool math programs or a more traditional type of learning, some fantastic programs can be used. This subject is one that many students struggle with, but with top programs available, different teaching styles are used to provide a fun and engaging way to learn.
If you are already homeschooling or starting the process, take some time to discover trusted curriculum programs that will provide an innovative form of teaching. Many of these will offer self-paced learning, allowing students to take more time to focus on areas presenting problems of struggles.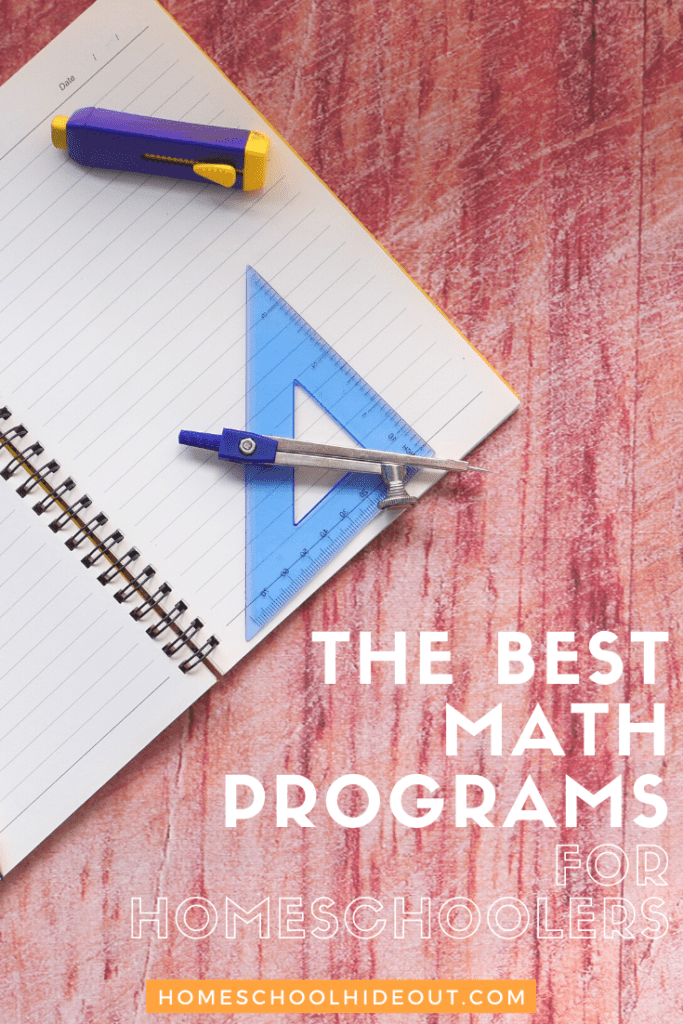 Online Resources for Students
Math is known to be one of the most challenging subjects for students to master. When homeschooling, there may be a need for additional assistance. Luckily, several online resources can be accessed to help students master concepts and get the extra help they may need.
As students advance in levels and start learning new concepts, getting math help may be the best way to succeed and get good grades. Many free online tools can be used to help students at all levels. There are many resources, whether help is needed for precalculus problems and answers or common core math for the younger students.
Online tutors can provide an individual learning approach and focus on specific areas that are causing problems. There are also free online classes that focus on different areas and subjects, providing additional learning content to help understand formulas and theorems.
The Best Homeschool Math Programs 2021
There are many choices for math curriculum, and with many parents choosing to homeschool, it is essential to select a program that will meet the learning needs of students. Each program features daily classes and exercises that focus on the area of math being taught. Some do not require teachers, while others will have some involvement. Choosing the right match program will depend on the student's learning style and meeting Common core standards.
Take a look at some of the leading choices being used today. These all feature math curriculum common core and offer a variety of ways for students to learn through online studying and workbooks.
Saxon Math
This program is designed for students who respond well to drills, and it uses different drills to teach various concepts. The first three levels use workbooks, and then CDs and textbooks are used from level 4 and up. Saxon is a trusted program that has been used by many. It is a good choice for students planning to attend college. It has one of the best pre-algebra curricula for homeschool, getting students ready for more advanced math as they further their education.
Right start Math
With Rightstart, there is an interactive approach where manipulatives are used to provide a hands-on learning experience. This program is known to have the best homeschool math curriculum, aiming to take students above national averages. It is an excellent choice for visual learners and educators who will actively be involved in lessons. Right start uses a Montessori method of teaching and encourages students to discover solutions through experiments.
Khan Academy
Khan Academy is a perfect choice for all grades as well as pre-college students. It covers many topics and is offered entirely online. Using video instruction, students are taught different math concepts. The program is similar to online tutoring sessions where students will see instructional videos and then complete exercises. The lessons are delivered without the need of a teacher. It is an excellent option for students who can learn on their own.
Mr. D Math
This homeschool math program is a top choice for upper-level math. It covers pre-algebra all the way to trigonometry courses. The program also provides boot camps for the ACT and SAT prep. With self-paced courses and live online classes that meet weekly, students learn at their own pace and no teacher involvement is required. The educators used are selected to teach math uniquely so that students remain engaged. Mr. D Match has a great Algebra 1 curriculum along with other advanced math courses.
Decidng which is the best homeschool math programs for you:
Finding the right homeschooling program will be essential for success. It will allow your child to keep up in the area of math. With some great choices available, parents can select a program that focuses on specific areas of learning or is geared towards providing advanced math techniques and lessons. It is essential students do not fall behind and receive the material needed to advance their education. Using the best math homeschool programs will ensure that students stay on track and many have tested above national averages.