Water. It's the most important liquid on earth, yet we often take it for granted. It's magical powers to go from a solid to a liquid to a gas is pretty mind-blowing. This year, we're learning all about water and having some fun while doing so! I gathered up a few fun activities to go alongside The Good and The Beautiful's water unit study that we'll be using as our core curriculum.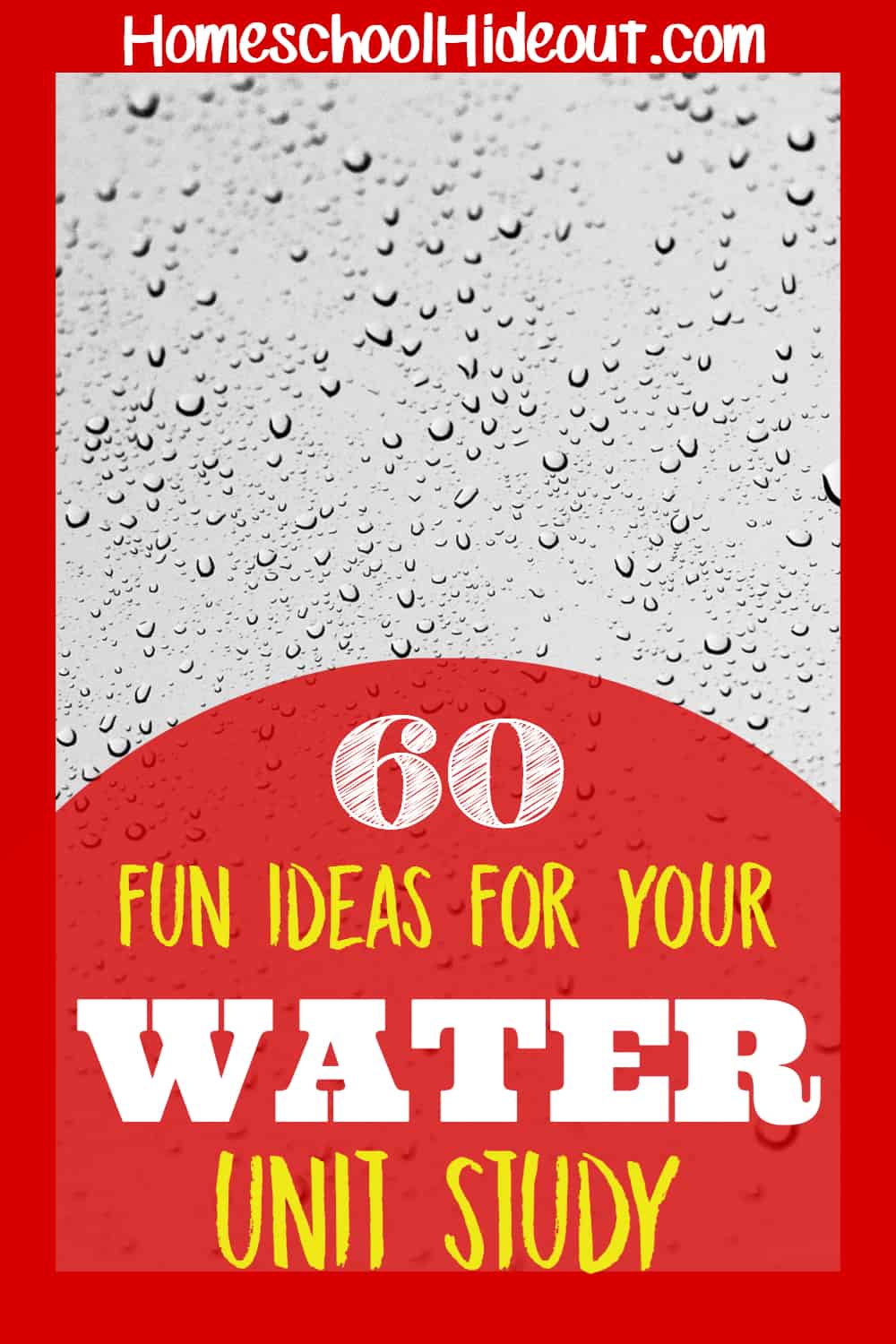 Water Unit Study Ideas
Hands-On Learning
Does It Dissolve?
Drop different ingredients from your kitchen into a bowl of water and watch as it dissolves…or doesn't! Try sugar, flour, salt, rice and any other on-hand supplies. See if your kiddos can guess which ingredients will dissolve and which won't.
Listen to the Rain:
Create your own rain sticks at home by using an empty paper towel tube. Seal one end with duct tape then fill with dried beans before sealing the other end. Allow the kids to decorate the outside of the tube as they wish using washi-tape, paints, stickers or crayons.
Wet and Wild:
Pick up a few squirt guns and allow the kiddos to go crazy with them. Begin with writing their names, vocab or spelling words on the side of you house or on the sidewalk. Once they grow tired of that, allow them to have an all-out water war!
Will It Float?
Talk to your kids about why some things float and others don't. Discuss what they know, like what items float and sink while they're in the bath. Bubbles float. Bars of soap sink. Why is that? Check each of their toys to see if it'll float or sink. Add some fun by guessing which fruits and veggies will float and sink. (Try strawberries, carrots, apples or grapes! After your experiment, you can enjoy a healthy snack!)
Visit Water
Whether you plan a family vacation to the beach or just take an afternoon dip in a creek, let kids explore water on their own. They will learn what lives there, how water stays clean and how important it is to our survival. Not to mention, you can enjoy some wet and wild fun!
Erosion Experiment
Learn all about what will and will not withstand erosion with this fun experiment from Education.com.
Books
Let's Investigate with Nate: The Water Cycle


A Drop of Water: A Book of Science and Wonder
Things That Float and Things That Don't
The Magic School Bus Wet All Over
National Geographic Readers: Water
A Wild Ride on the Water Cycle
The Water Cycle: Evaporation, Condensation and Erosion
Snacks
Feeling snarky?
Give your kiddos a glass of water and some ice cubes as their snack as you discuss water. They'll think it's funny and appreciate tomorrow's snack just a little bit more. 😉
J-E-L-L-O
Throw together a box of blue jello and add some goldfish to it. The kids will enjoy watching the fish "swim" as the jello jiggles and wiggles.
Infused Water
Show kids the different flavors you can attain by adding different fruits to your water. Try strawberry, mango, pineapple, or even mint! This is a great time to discuss that sugary drinks are unhealthy but you can have an equally satisfying drink using only healthy ingredients.
Copycat Ocean Water
Am I the only one who loves Ocean Water from Sonic? I didn't think so! Make your own version at home. It's quick and easy and your kiddos will love it! Here's what ya need:
3 Tbsp Water
3 Tbsp Sugar
4-5 drops of blue food coloring
1 tsp Coconut Extract
24 oz Sprite
Mix water and sugar in a microwave-safe bowl and heat for 45 seconds, until a syrup is formed. Stir and allow to cool. Add coconut extract and blue food coloring and mix well. Pour into chilled Sprite or add ice!
Decor
There's something mesmerizing about watching a lava lamp. Have your kiddos do some research to find out how and why a lava lamp works the way it does.
Enjoy some relaxing sounds with a waterfall right in front of you! Table top waterfalls are the perfect way to bring nature indoors and creating a serene environment.
Kits
SPLASH! Water Kit with 23 Hands-On Experiments
Science4You Water Science Kit Experiment
Games
Water Balloon Toss
A classic backyard game that all ages will love is perfect for learning about water! Take the hassle out of filling your water balloons with one of these genius inventions.
Water Baseball
How much fun would baseball be if you could add water? Well now you can! Check out this awesome baseball field that's perfect for summer.
Water Relay
Using small beach buckets, try to transfer enough water to fill a 5 gallon bucket from a shallow pool. Kids will love racing against each other to get their bucket filled first.
Balloon on a Spoon
Swap an egg race for a balloon race when you try to balance a small water balloon on a small spoon. Teams will race against each other to see who can make it through the obstacle course first without breaking their balloon. If you drop your balloon but it doesn't break, you may pick it up but you have to go back to the beginning of the race!
Documentaries, Shows & Videos
Netflix:
Billy Nye, The Science Guy: Pollution (Episode 22)
Bill Nye, The Science Guy: Lakes & Ponds (Episode 30)
Water & Power: A California Heist
Planet Earth: The Complete Collection: Fresh Water (Episode 3)
Planet Earth: The Complete Collection: Ice Worlds (Episode 6)
The Future of Water
Frozen Planet: On Thin Ice
Amazon:
***All of these titles are available for FREE with a Prime Membership! If you don't have one, what the heck are you waiting for?!?***
Dr. Binocs Show: The Water Bodies (Episode 10)
The Water Cycle and Cloud Formation
Water Makes Life Possible/ The Water Cycle
Earth From Above: Water
Floods, Fronts & the Water Cycle
Nature's Power Revealed: Power of Water (Episode 2)
Human Impact on Water/ Climate Change & Water
Show Me Science Energy- Hydroelectric Power on the Rise
Patagonia Rising
Running Dry
H-2-OH NO!
Water
Tapping Into Water: A Documentary
It Runs on Water
Living Without Water
Water Wars
Earth Science for Children: All About the Water Cycle (Episode 8)
Earth Science for Children: All About Weathering & Erosion (Episode 10)
Women & Water
Earth Science In Action: Oceans (Episode 8)
Earth Science In Action: Topography (Episode 11)
Earth Science In Action: The Water Cycle (Episode 13)
Earth Science In Action: Weathering & Erosion (Episode 14)
If you're looking for some fun activities, documentaries and snacks to go along with your water unit study, we've got ya covered!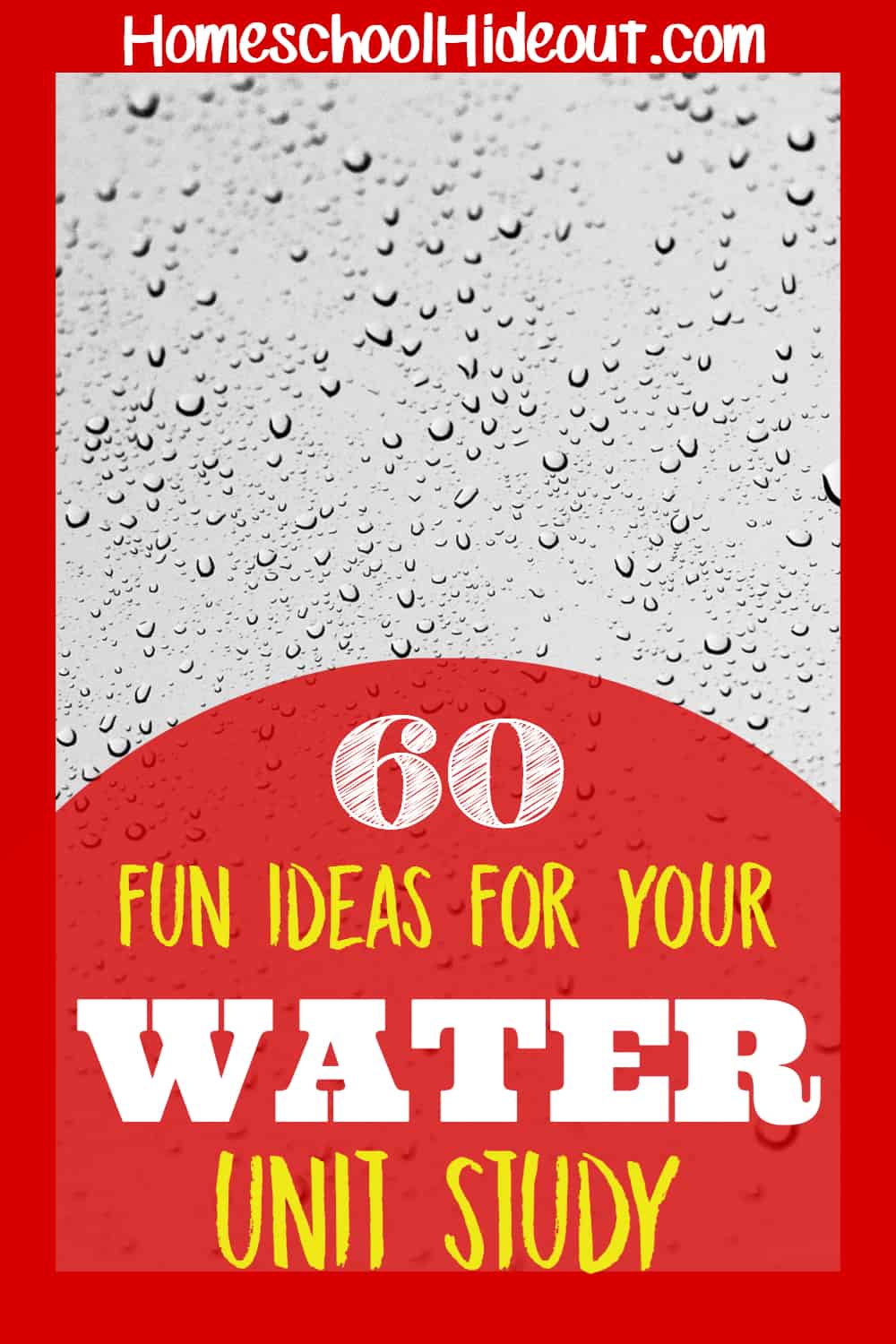 Don't miss these fun unit studies: