I'm not a huge fan of teaching ALL the things through curriculum. In our homeschool, we spend the early years focusing on building math and reading foundations that are solid and supportive. We don't pick up any other textbooks until around 4th grade.
Why do we do this?
I feel like having a strong grasp on math and reading helps set kids up for success in all of their other subjects. If they struggle with the basics, they'll struggle all the way through school. And, trust me, that's no fun for anyone!
Bookwork is great when it's necessary but I feel like waiting a few years before you bust out the textbooks is just fine. Hands-on learning and engaging educational activities is more our speed, though.
That's why I was excited to see that Age of Learning is offering a new program called Homeschool+.
I received the product for free and was compensated for my time. All opinions are my own.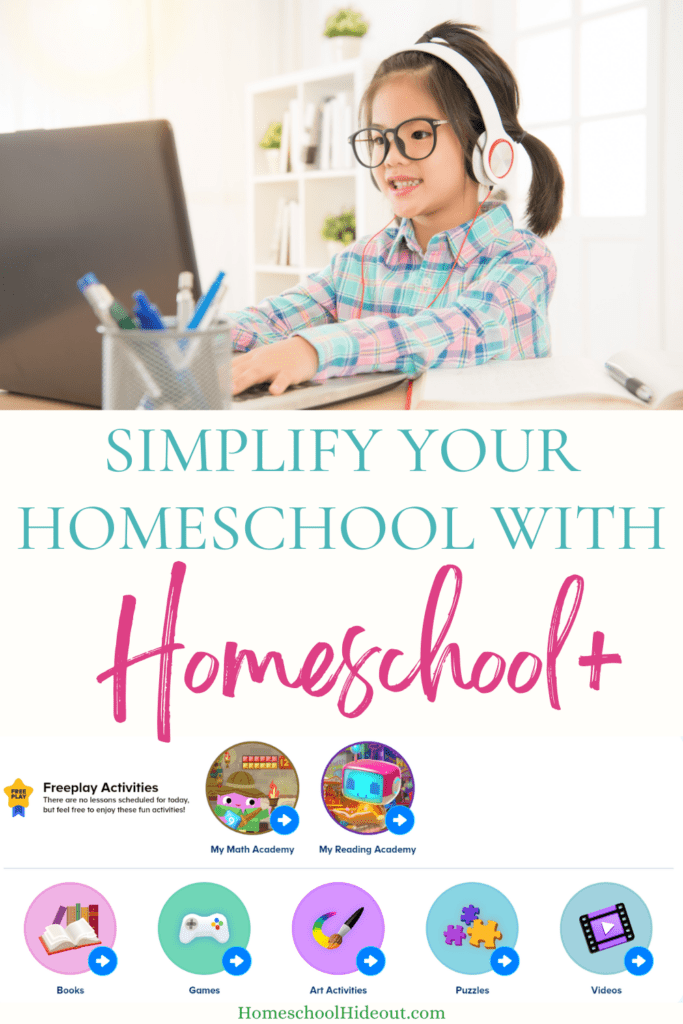 With so many online learning options these days, it's important to know exactly what you're getting with a program. I've used and trusted learning programs from Age of Learning for years, like ABCmouse.
Homeschool+ is the latest helpful tool to hit the market and we are LOVING it! The hands-on learning paired with online lessons is perfect for our busy family.
Pre-K-2nd Grade
Homeschool+ is an all-in-one program designed for kids ages 4-8. It is designed to take them from learning the very basics of math and reading to fully comprehending the subjects.
Interactive games and fun characters, like Shapeys, make kids WANT to learn!
Customized Learning Program
Homeschool+ offers a customizable plan, like no other program. Parents can quickly and easily decide what they want their child to learn and switch it up with the click of a button.
Parents decide if they want their child to do 20 minutes of math each day or more. They can easily add, remove or move lessons, according to their ever-changing schedules.
They decide which days will be considered "school days" and are able to make the lesson plans fit in their busy schedules.
Master Math & Reading
My Math Academy: My Math Academy uses fun teaching techniques to build a solid foundation for kids. The interactive approach takes the struggle out of math time and makes kids actually enjoy the lessons.
My Math Academy covers all the skills kids need to learn from Pre-K through 2nd grade.
My Reading Academy: Kids learn to read using interactive games and quickly build the reading skills they need.
Amazingly, My Reading Academy covers all the basics kids will need to learn to take them to reading comprehension.
Hands-On Learning:
One huge asset to Homeschool+ is their huge selection of ready-to-go lesson plans. I love that Barrett can easily learn the basics of a topic then we can dive deeper, together using the printable lesson plans.
So Much More:
While Homeschool+ has an amazing curriculum to teach kids the basics of math and reading, it offers so much more! With 10 individual courses, each made up of 12-20 lessons, there's no shortage of learning!
From art, science and general knowledge to social studies, Spanish and Community Citizenship, kids can cover ALL the subjects they're interested in!
The offline lesson plans that come with the individual courses are worth their weight in gold! They're jam-packed full of easy-to-do activities and hands-on learning projects. It takes Homeschool+ from just another online program to a program like no other!
Freeplay Activities:
Lessons aren't currently available on the weekends (which is a bummer for us, but a very minor drawback in comparison to all the benefits of Homeschool+.) But that doesn't mean students can't still learn! There are plenty of Freeplay Activities for kids to choose from:
Books
Games
Art Activities
Puzzles
Videos
These activities are super fun and Barrett enjoyed playing a mixture of what HE chose, instead of what I assigned him that week.
Tools for Parents:
The Lesson Planner & Progress Tracker are one of my favorite parts of Homeschool+. I'm able to sit down and simply skim over the month's lessons since I use the default schedule.
At the same time, I'm able to see exactly how he's progressed. The "back-end" of homeschooling usually takes hours upon hours each semester. Using Homeschool+, I spend less than 3 minutes a week and my child is actually ENJOYING learning! Talk about a time-saver.
Convenience:
Homeschool+ is available on all devices and allows each family to have access for up to 3 children! Being able to do school, on the go, with young kids is an absolute game-changer! Pass them the iPad and hit the road. They'll be done with school by the time you finish running your errands! Best of all, they'll be having so much fun, they won't even realize they're learning!
If you're looking for an all-in-one curriculum for your little ones, you can't miss Homeschool+. It takes the stress and worry out of homeschooling!
After the 10 day free trial, you will be charged $49.99 per month until cancelled.