This post may contain affiliate links. Read the full disclosure for more information.
Remember the good old days when you wanted to learn about something and you actually had to go to the library and research it? You would spend hours sifting through magazines, books and video clips. These days, technology has boosted our ability to learn new things in a quicker and more efficient way. With Netflix, YouTube and podcasts, you can learn about pretty much anything, anytime and anywhere.
Podcasts are quickly rising to the top as the perfect entertainment option, not to mention it can be really educational. With thousands of options available to download, there's something for everyone. But don't worry: we've narrowed it down to the best of the best for you!
What is a Podcast?
Podcasts are short audio clips, usually between 20 minutes and an hour long. Many are intended to entertain but others are meant to educate the audience. Some are part of a series and require you to tune in weekly to catch all the adventures.
How to Listen to Podcasts
While podcasts may seem like new territory, it's easy to get started listening to them. There are several apps that allow you to download podcasts for free. Most Apple devices come with the Podcast app already installed. If you are an Android user, you have several options in the Google Playstore:
Stitcher (This is our personal favorite and what our family uses)
RadioPublic
Spotify
CastBox
Tune In Radio
When Can I Use Podcasts?
In the car
While cleaning
On road trips
Waiting in lines, at appointments or at kids' practices
While working out
As bedtime stories
During bath time
While having "quiet time" with kids
At work (when safe and acceptable)
While cooking dinner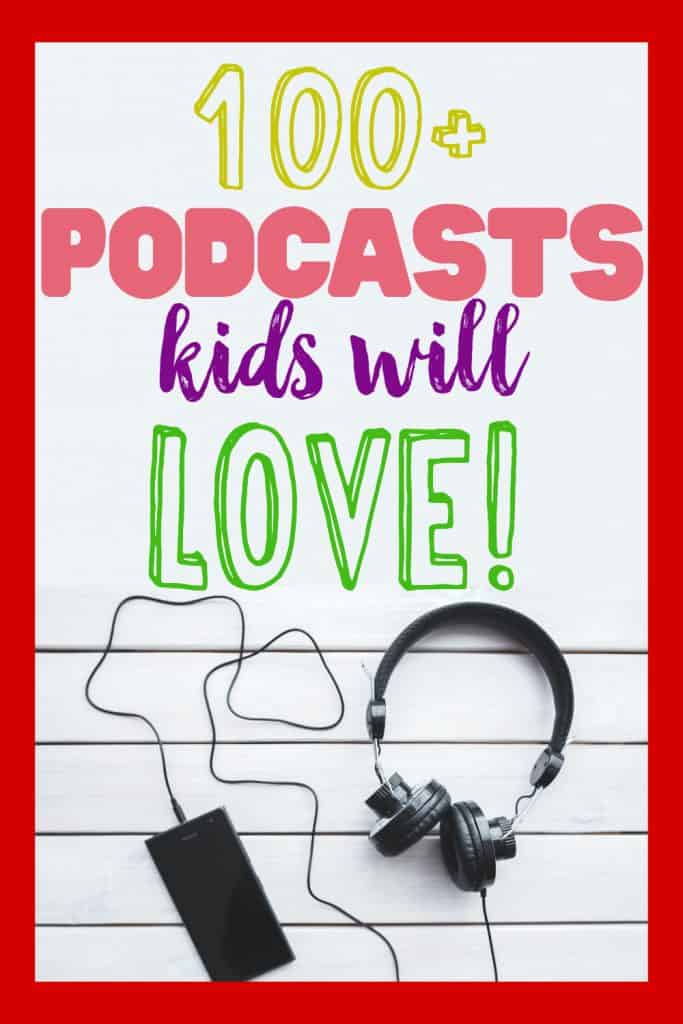 100+ Podcasts for Kids
Ted Talks
Song Exploder
The History Chicks
History Extra Podcast
Back Story
The Anthropocene Reviewed
Getting Curious with Jonathon Van Ness
Ear Biscuits
Hardcore History
Stuff Mom Never Told You
99% Invisible
What If World: Stories for Kids
Ridiculous History
Dream Big
Twenty Thousand Hertz
By Kids for Kids Story Time
The Tim Ferriss Show
Forever Ago
Part Time Genius
This Day in History Class
You are Not So Smart
A Way with Words
Good Job, Brain!
How to Do Everything
Ologies
Book Club for Kids
Little Stories for Tiny People
This Podcast Will Kill You
Imagine This
Stuff You Should Know
Pantsuit POlitics
Brain Stuff
Jocko Podcast
Myths & Legends
Philosophize This
The Bright Sessions
Savor
How's Your Day
Stuff You Missed In History Class
LeVar Burton Reads
Stuff They Don't Want You to Know
The Podcast History of Our World
History of England
Tides of History
History of Rome
In Our Time
History of Byzantium
But Why: A Podcast for Curious Kids
History of WWII
Science Friday
History Extra Podcast
Aquariumania
How I Built This
Brain Science Podcast
The Memory Palace
Welcome to Nightvale
Harry Potter & The Sacred Texts
This Won't Hurt a Bit
Wait Wait…Don't Tell Me
Reply All
Circle Round
A Very Spatial Podcast
Dressed: The History of Fashion
This American Life
But Daddy, Why?
Drawn: The Story of Animation
The Cracked Podcast
The Past and the Curious
Alien Adventures of Finn Caspian
Wolverine: The Long Night
Be Calm on Ahway Island
SugarCrash
Six Minutes
Sparkle Stories
Pants on Fire
The Unexplainable Disappearance of Mars Patel
RadioLab
Our Fake History
British History Podcast
TED Radio Hour
Highlights Hangout
Dear Hank & John
Stories Podcast
Tumble Science Podcast for Kids
Earth Rangers
The Radio Adventures of Dr. Floyd
Fun Kids Radio Interviews
Purple Rocket Podcasts
Wow in the World
The Moth
Talking Animals
BrainStuff
Revisionist History
Smash Boom Best
Stuff to Blow Your Mind
Short and Curly
Brains On
Classics for Kids
Ear Snacks
Every Little Thing
Household Name
Gastropod
StoryNory
Science Vs
Hidden Brain
But Why
Discovery Mountain
Invisibilia
Astounding Universe
Wild Thing
Eleanor Amplified
From science to crazy facts, there's something for everyone on this list of 100+ podcasts for kids!
SIGN UP FOR OUR WEEKLY NEWSLETTER AND GET ACCESS TO A FREE PRINTABLE LIST OF EDUCATIONAL PODCASTS FOR KIDS!


We wanna know:
What's your family's favorite podcasts?