Looking to add some physical activity for your homeschoolers? Here are 6 easy ideas!
Many parents, looking at their child, who spends all their spare time on gadgets, are wondering how to accustom a child to sports. Even a little sports load is necessary for stable physical development and health in general. Moreover, simple exercises are a crucial part of the best homeschool curriculum.
If you have this question, you are already halfway to victory because without the participation of parents, the child won't get up from the chair and will not go to work out.
So let's take a closer look at how to accustom a child to physical activity at school age while homeschooling.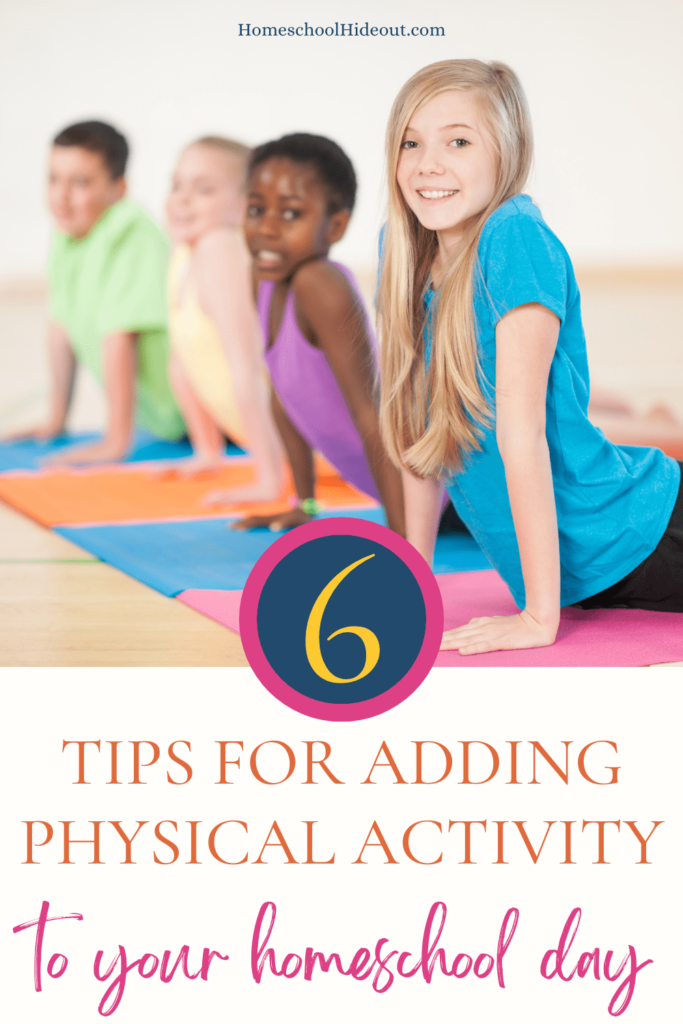 6 Ideas for Physical Activity for Homeschoolers
Create A Sporty Atmosphere
Give your child maximum opportunities for active movement. Install a small sports complex for workout indoors, and arrange kids' workout equipment around the house – bright balls, jump ropes, hula hoops. You can even purchase a small basketball hoop.
Constant access to active movement will help the kiddo learn to control their body. Neurophysiologist Glenn Doman introduced the concept of motor intelligence. His discoveries showed that the more the baby is encouraged to move, the faster the formation of the brain. When mastering the next motor skill, higher parts of the brain develop.
Give Your Child An Example
It's great if a little exercise during the day is a common thing for you. Tell your child about your experiences, the benefits of exercising, and why you love playing sports. Do it sincerely, without preaching, and show the child some exercises.
Remember, you are your child's best friend, and starting a new business in a supportive atmosphere is always easier and more interesting. Spending more time with your kid while learning something new will give the child a sense of protection, which is important at a tender age.
If you don't know how to do something yourself, for example, somersaults, start exercising as a whole family. Seeing how you try and achieve results, the baby will feel more confident. And you and your little partner will be able to arrange mini-competitions and celebrate each other's successes.
Engage Active Games
Show your imagination and organize active games for your child in between home lessons. Let it be a fun sumo wrestling, home bowling, treasure hunt, or lava floor.
Playing together is not only a cool PE idea for homeschoolers but also a very useful skill for building friendly and trusting relationships between a child and parents.
Engage The Child's Favorite Character
Can't your little one sleep without their Paddington Bear? Do they love watching Monsters, Inc.? Why not move this love back on track?
Order a costume of your child's favorite character and make a video with easy and fun exercises that this very character performs. The main thing is that they are simple – squats or jumps. An even better idea would be to make a Just Dance-type video. Children love to go crazy to music, but dancing is also physical activity.
Overlay your child's favorite song and edit video with Movavi or use other decent software like OpenShot or VSDC Free Video Editor. The baby will be motivated to engage with his friend.
Check Out Special Programs
Everyone knows that modern children cannot live without a smartphone. Download physical activity apps on it – these days, there is an app for everything you need.
Such tools will introduce children to exercises for strength, agility, flexibility, and balance. What's cool is that you can easily customize the sessions and the duration of the kid's workout.
Expand Kids' Sports Horizons
If the child is already interested in certain exercises, don't limit their interest. Go to "adult" tournaments and competitions, watch videos of athletes' performances, and study the biographies of sports stars. This will help to look at sports from different points of view and inspire children to work hard.
Parenting Mistakes To Avoid
Often, the parents themselves are to blame for a child's dislike for sports, oddly enough. The thing is that parents can make mistakes that completely kill the desire to exercise in a child.
The choice of exercises parents love. Often you can find a situation where the child doesn't want to do certain exercises, such as pull-ups, but the parents insist. There is no need to force the child, let them choose a sport for themselves because this is the only way they will do it with pleasure.
Excessive demands. Many moms and dads require the baby to do a lot and regularly. They begin to compare them with other children, point out mistakes, and criticize them for lacking at least some activity. It is absolutely the wrong path! On the contrary, look for reasons for praise and notice even the smallest child's victory. Remember – your baby didn't learn to walk right away. Remember how you rejoiced at their first hesitant steps? Rejoice the same. Support and praise children for well-executed exercises for kids.
Choice barrier. Perhaps you want your child to do more strength exercises, but they want to dance. Don't rush to tear your hair and think that "something is wrong" with the child. Support the choice because this is the desire of your child, and they have the right to make it. Help them.
Exhaustion. Don't force children to exercise when they're sick or feeling unwell. Be sensitive to the physical condition of the child, and examine with doctors before doing workouts.
Final Thoughts
Young children don't need much encouragement to stretch like a cat, run like a tiger, or jump like a kangaroo. And they will enjoy it. And don't forget that homeschoolers still enjoy the opportunity to play freely after a day at the desk.
It's easy to add some physical activity for homeschoolers! Try different approaches – dancing, simple exercises with your favorite character, games, or anything oriented to get your kids to put in some energy. Whatever the activity, let it be fun and relaxed.