In this day and age, there are few things more important than understanding the world around us. Knowing how and why things work, why we vote the way we do and how the economy works is vital. Yet so many people don't understand even the most basic economic principles. When we found a high school economics curriculum, I knew we had to find time to complete it with our homeschoolers!
We've taught a lot of important things in our homeschool: how to sew, money management and of course, algebra. But there was still something missing. I wanted my kids to have a good grasp on economics and help them understand exactly what economics is.
Because, let's be real: We've all heard the word economics before but a lot of people still don't know what economics actually is.
This post is sponsored by Boundary Stone. I was compensated for my time. All opinions are my own and a positive review was not required.
As always, I only review products that I find useful and think you will enjoy!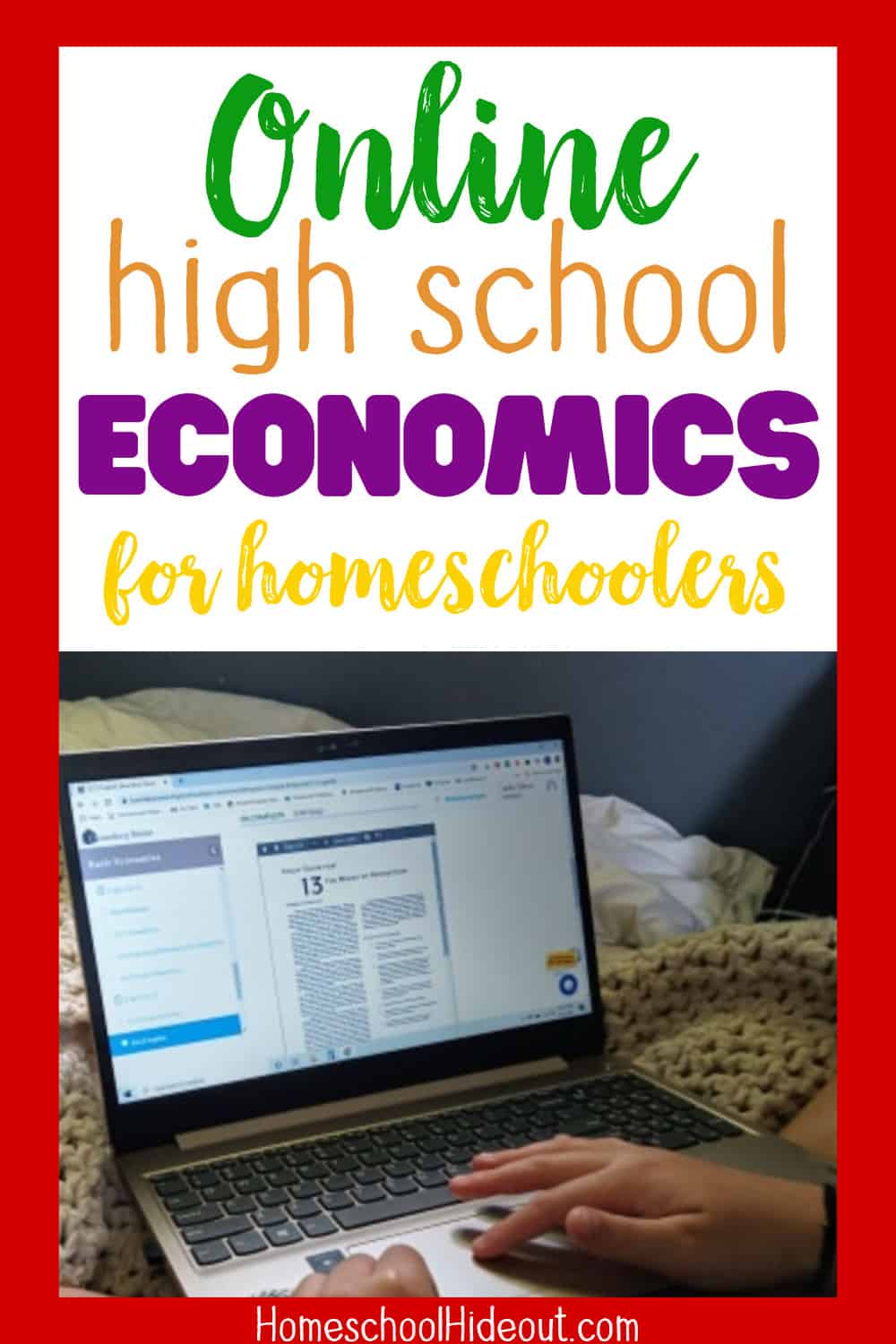 Investopedia.com defines economics like this:
Economics is a social science concerned with the production, distribution, and consumption of goods and services.
Still slightly confused, I dove right into Boundary Stone's Basic Economics book to figure it out for myself. In no time at all, I was hooked on economics and wanted to learn more! I read straight through my daughter's entire Basic Economics textbook in just a few days. 🙂
Boundary Stone's Basic Economics High School Curriculum
Textbook & Video:
When our Basic Economics textbook arrived in the mail, I rolled my eyes. The lack of color, photos and illustration was unimpressive. But as soon as I logged into the online portal, my mind was instantly changed. The book offers a very straightforward text, which is great for students who are easily distracted. The online portal is packed full of engaging videos, hands-on activities and easy-to-digest bits of information.
While one of my kiddos would be bored to death with just the textbook, my other kiddo would do well to read the text from a book instead of online. I love that they offer 2 ways to learn, that go hand-in-hand with each other.
The videos are informative, to the point and really help the students understand exactly what the text is teaching. They are jam-packed full of knowledge, that's presented in an easy-to-understand way.
Projects & Activities:
One of my biggest complaints with high school curriculum is the lack of hands-on activities. Older kids still learn through projects and activities, yet many curriculum don't offer any so I have to do the legwork myself. Boundary Stone offers projects and activities for every chapter! Some of the projects are more in-depth than others but they are all the perfect way to bring economics to life!
Study Guides:
Basic Economics includes a study guide at the end of every chapter, making review a breeze for kiddos! It's the perfect time for me to be included in my high school kids' studies. I simply read the review questions to them and see what they're learning, what they need to focus on and how they're progressing through the curriculum.
This slideshow requires JavaScript.
Earning Credit:
Basic Economics paired with Boundary Stone's government course provides enough work for students to earn one full credit. Students should be able to complete both programs in one school year.
Boundary Stone also offers bundles designed specifically for co-ops and I think this would be the perfect subject for a high school co-op!
Getting the Point:
While the textbook may be lacking in color and photos, it offers one handy feature that both me and Miss Bookworm both adore: the "Getting the Point" boxes. Each box has an example or more in-depth explanation that really helps students "get the point." It's a great way to really drive the points home.
Easy to Use:
By the time your kiddo is in high school, they should basically be teaching themselves. Basic Economic's open-and-go approach makes it a breeze for me and easy to use for the kids. No need to plan out activities, assign reading material or do any of the dirty work: Boundary Stone has already done that for me! I just need to provide the textbook and login information and my kiddos can complete the curriculum on their own.
Things I Would've Forgot to Teach:
There are so many subjects that I think I've covered good enough, just through conversation and unschooling but when I dig into a really, really good curriculum, I find all kinds of stuff I would've never thought to teach! A few of those topics include:
Inflation
International Trade
Labor Unions
The Stock Market
Using Gold & Silver as Money
Credit
Wages
Corporatism
Budgets
The Market
Interest
That's an awful big list of things my kiddo would've not learned had we not decided to use Basic Economics.
Use coupon code
StoneReward2020
to receive 15% off all purchases through 8/23/2020.