What Homeschoolers Really Want
It's happened again. Another well-meaning relative has given me another stack of notebooks and 43 more boxes of crayons. While I really do appreciate their generosity, wouldn't it be nice if they bought things we actually need instead of whatever random supplies they see at out local supermarket? Don't you wish they knew what homeschoolers REALLY want?
Wouldn't it be amazing if we could simply make a list for everyone to see before they buy us another package of glue sticks?
You're probably familiar with a school supply giveaway. This is an amazing idea that many churches and communities do every August, just before school starts. Simply show up and the church will provide you with all of the supplies on your list, as well as shoes, backpacks, clothes and haircuts.
What a blessing these events are!
Can you imagine the hundreds of parents who don't have to scrimp and save to buy all of those overpriced supplies? It really is the greatest thing to see a child's eyes light up at the sight of a new pair of tennis shoes.
Last week, our church had a massive giveaway, with over 1,000 backpacks given away in just 3 hours.
Later, I was asked if there is a similar type of program to help homeschoolers. Wouldn't it be amazing if there was? Can you just imagine pulling up and being handed a box full of printer ink, copy paper and art supplies?
Since there isn't this type of service in my area (and if there is one in your area, let me know. I'm not opposed to moving!) I have been thinking about ways someone could help homeschool families get ready for the year ahead and have gathered up a few things that homeschoolers REALLY want.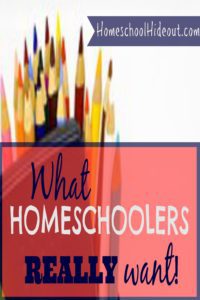 Pay for lessons: Dance, violin, karate, gymnastics, etc. Lesson costs add up fast, especially if you have more than one child. Offering to pay for a few months would be a huge blessing to any homeschool family and may even allow the child to have a chance to learn something new that they otherwise wouldn't be able to experience.
Art: It's no secret that art classes can be pricey. There are tons of places to take art classes, whether locally or online. You could even sign up for classes at a local pottery house. What kid wouldn't enjoy that!?! Art is one of those things that may get skipped over in homeschools, so purchasing lessons is one way to ensure they get a good dose of art.
Monthly Box Subscriptions: There are tons of monthly box subscriptions for homeschoolers available now. Whether you want to subscribe for one month or a year, the boxes are sure to be a hit with the kiddos. Some of the companies I've heard great things about are Kiwi Crate, Little Passports, Cultured Owl, Groovy Lab in a Box, Citrus Lane, Spangler Science Club, and Green Kid Crafts. Most of these subscriptions can be purchased for $20-30 per month.
Buy something useful: Homeschooling can be expensive. The cost of supplies seems to be never ending. This year, I plan on buying a good microscope. Our cheapy has been fine so far, but my kids are really starting to enjoy it, so I'd like to buy one that is a better quality. The list of learning tools that I wish I had is a mile long and growing every day. By buying an educational item, you are showing homeschoolers that you really care about their education.
Field Trip: Whether you can join along or not, paying for a field trip is a great way to help out. Homeschoolers tend to find a learning opportunity wherever they go. Whether it's to a cave, historical site, aquarium or national park, the kids would love a day out. Even better would be a membership to a local attraction.
Check out their Amazon Wish List: I don't know about the rest of you, but I have a specific wish list just for our homeschool. It is ever-changing, depending on what we are studying. I have all kinds of stuff on my list, from $5 to $200! Amazon Wish Lists are the perfect way to keep track of all the products in one spot, instead of bookmarking hundreds of different websites. Can you even imagine how exciting it would be to have the UPS man deliver a box of goodies that someone ordered for you off of your Wish List?
Local Festivities: There are tons of events always going on, within driving distance from our home. Right now, I have a rodeo, Slide the City (huge water slides going down the biggest hill in town!) and a hot air balloon festival on my radar. I'm excited about it but all of these events add up fast. Offering to take the kids (or just pay for the parents to take them) would be an awesome gesture.
Help with extra expenses: I just signed my girls up for Girl Scouts for the first time. When I originally incurred about it, I was told that the membership would be $15 per child, per year. You can't beat that price for a weekly activity! But, when I went to sign my girls up, I was told they needed books, vests and other random stuff. I don't have to buy it all at once and it's only $120 for both of my girls, but it's just the point. There are unexpected (or even expected) costs in nearly everything our kids participate in. By buying a pair of cleats for your soccer player, some tap shoes for your budding dancer or a new helmet for your baseball star, your contribution is sure to be appreciated.
Magazine Subscriptions: Just like the monthly boxes, magazine subscripions are a great way to keep giving all year. Some great ones include National Geographic for Kids, Highlights, High Five, Ranger Rick, Cobblestone and OWL.
Babysit: Believe it or not, most homeschooling moms don't get a lot of time alone. I'm sure you probably know this, since the internet is full of stories about moms who just want to pee in peace. Buuuut…that usually just ain't happening. I love having date nights with the Hubs but sometimes I just want to sit in my house, alone, in silence. Offer to keep the kiddos for an entire day and you will make some mama's day! Just trust me on this one.
Cleaning Service: Yes, this (along with the previous suggestion) are more for the parents than the kids but I had to include this one. Everyone deserves to have some help around the house. Sometimes we're just exhausted and chores starts to pile up. In case you have never tried to clean with a house full of kids, it's almost as easy as brushing your teeth while eating Oreos.
Encouragement: Homeschooling is one of those things that you'll never "really" understand until you've done it. You will never see the questioning looks that the mailman gives us. You'll never understand the unspoken discouragement we see in the cashier's eyes. You'll never have to deal with the nosy neighbor whose mission is to make sure we are doing as we say. You'll never understand the discouragement that comes with homeschooling until you've done it. Sometimes, all homeschoolers need is a bit of encouragement. A smile, hug or a simple "WOW! You're doing great" can really go a long way. While it's the cheapest (FREE!) thing you can give a homeschooler, it's also the most appreciated.
PIN IT!
If you know a homeschooling family, help start their year off on the right foot with one of these gestures of kindness, no matter how small.