It's no secret that kids learn best when they're interested in the topic and there's no better way to ensure they're learning than to use a hands-on approach. The problem is that hands-on learning takes so much more prep work for moms. While I can whip up a fun unit study on science, when it comes to hands-on history, I'm not that great. By the time I've gathered educational projects for the kiddos, they've already moved on to their next "interest."
Wouldn't it be amazing if someone else took all of the guesswork out of homeschooling history for you? It would save hours of time and frustration. It would be nice if we could just sit back and enjoy the activities without having to stress over whether we've included enough educational information.
Lucky for us, Home School in the Woods offers some fun hands-on history projects that allow us moms to relax for a bit!
This post is sponsored by Home School in the Woods. I received the products for free and was compensated for my time. A positive review was not guaranteed and all opinions are my own.
Hands-On History Has Never Been More Fun
Home School in the Woods is a popular company with homeschoolers around the world, thanks to their delightful hands-on history studies. Through timelines and lap books, they take you back in time, ensuring that you understand just how life was in the "old days."
Whether you're learning about the bombing of Pearl Harbor or the Lewis and Clark Expedition, there's something for everyone! Some of the fun history projects to choose from include:
Science, Invention & Mathematics Timeline
The Medieval Times Newspaper
Composers Through History Timeline
The Penny Rug Notebook & 3D Project
The Roaring 20's Lap Book & Notebook Project
Ancient Greek Timeline
The Passover Seder Game
WWII: Military Weaponry Notebook Project
The War Between the States Timeline
Tomb Dash! File Folder Game
WWI: The Great War Lap Book & Notebook Project
Armor of God Poster
Native Story Bad Lap Book Project
Literary Genres Lap Book Mini Study
Check out our most recent lap book: The Trip West in a Covered Wagon, which costs less than $3!
This slideshow requires JavaScript.
Quick, Easy & Affordable
One of the things I hate most about unit studies is that they can begin to add up so quickly but with Home School in the Woods' A la Carte projects, that's simply not the case. Each activity is less than $10 and is jam packed with information. Kids will enjoy the visual aspect of timelines and file folder games while your bank account appreciates the price tag.
Lap books are filled with flaps. Timelines are packed with important dates and easy-to-remember facts. File folder games are full of fun and interesting topics.
But best of all, they're EASY! There is no need to spend your weekends prepping fun activities and researching facts. It's all done for you! All you need to do is simply download the project of your choice and print it out. (Worried you'll use too much ink? Check out The Homeschool Printing Company for super affordable printing! Tell them Tiffany from Homeschool Hideout sent you and you'll receive an extra 10% off your pre-shipping total.)
Home School in the Woods offers larger studies, but these bite-size projects are just perfect for anyone who wants to pick and choose exactly what they'll be learning right away. Because, when it comes to time and money, those are two things homeschool mamas just can't get enough of. Save some stress by grabbing an exciting yet thorough hands-on history lesson from a trusted company.
If you're looking for a fun way to add some hands-on history to your homeschool without breaking the bank, don't miss Home School in the Woods's a la carte projects!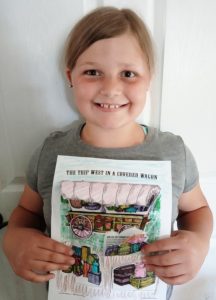 WIN! WIN! WIN!
PIN IT!
Connect with Home School in the Woods!