Familiy Game Night is quickly becoming one of the best ways to spend an evening. With a few delicious snacks, some quality board games and a fun crowd, family game night is a cinch to throw together.
We've rounded up 100+ gems for your next family game night!
In this exciting game, players will build the area surrounding a city, one tile at a time. Then the players will place followers along the board and they will use their followers wisely, in order to win the game.
This exciting game for 2-4 players will help you better understand life in Colonial America. Barter and money management will help drive real-world lessons home, while your family enjoys a fun game.
Take the whole family on an archaeological dig with this fun card game. With 45 vibrant cards that depict ancient Egyptians, kids will learn as they play this rummy-style game.
History of the World:
Take over the world to win in this massive board game. With over 600 pieces included, you'll fall in love with the bright colors and quick action that the game requires.
A must-have strategy game for anyone who loves a challenge, this quick-thinking strategy game is a hit. Move your sheep from one side of the board to the other, blocking your opponents and covering as much land as possible. With only a few simple rules, it's easy to learn and understand but so much fun you'll become addicted. (Not that I'm speaking from experience or anything.) 😉
Players can travel by boat, covered wagon, model T, canoe, paddle boat, train or horse across the board by answering questions about America. You'll learn everything from the pre-colonial period to present times. The history-rich game will teach you something new each time you play!
This fun card game is full of questions, some multiple choice and some true or false. With only a deck of cards, this game is perfect for playing in the car or while in waiting rooms.
---
Professor Noggins: Ancient Civilization:
This fun trivia game is crammed full of fun facts and trivia. Both young and old will enjoy the game, as there are different levels on each card.
Players will learn about the ruthless Romans, the Greeks and the awesome Egyptians when they take a peek into the life in ancient times. Learn about mumification and the Colosseum and everything in between.
Earn popular votes and electoral votes by spelling words in this fun spin on the classic Scrabble game. Play well enough and you can become the President of the United States or the Leader of the Free World.
Watch your kids' mind grow while having a blast!
Answer trivia questions in this fast paced card game. Outsmart your opponents by answering the most questions correctly, before they do!
If you're looking for a great strategy game with excellent replay value, 7 Wonders is just what you need. 3-7 players will enjoy this 30 minute game. Each player is the leader of one of the great ancient cities and strives to provide resoureces, build a city and roads and develop routes that will last the longest.
Learn important people, places and events in American history by studying the 12 categories in this game. Play the classic way of Go Fish or use the informative cards as flashcards to help kids remember important American facts.
All ages will love this spin on the classic Memory game. Make more matches than your opponents to win the game but be sure to pay attention to the details and history presented on each card.
The rules may be easy but winning is not. Travel through 5 periods including the Explorers, 13 Colonies, American Revolution, Constitution and the Civil War. Kids will fall in love with this game and will learn without knowing it!
---
With over 2,500 questions in 4 categories (geography, history, arts, general), you're certain to learn a thing or 2 about American history when you play this game!
BrainBox for Kids: World History:
This fast paced game of action is perfect for all ages. Study each card for 10 seconds, then flip it over and see how much you remember!
Players attempting to place cards in chronological order on a timeline may be in for a surprise. It's harder than you think to organize JFK's assassination, the first man on the moon and the last crusade on a timeline.
Work together with other players to raise funds, free slaves and end slavery in the United States. Learn all about events, people and political agendas from 1800-1865.
This hour-long game is perfect for three to four players. But beware, those opponents will be sneaky and try to take over the world. This game is HUGE in the gaming world and people just can't get enough.
Family Game Night creates the perfect setting for making memories!
Learn all about experiments using everyday chemicals in this exciting board game. Even people who know nothing about chemistry will enjoy this game, as it's a great way to introduce and help kiddos fall in love with the sometimes difficult subject.
Youger kids can use this game as a puzzle, while older kids will learn the anatomy of a human body. With 5 different games included, this game will be fun for years to come.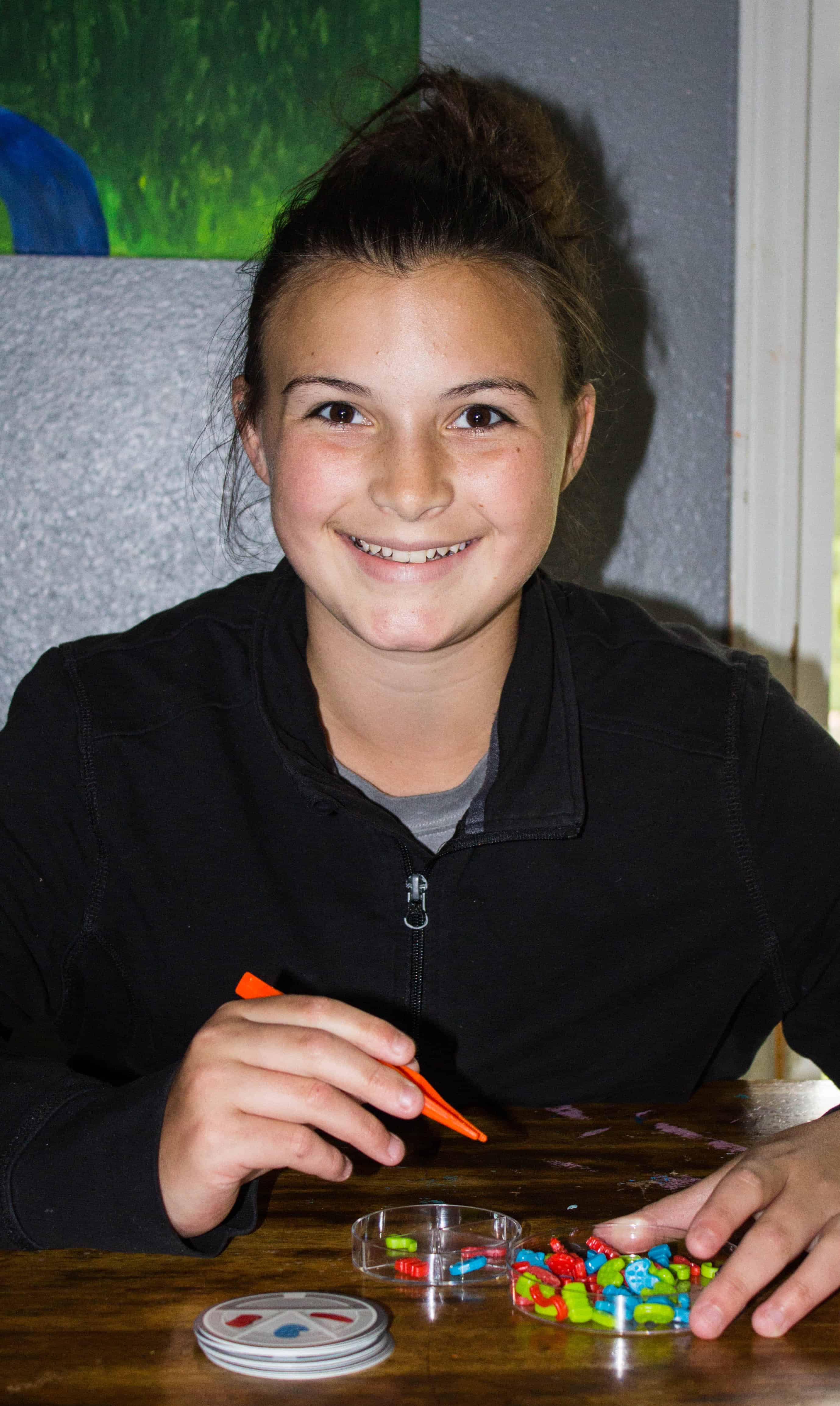 This logic race game is fun for the whole family. Following the research rules, use your tweezers to figure out which missing microbes you need. The fun of this game is trying to be careful, like a scientist in the lab, but still quick! Try not to drop any of the microbes while racing to complete the challenge before your opponents.This game by Blue Orange Games is perfect for fine motor skills, too! With 3 different rule variations, the game has excellent replay value and perfect for all ages.
---
This fun chemistry game brings the elements to life! Kids will love how sodium becomes "Sodium Dragon" and iodine becomes "Iodine Mermaid." With 5 different levels of play, all ages will love this game.
Help kids understand the natural food chain and the importance of plants as energy with this fun game. The food web chart makes it easier for kids to identify the food chain.
This hands-on game helps kids recognize and learn different types of rocks and minerals while having a great time. The vivid cards and gorgeous rocks are fun for all ages.
Your horse-lover will get to experience life as a rancher or from a horse's point of view while learning about horse breeds and other fun facts. With gorgeous and colorful cards, kids and adults alike will enjoy this quick game.
Any future astronaut will love this hands-on board game. Build rockets, develop space missions and explore the solar system in this fun-for-all-ages game.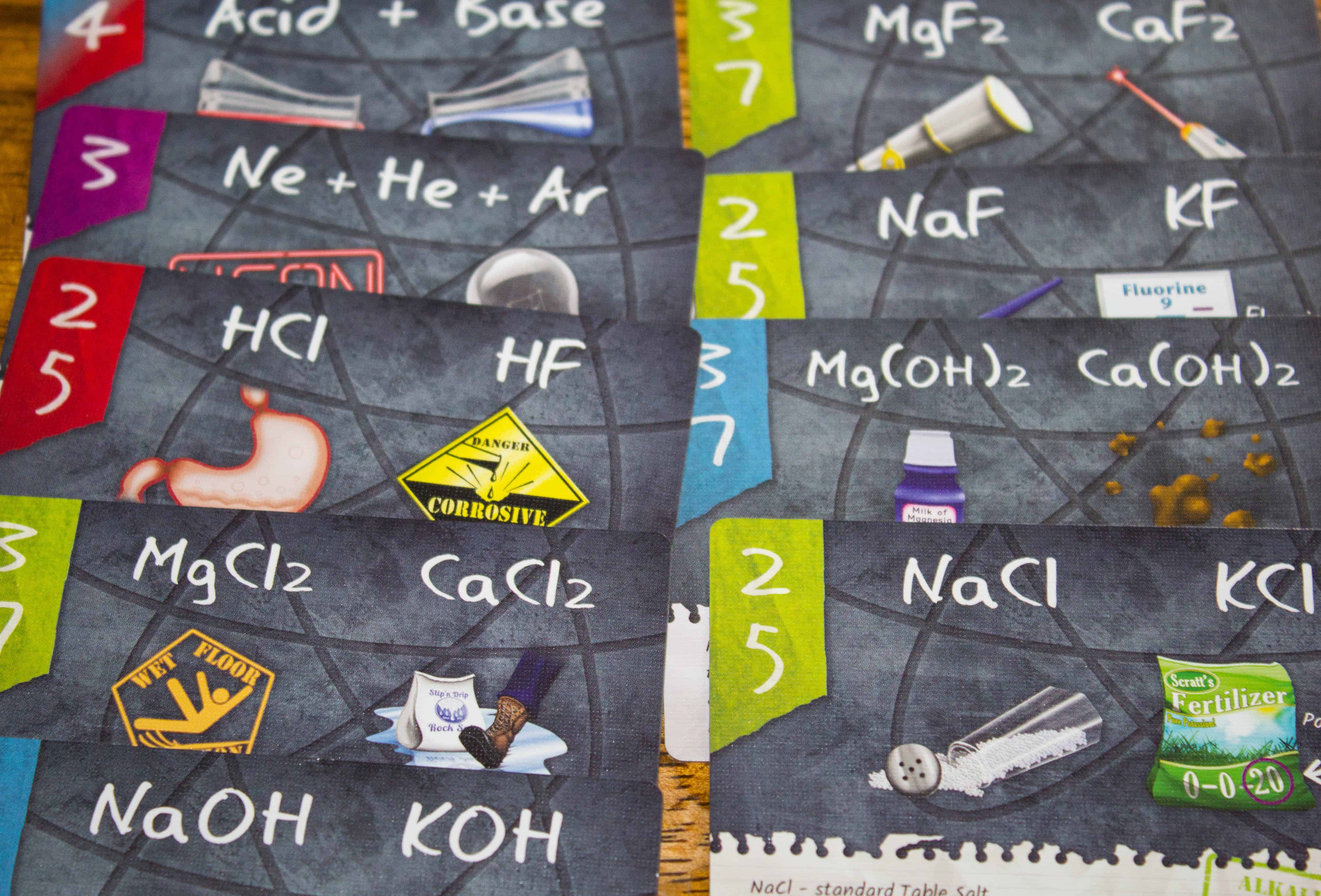 There's never a dull moment with this game. Players are constantly playing, making it fun for everyone. The game looks complex but is simple enough for 7-8 year olds to join in. After reading the instructions, you'll feel more confident and ready to play. Game play is easy, even for those who aren't chemistry buffs. This game quickly became one of my top choices when looking for an educational game that is as fun as it is informative.
---
Learn fun facts, like your body is only 2% of your body weight but contains all of your personality, dreams and imagination. Kids will love the challenge of remembering the most important facts, while trying to get more correct answers than their opponents.
This exciting game from The Magic School Bus covers all fields of science. Whether you're learning about the human body, weather, the solar system or chemistry, you'll have a blast while racing to set off the erupting volcano. Bonus: This game comes with 2 games, one on each side of the board!!!
Grab some popcorn and drinks and settle in for a family game night to remember!
Professor Noggin's Wonders of Science:
Answer trivia questions to earn points in this fun for all ages. Learn about microscopes, liquids and solids, the solar system and anything else related to science!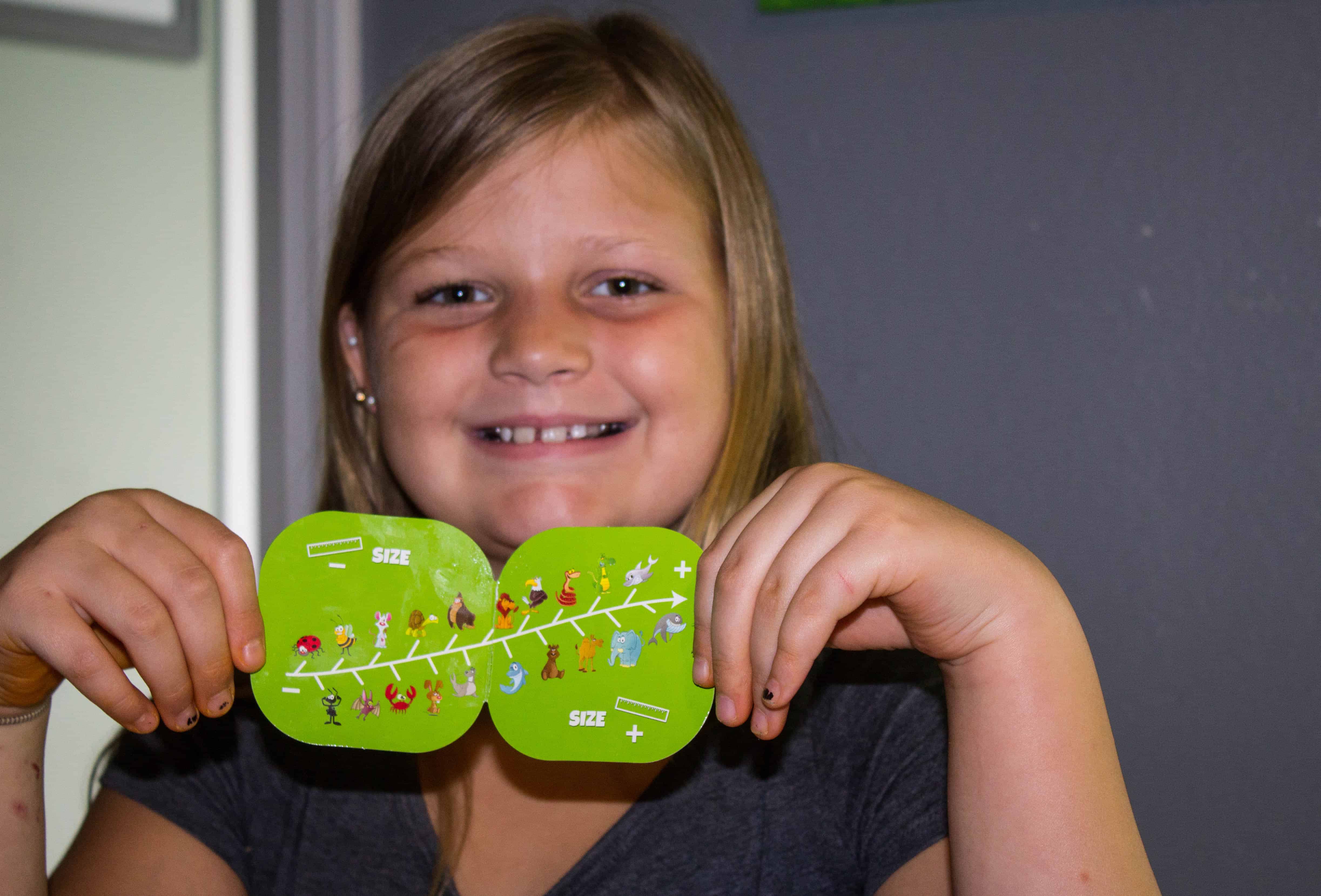 Do you know which animals have the longest life span? How about which ones weigh the least? Or who is the slowest? Or which is the biggest? With this quick and easy game, kids from all ages will enjoy comparing the animals listed on the cards. The handy answer key is as much fun as the game, making comparing animals a breeze. If you're looking for a fun game to stick in your purse for waiting rooms, this is the one you need!
This spin on a classic game is perfect for the younger ages to play along with older kids. Learn all about the birds scientific name, habitat and other fun facts in this easy to play game.
Each player becomes a science ninja, as they weave together elements and create new molecules. Earn point by creating as as many as possible, but be careful as some combinations can harm you!
Totally Gross; The game of Science
Kids will work their way around the board by answering sickening questions, participating in revolting activities and taking part in weird experiments. Kids will love answering questions like "What is the purpose of snot?" (The answer: It keeps your lungs clean.)
---
Outdoor enthusiasts will love playing this game, as they learn the natural remedies to some illnesses. They'll also learn multiple uses for each herb, medicinal and edible plants.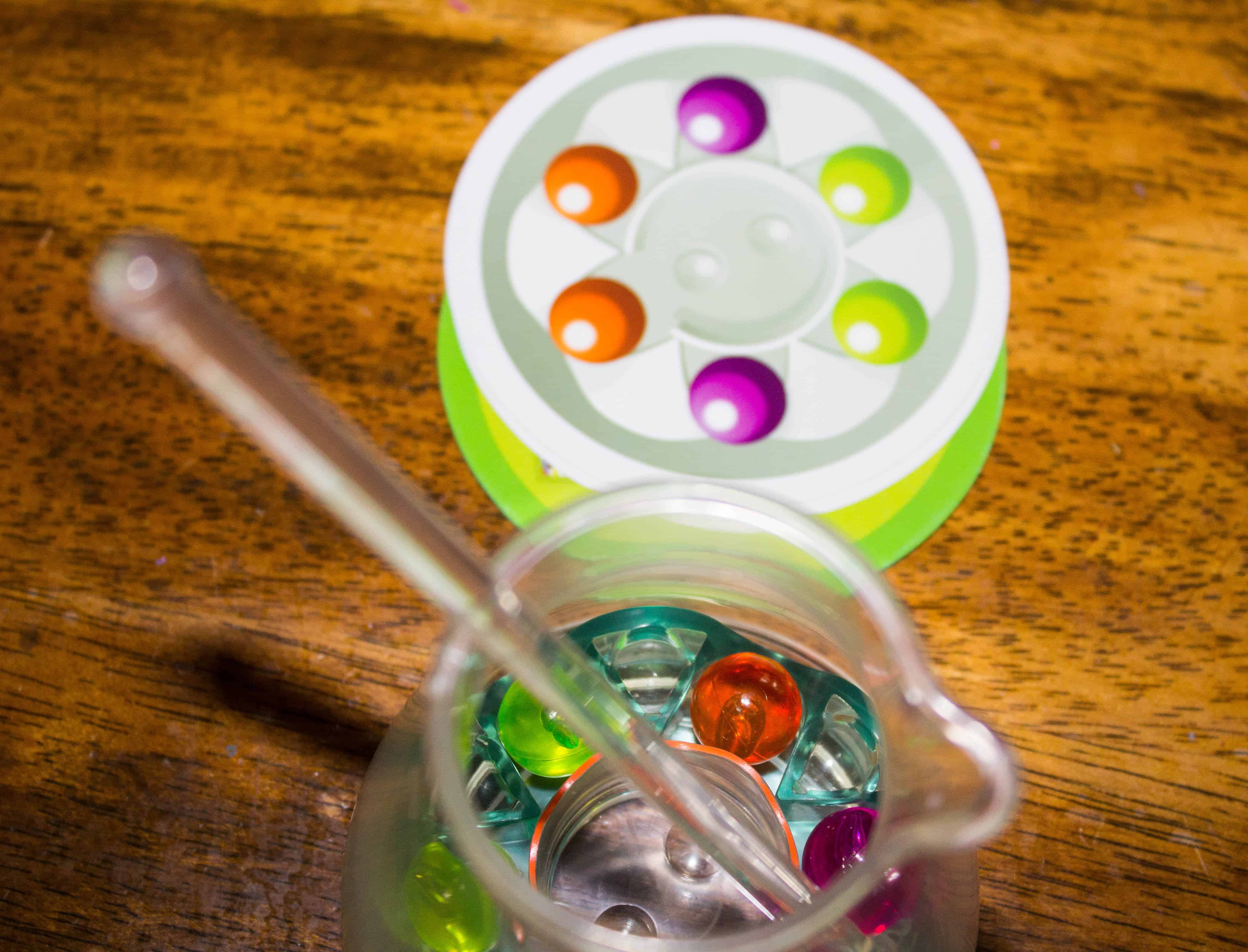 My kiddos love this game that has you racing to rearrange the molecules to match the pattern on the card. Nothing makes kiddos feel like scientists quite like their very own beaker, stirring rod and colored molecules. The challenge is that only one molecule at a time can be moved inside the specially-designed beaker, making strategy and speed a top priority!
Learn all about animals and their habitats as you make your way down the stone trail through the world's habitats. Fun facts precede the questions on each card, so you'll be learning new facts while answering and learning!
With bold and brightly illustrated cards, you will compare sizes, weight and lifespans of animals. The large cards are as gorgeous as they get and kids will enjoy reading the fun facts (DId you know a red tuna weighs 5 times as much as a fallow deer?!?) and learning all about animals.
Keep your minds sharp with a regularly scheduled family game night!
Learn the flags of major nations while playing this Uno-inspired game. You'll have to hurry to match each flag to the one in the discard pile but will keep the knowledge you gain during this fun game.
Race to shout out the answer, as you learn all about the United States. Focused on teaching the states shape, nickname and capital, this game is perfect for all ages!
Fun for all ages, Great States offers quick-play and action-packed cards that everyone will love. On your turn, simply give the spinner a flick and answer the question it points you to. Fun multiple choice questions like "What two states are almost square?" will have you racking your brain for answer!
---
With 6 games in 1, this claims to be the most comprehensive geography game on the market. Not only will you learn vital facts like capitals and major cities, but you'll also learn about major imports and exports from countries around the world.
Invite more family to join you! Grandma and Grandpa would love to play, too!
Borderline Card Game:
Played similar to Crazy Eight, players want to get rid of all of their cards before the other players can do so. The game is available in a United States version, as well as a World version.
Fast paced, competitive and easy to learn, this game is fun for all ages. Be the first to match an answer card to the problem card to be the winner.
DestiNation USA:
Famous landmarks, capitals and historical sites will get reviewed as players drive their car across the United States. Cruise controls, flights and alternative routes add some spunk to this game!
Create a 10 day cross country trip using the state and transportation cards in this exciting game. Not only will you learn states and capitals, but also learn organizing and strategic skills, as you race to win.
If you've ever wondered where Camaroon is located, you'll now know with this fun geography board game. With 45 destination countries, you'll be able to locate the countries with ease after a few rounds of this game.
With 57 destination countries, the players in this game will quickly learn the geography of Asia, as well as other pertinent information. Players will travel using trains, planes and cars but you will still need skill and a bit of luck if you want to win this game.
Comparable to the other games in this series, this one is just as fun! With 48 destination countries, you'll quickly learn the geography location of many countries you didn't even know existed!
BrainBoxes are the funnest way to learn! Stare at each card for 10 seconds, then flip it over and answer the questions on the back without looking again. Can you remember which oceans bordered the country? How about the colors of their nation's flag? These are just a few of the fun questions you'll be asked when playing this easy-to-learn geography board game.
---
Sequence: States and Capitols:
Players will try to get 5 colored tokens in a row by matching the states with their capitals. It's not as easy as you think but you'll learn more than you expected!
One of the most popular specialty games of all-time, Ticket to Ride helps players pick up on geography while enjoying one of the best board games on the market. Players try to travel to the most US cities by train in just 10 days to beat their opponents.
Learn state capitals, geography and famous landmarks with this quick game. Whether you're having a party or just using it with your kids, this game make memorizing fun!
Bring some fun to grammar with this fun game that helps expand your vocabulary and imagination. Use one form of each word to complete a sentence. Not so fast, though! Your sentence has to make sense to everyone. Your opponents are the judges!
Whether you spend hours or just a few minutes playing, make family game night a priority!
Use letter tiles to spell out words using these handy tiles. (I say handy because they are perfect for practicing spelling words and many other things!) With no board and a handy bag, this game is perfect for keeping in your purse for waiting rooms, to take to Grandma's or while waiting at a restaurant.
This is the perfect game for learning root words. Knowing the origin and root of words will help kids determine the meaning to words they don't know for years to come. The game is fun but incredibly educational, without being boring!
This fun game teaches homophones, antonyms, synonyms and multiple-meaning words in such a fun way that kids won't even realize they're learning!
Perfect for younger kids, AppLetters is incredibly similar to Banangrams but contains all capital and bold letters, making them easy to read. Play the game much like classic Scrabble but with easier rules and no scoring.
Players will race against the timer to come up with a word that fits in each category, hit the correct letter and pass it on to the next player. Fun for all ages!
---
Use the cards in your hand and the vowel on your dice to create words. Each words earns points but you've got to think quick. The last word shouted only gets one point. This game is great for up to 8 players and is perfect to take on trips.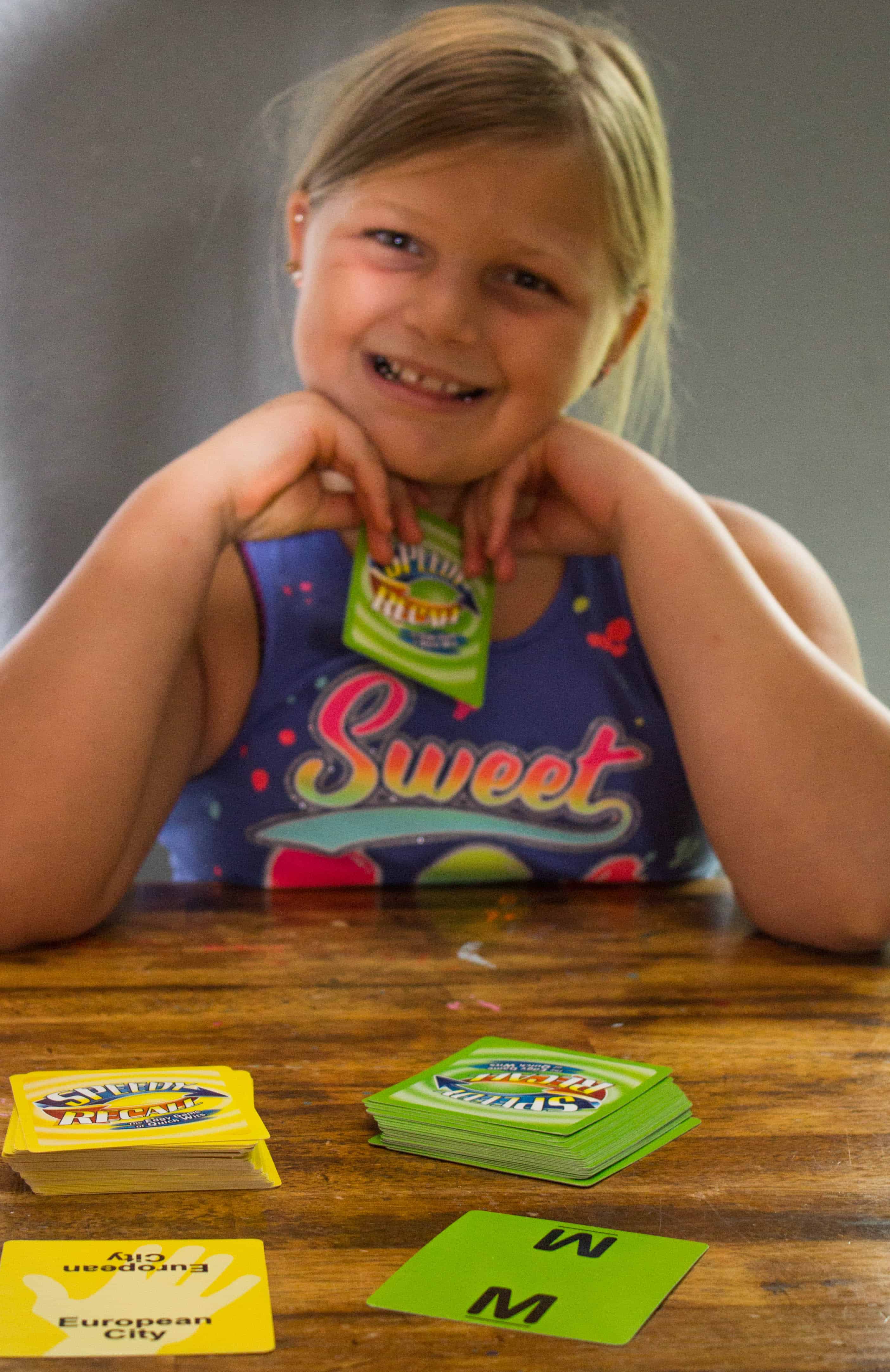 This fast-paced game will have you thinking on your toes! Flip a card and be the first to should out an answer that also begins with your selected letter. The simplicity and speed of this game make it a crowd favorite. It's small and easy to transport, making it perfect for playing on roadtrips or in waiting rooms!
Help readers understand and learn the roots in 22 key roots in words. Players will enjoy connecting the meaning of the root to other words that contain that root.
Build words using cards in order to purchase more cards. The game will end when all of your common cards or fame cards are gone. Earn points to claim the victory.
A fun game for all ages, we use this to work on spelling, vocabulary and handwriting in our homeschool. Roll the dice to choose a letter for the round then complete the round using only words that start with that letter. Earn extra points for using double letters. (For example: Name an actor that starts with a D. If you put Danny DeVito, you would earn 2 points, since both his first and last name begin with D.) This game is fun for all ages, whether at family game night or just with adults.
Use cards with letters and point values to create the best words possible, using the cards in your hand. Players can pick up from the discard pile or draw a new card from the draw pile on their turn. The player with the most points at the end of 8 rounds wins the game.
If you're looking for a hilarious way to incorporate vocabulary into your day, this game is a must. Not only will kids learn new words and meanings but will also learn about famous people they may have never heard of. This game is fun for the entire family and will quickly become a family favorite.
Check your local thrift stores when adding games to your collection!
The most popular word game is truly a classic. Players build words and earn points. Try to create words on a "Triple Word" square for extra points for only a little more effort.
Blurt out answers to fun questions to work your way around the board. The first player to reach the opposite end of the board is the winner. This fast paced game allows everyone to play at the same time, making it exciting for all!
Create a simple story by rolling the dice and piecing together a fun and hilarious story that includes all of your dice. Stories can get funny and weird but kids of all ages will love these fun dice. This game is perfect for all ages and taking it on the go is simple. With only 9 dice and a travel bag, it's easy to stick in your purse and whip out when needed.
---
Help kids learn their sight words to up their reading game. Much like Bingo, players strive to match all of the words on your card to the words called. For a quicker version, try to get 3 words in a row.
Up Word:
Played like Scrabble, this game is 3D and you build UP! Each tile is worth one point and can be built upon. Earn more points by building on top of existing words.
Give the game a shake and then ceate words from touching letters. Use letters that touch diagonally, horizontally or vertically. Any common word is allowed but proper nouns are not.
Can a pig go into a bed? Can love go into the toilet? Your cards will create some hilarious scenarios and you'll enjoy fitting words into other words. (But really, can a salamander fit into an orange? I guess it could…)
One of our family's favorites because it forces you to work together instead of against each other. You'll need to make smart moves and think a few steps ahead. Since the game board changes every time you play, even the most skilled players will get stumped trying to get off the island before it sinks.
Our go-to family game night picks? Forbidden Island, Battle Sheep and Labryinth!
This card-game-meets-board-game is a classic. Block and remove your opponents chips to make it a ton of fun! Your goal is to get 5 chips in a row to win the game.
Players will plant grains and vegetables and farm boar, cattle and sheep to feed their family. The larger their family grows, the more crops they will need to feed them. This fun game takes about 30 minutes per player (up to 4 players) to complete.
---
For a game that's been around for 4,000 years, Go is as much fun as modern games. The fact that it's portable and lightweight is an added bonus. With only 2 simple rules, the game is also incredibly complex but easy to learn.
Using battlefield strategy, 2 players compete to capture the other's flag and win the battle. Perfect for helping to learn military ranks.
Patchwork is a 2-player game that will have you thinking ahead and trying to create the best quilt using the pieces and buttons you have. This game is perfect for kids and also a favorite for date nights.
Players try to solve the problem to stop the stampede and allow the animals to pass over the bridge. They can only pass in a certain order and it's the players' job to find that order. Perfect for ages 3+ but with 5 levels of difficulty, everyone will enjoy it!
Connecting with your kids has never been so easy!
Stimulate your brain and keep the whole crew in stitches as you compete to answer the most questions correctly. With speed as the goal, accuracy takes a backseat, resulting in hilarious answers.
Increase your mental agility with this fast paced card game that requires no turns or waiting. Kids can compete against adults to identify a "set" of cards. Use colors, shapes, shading and numbers to create a set.
---
If you're looking for a challenge that requires quick-thinking, this is your game. The board game changes with each turn, so you don't have time to strategize much. Take turns moving the board as you collect your treasures.
From one of our absolute favorite companies, Blue Orange Games, this strategy game is fun for all ages. Choose your dominoes wisely to score the most points possible while expanding your kingdom. This game is a fun twist on classic dominoes.
This hour-long game is perfect for three to four players. But beware, those opponents will be sneaky and try to take over the world. This game is HUGE in the gaming world and people just can't get enough.
A classic game that tests your strategic thinking and planning. Bonus points: There are hundreds of chess clubs across the country that will teach you the basics of gameplay. We love the No Stress Chess game, as it guides young kids until they are comfortable playing on their own.
All ages will love this strategy game. With a few simple rules, this engaging game is perfect for anyone who can identify shapes and colors. Your goal is to build lines of matching tiles and earn points!
Start them early! Younger kids LOVE playing, too!
This game of alliances, battles and attacks is perfect for older kids, tweens, teens and adults. You try to take over the land with the roll of a dice.
---
Strategically place your tiles in this fun game. Swap and rotate your tiles during game play for added fun. Outwit your opponent on the archeologist dig to win the game! Create digsites next to each other, using seas and mountains in order to score. The game is quick to learn yet hard to win. You'll spend hours playing this game, as it is different each and every time you play!
This family-friendly game is perfect for family game nights. Each player starts the game with 21 pieces and strategically placing them before the end of the game.
Players try to break the code using logic in 10 moves or less. Each turn, the codemaker will give clues to help the code breaker determine the code. This game is perfect for younger kids, as well as adults!
This quick-thinking game will make you fumble with your hands, as well as your brain. Players will race to beat opponents to recreate the pattern on the mind-puzzling cards . Three rounds make fun a fun and fast-paced game that all ages will enjoy.
Now is the perfect time to stock up on fun games for your next family game night!
Doodle Dice is a fun-loving game that kids will love. Take turns drawing cards and rolling the dice to try to match the drawing. There's just enough luck and strategy involved that older players don't have an unfair advantage.
Use the die to decide which colored bars you will be placing first. Try to hang your bar in any way, without making the entire structure fall. A slow and steady hand, as well as a bit of strategy make this fun game a success with kids and adults of all ages.
One of the most popular specialty games of all time, Ticket to Ride will take players on a quest across the Unites States in just 7 days. Based on "Around the World in 80 Days," this game is packed full of geography and strategy.
---
At first sight, the layout of this game can seem intimidating but it's not complex at all. It's a quick and easy game that is simple to learn. The game can be played with 2 to 4 players and completed in just 30 minutes!
Start a new holiday tradition that includes board games!
Work together to save mankind before the 4 diseases spread and wipe out everyone. Using each player's strength, players work together to win the game.
This crazy-fun game is also very simple. Using the round game board, you need to get 4 of your colored balls in a row before your opponent can. The circular design makes this game much more challenging, yet even the youngest players will love it. It's a game of strategy but you must pay close attention to each and every one of your opponent's moves if you want to win!
As one of the longer-lasting games on our list, Axis and Allies is as much fun as it is time-consuming. But if you do have a good 3 hours to play board games, this one will quickly become a favorite, as you learn about the battles of Normandy and some of the greatest battles of the 20th Century.
A classic game for 2, this quick game can be won by locating and taking down all 5 of your opponents ships. Using strategy will make the game all the more fun!
Each player tries to remove all of their checkers off the board before their opponent does. Using specific moves, this classic game is often compared to Chess.
Collect raw gems and then find adequate transportation that will allow you to sell your gems in a storefront. With simple rules, this game is a favorite for young kids who can catch on easily.
Family game night is a cheap alternative to overpriced movie dates!
Make wise decisions to help you build, trade and sell in this Medieval set game. Players will build their regions, using tiles by collecting colored tiles to create the best kingdom possible.
A family favorite, Mancala is a 2 player game that is so simple it's hard to believe that it's so much fun. Using strategy will help you land your stones in the perfect space, allowing your turn to continue.
Players will master the resources of their Stone Age village to earn victory points. With vibrant images, wooden dice and leather dice cup, it's simply gorgeous. This is the perfect bridge from Catan to more complex strategy board games.
---
Work through 60 puzzles to enhance your reasoning skills as each level gets harder and harder. Create structures to develop geometry and improve dexterity.
This quick and easy game is perfect for all ages! Two players add tokens, one at a time, to the board, trying to get 4 in a row. The catch is that it can be in any direction. Block your opponent and watch your back in this simple game.
Players race in a head-to-head action in this fast-paced card game. The rules are simple: match like shapes, colors or count on your cards and get rid of your draw pile fastest! Kids and adults will love this quick game.
Mix it up! Try a new game. It might just become a favorite!
Play begins on this one person game by setting up the board as instructed by a card. The player will try to remove the red car, by moving the other cars strategically in a straight line. With 40 challenge cards, hours of fun will be had with this simple game.
Solve each challenge by building the coaster demonstrated on each card. Work together to create the perfect roller coaster using this strategy game-meets-Lego type of game. The best part is that there are hours of open ended play once you've completed all of the challenges.
This simple game brings fun for all ages. Try to match colors to earn points. Match the corners of each square to earn up to 3 points per turn.
Using logic, keep the animals away from the opponent. For instance, you'd never put an angry dog next to another dog and you'd never put a cat next to a mouse.) The game is over in jut 5 minutes but will be played time and time again to create hours of fun!
---
Next time your kiddos are bored, put away the electronics and enjoy some quality family time together!
Chime in: What's your family's favorite board games?