If you've been around here long, you know I'm a sucker for educational videos for kids, that do most of the teaching for me. For the last few years, we've completely unschooled history and science because our kiddos have such a large age-gap. It's been so much fun, exploring our current interests but it's also a TON of work for me. Sometimes it feels nearly impossible to find high-quality resources for our current studies.
I feel like I'm constantly searching for books, age-appropriate videos and movies that correlate with our topic of study and I'm always coming up empty-handed. The problem is, Pinterest is a rabbit-hole that sucks me in every single time. I'll go there to look for activities to go along with the Great Wall of China, and I'll emerge an hour later, feeling overwhelmed and uninspired.
Wouldn't it be great if we had a collection of useful movies, videos and books that could help us homeschool, without leaving us feeling overwhelmed? When I found Homeschool HIstory, I couldn't believe I had been missing out on it for so long! The subscription service is exactly what we needed in our homeschool!
I received this product for free and was compensated for my time. As always, all opinions are 100% honest and are my own. A positive review is never required.
Homeschool History: Educational Videos for Kids & Teens
Homeschool History is a subscription that offers hundreds of easy-to-use resources, all in one place. It's taken the guesswork out of history and made it exciting and fun again. Best of all, it's easy on the pocketbook and makes planning a breeze.
Whether you're supplementing with another curriculum or are using Homeschool History to unschool, this is all you need! With thousands of resources and growing more everyday, the program is perfect for busy moms and kids who are tired of boring curriculum.
You can literally plan an entire month's history lessons in just a few minutes! The bite-sized educational videos for kids keep all ages entertained, while they learn about some of the world's most important events.
Homeschool History: Educational Videos for Kids & Teens
Powered by Notgrass History, one of the most trusted homeschool companies on the market, Homeschool History provides the same thought-provoking resources they're known for.
Homeschool History offers hundreds of books, videos, movies, audio resources and historic sites, in an easy-to-use database.
Teachers can quickly and easily find topics by time-period, topics or geographical areas.
Scroll through the topics offered by Homeschool History and see what grabs your attention. This is a great way to find new subjects to study and best of all, all the resources will be right there at your fingertips!
For only $24 a year, Homeschool History is one of the most valuable resources you can purchase for your homeschool.
Save time and money by building your own curriculum using this easy-to-use subscription.
---
Imagine you're studying The Great Wall of China. Typically, you would need to do several Google searches, a couple of Pinterest searches and spend hours watching videos, trying to find high quality resources for your kids. With Homeschool History, all you need to do is head to their site, type in "China" and at least 45 different resources will pop up. It's that simple!
---
There are 3 quick and easy ways to search for history resources to go along with your studies:
Resource Search:
Enter your keyword, filter ("top picks" or "my bookmarks") and choose which type of resources you'd like to view:
audio/music
event
book
historic site
video
website
Topic Search:
Whether you want to learn about Laura Bush or the Civil Rights Movement, the topic search has hundreds of ideas! I love exploring this area of the site when the kids don't have something in particular to study, but we still want to learn.
Map Search:
Type in your topic and see what pops up on the map! When I searched for "China," we learned about the Bamiyan Valley. It was a stopping place on the Silk Road Trading Routes, between India and China and is located in Afghanistan. You'll be amazed at what you can learn from the Map Search, when you type in your topic of interest!
---
It's crazy to think that my public school made history so boring when Homeschool History makes it so much fun! History comes to life in living books, educational videos for kids and historical audio clips, instead of putting me to sleep with boring textbooks.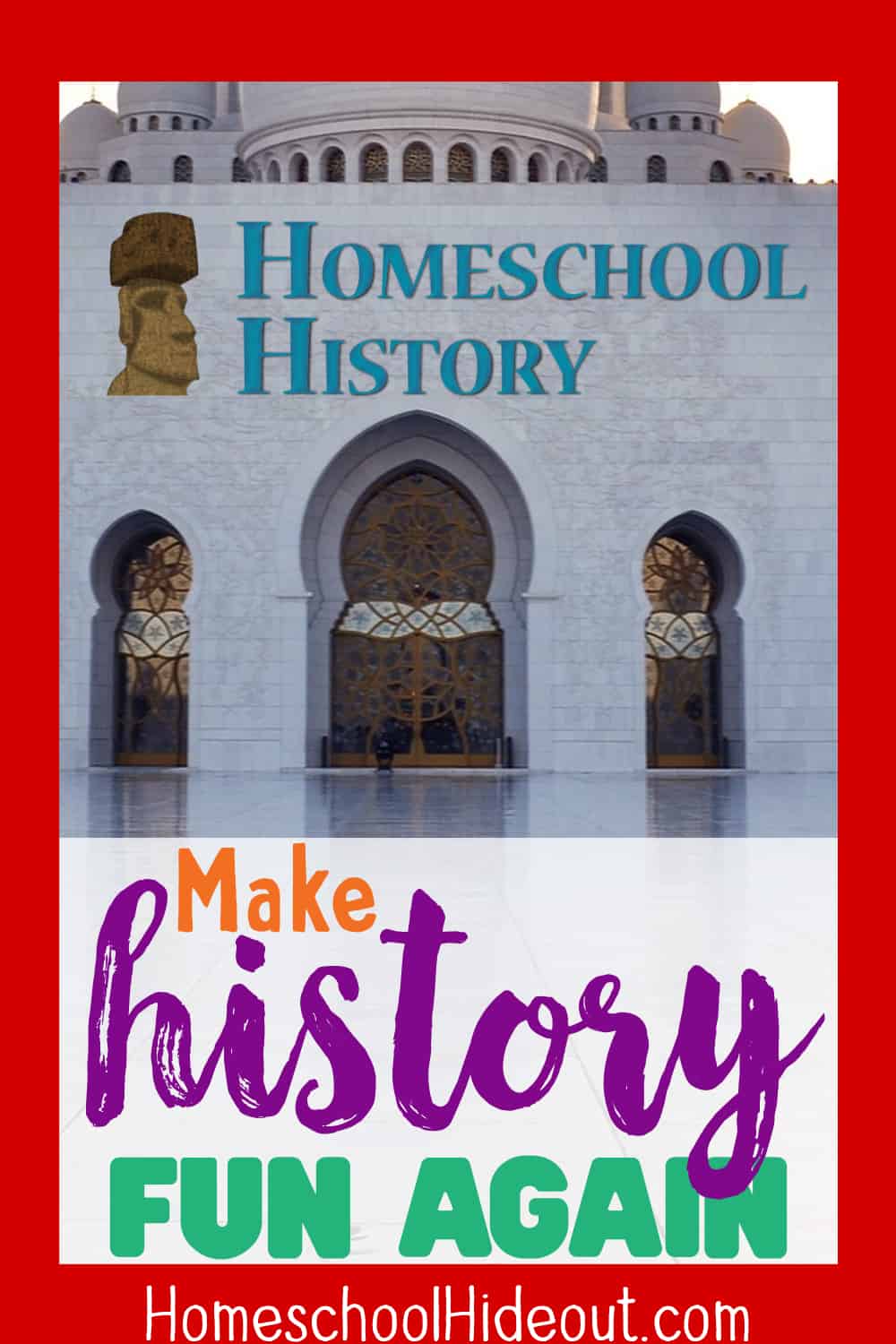 Connect with Notgrass History: