Spring has sprung and the Easter Bunny is preparing to make his rounds. This year, the Easter Bunny is sick of bringing cheap toys that will be broken within 3 days. No more candy-coated goodness or expensive gadgets. No, sir. Instead, try one of these educational Easter basket ideas for toddlers.
The Easter Bunny has decided to simplify Easter and only bring baskets full of goodies that will make kids use their imagination while fine-tuning their motor-skills.
In an effort to help the exhuasted Easter Bunny, we've dug up 10 super easy educational Easter basket ideas for toddlers!
10 Educational Easter Basket Ideas for Toddlers
Bubbles-
Who knew practicing fine motor skills while strengthening oral muscles could be so fun? Bubbles are a great addition to any Easter basket. Kids will beg to get outdoors and blow the biggest bubbles possible! We love Gazillion Bubbles brand because it's made in the USA!
Puzzles-
Little ones love doing puzzles and mamas love watching their kiddos master them. From manipulating the pieces to problem solving, puzzles are a great addition to any gift basket! Find one with bright colors, animals or cars and your kiddos will be smitten.
Play-Doh-
Bright colors, squishy textures and hours of fun are just some of the benefits of Play Doh. Grab a rolling pin, butter knife and kid-safe scissors to help little ones master fine motor skills, while developing stronger muscles.
Juggling Scarfs-
Adding scarfs to your daily routine are a surefire way to add fun and laughter. Whether you play hot-potato, learn to "juggle" or just dance around the living room, a good set of scarves are a great addition to your Easter baskets.
Books-
You can never have enough books and there's no time like the present to spark a love for reading. Find a hands-on book, like Usborne's All Better, which allows kids to place bandaids on the animal's boo-boos. They'll love playing doctor with the large reusable bandaids.
Alphabet Letters-
Teaching your child the alphabet doesn't have to be painful. Make it fun by adding magnetic foam letters to their Easter basket. The squishy letters are perfect for spelling names, addresses or simply learning the letters.
Jumbo Farm Animals-
We can't get enough of Learning Resource's Jumbo Farm Animals. After buying cheaply-made animals, there's no denying a good set of farm animals is a great investment. Kids love them and their chunky size is perfect for little hands to grip. Expect hours of imaginary play with this fun toy.
Stringing Activities-
Little faces will light up when their little hands master stinging activities. Whether you pair Cheerios with colorful string or purchase a colorful Farmyard Stringing Activity, kids will love it!
Hammering-
Little ones love to hammer…well, anything! Let them release some energy while fine-tuning their motor skills with a kid-safe hammer. We love the simplicity and bright colors of Melissa and Doug's Wooden Pound a Peg and the price tag is hard to beat! (Pun intended!) 🙂
Blocks-
Kids love stacking, building and destroying block towers. But did you know, they're also learning as they do so? By knocking over their creation, kids learn cause and effect, as well as honing in their find motor skills. If you're sick of loud blocks crashing to the floor, try introducing a fun alternative, like Bristle Blocks. Kids love their fun texture and moms love the quietness of their tumble.
There you have it!
10 genius, yet simple, educational Easter basket ideas for toddlers!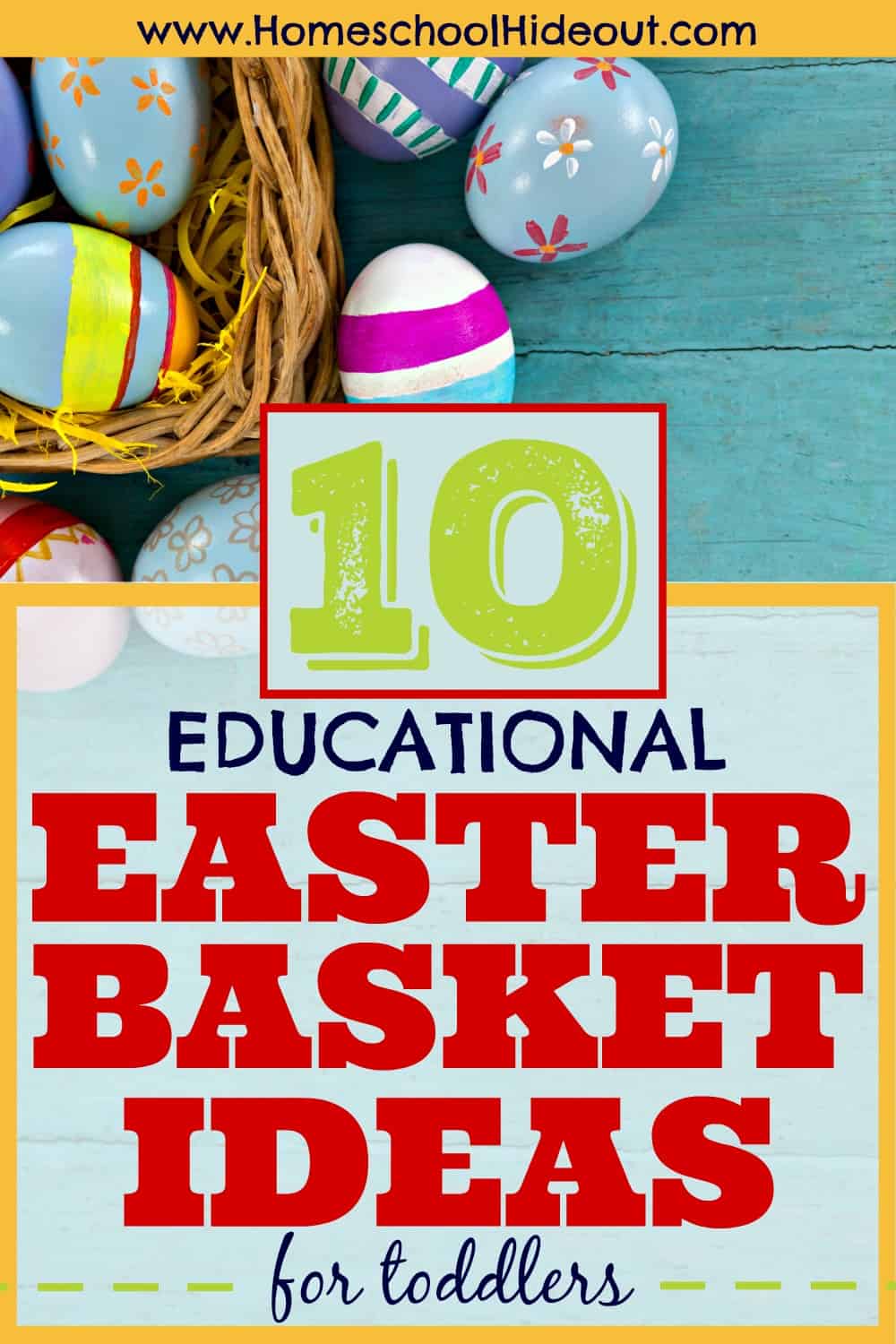 Chime in and let us know what the Easter Bunny will be delivering to the 4 and under crowd at YOUR house!
STILL NEED EDUCATIONAL EASTER BASKET IDEAS?
DON'T MISS THESE POSTS!