This post may contain affiliate links. Read the full disclosure for more information.
You probably don't need me to tell you that the way kids learn is changing and it's changing fast. When I was a kid, we read a book and a few times a year were allowed to watch School House Rock, if we were lucky.
But when you know better, you do better and thankfully we now know that kids learn in all different kinds of ways and we can teach that way. Sure, books are still great but with the increase of screen time, things are a'changin'.
I've recently decided to quit fighting against technology and allow it to work in my favor. After all, our homeschool was transformed when we started watching educational shows on Netflix. Soon, we added educational YouTube channels. Then we discovered podcasts. And now we've been on a mission to find the very best educational apps for kids.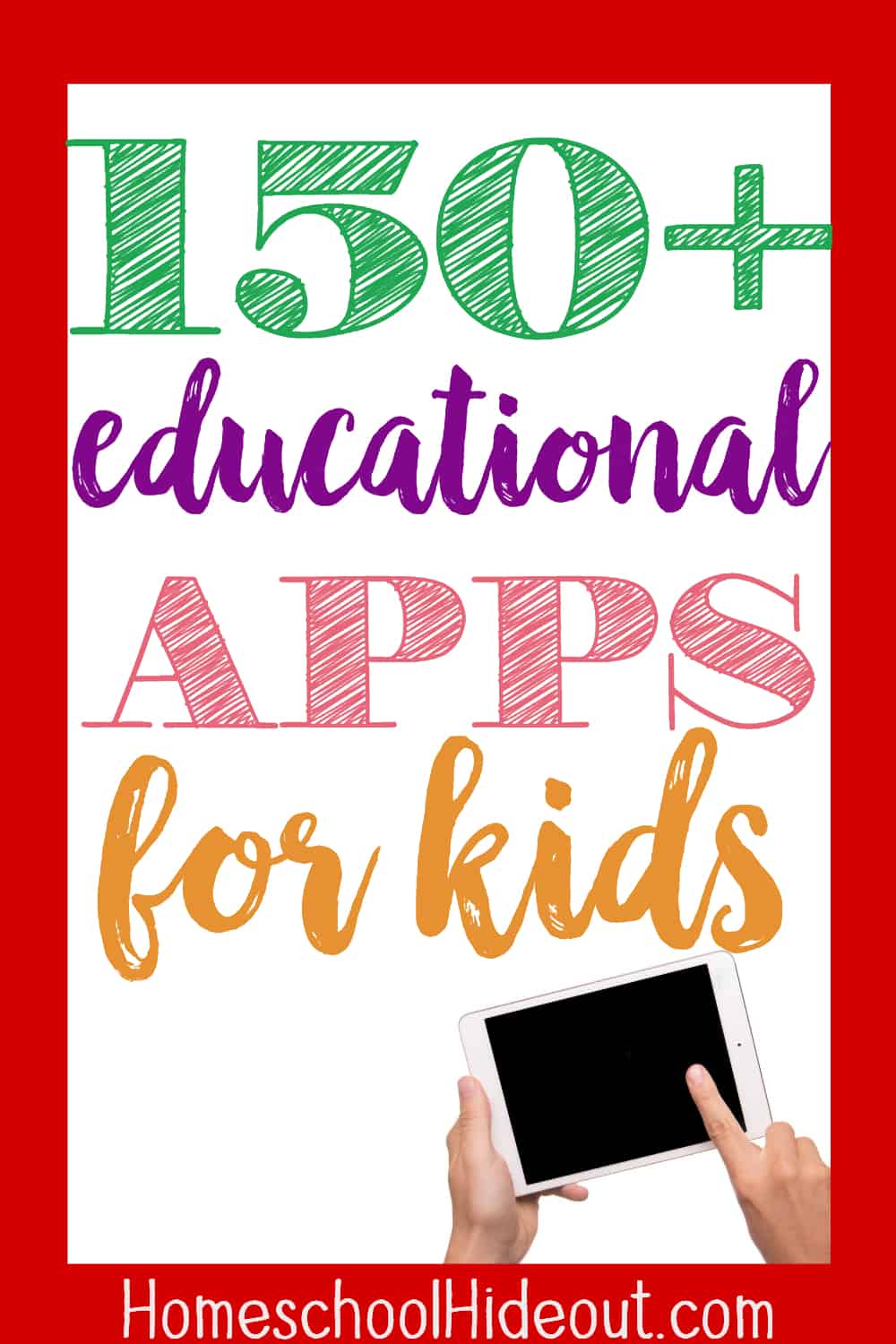 150+ Educational Apps for Kids
Astronomy for Kids
Scratch Jr.
Stack the States
Physics MPP Lite
Duolingo
Flow Free
5 Dice
Aliens vs. Presidents
Einstein's Riddle Logic Puzzles
Hands-On Equations
Drop Spell
Osmo
Slice Fractions
Todo Math
Memrise
---
Lexigo Rush Free
Sumdog
Periodic Table Memorizer
Exploration Pro 2019
Onirim
Zap Zap Math School
Bridge Constructor
Muscle and Motion Anatomy
Alphabear
My World of Atoms
Kids Learning Box
Letterschool
Cracker Barrel Games
DragonBox Big Numbers
Spatial Line Puzzles
---
Solar System with Astro Cat
Free Flow Bridges
Endless Reader
Math Monster
Coding Games for Kids: Learn to Code with Play
Brain It On! Physics Puzzles
Stack the Countries
Avokiddo
BrainPop
Brain Gym
Montessori Monster Math Lab
Math Land: Addition for Kids
Epic!
MadLibs
Endless Alphabet
---
Hale's Tales
Tiggly Chef: Math Cooking Game
Rube's Labs: Physics Puzzles
ABC Mouse
Quizlet
Math Ninja: Times Tables
Monster World Physics Game
ck 12
Homer
Zoo and Farm Animals for Kids
Chess for Kids: Play & Learn
Writing Wizard
Eggy 250
Geography Quiz
New Cool Math Games
---
---
Soduko
SoloLearn: Learn to Code for Free
Popar Human Anatomy
Little Alchemy
Audobon Bird Guide
Skyview Free
Run, Marco
Blimp Code
Animal Parts of Body Quiz Game
Dragonbox Algebra
Gus on the Go
Toca Boca
LightBot: Code Hour
Google Earth
Moose Math
---
The Earth: by Tiny Bop
Wonster ABC Phonics Spelling
Word Cookies
Bugs and Buttons
Drops
Mizmo: Learn to Code
Stargazer
Teach Your Monster to Read
Table Tots Kindergarten
Seterra Geography
Endless Wordplay
Cursive Writing Wizard
Thinkrolls: Logic Puzzles
Simple Machines by Tinybops
Teach Me Anatomy
---
---
Bedtime Math
Trucks by Duck Duck Moose!
Popar Periodic Table
Puzzledom
Rosetta Stone: Learn Languages
Brain Game: Picture Match
Starfall
Farm Animal Puzzles for Kids
Tower Math
Monkey Preschool
Meet the Alphablocks
Read with Phonics: Phonics Games
Wordly: Learn Words, Improve Vocabulary
Numbers Board
Udemy: Online Courses
---
Tynker: Learn to Code
Picture This: Flower & Plant Identification
King of Math Jr.
Grammaropolis
Storyline: Chat Stories
Kids Reading Sight Words
The ASL App
Wildlife Wow by NatGeo
Adaptive Curriculum
Prodigy Game
News-o-matic
Brainzzz
Guess the Ocean Animal
NatGeo Kids
Highlights Hidden Pictures
---
Cargo Ship
Marco Polo World School
XtraMath
Kids Telling Time
Geoboard for Kids
Tangram Master
ABCya
Spelling Monster: Free
Popar Solar System
Khan Academy
Magic School Bus: Oceans
Math Ninja: Battle Math
Librivox Audio Books
GoNoodle
Panda 5th Grade Learning Games
---
Plague, Inc
Underwater Sea Life for Kids
Swift for Beginners
Skybrary
Kakao Kids: Best Fun & Edu Apps
Star Chart
PBS Kids
Quick Math
MindGames
Accellus
Code Spark Academy: Kids Coding
My Spelling Test
Madagascar Math Ops
Endless Spanish
Spelling City
Operation Math
Ocean Puzzle Games for Kids
There you have it! Over 150 educational apps for kids!
Join Homeschool Hideout's weekly newsletter for a printable version of this list and SO MUCH MORE!
---
What would you add to the list?
---