There's no doubt we all love a perfectly decorated Christmas tree covered in glass balls and sparkly perfection. But seeing a tree decorated by kiddos is much more beautiful in my eyes. From the clusters of lights to the obviously handmade ornaments, it's just heart warming.
Each year we like to add a new style of ornaments, handmade with love. This year, we're going for simple and easy felt ornaments for kids. For just a few dollars and a couple of hours, you can deck your tree out in adorable handmade ornaments that'll be treasured for years to come!
Quick & Easy Felt Ornaments for Kids
In just a few simple steps, you can whip up enough felt ornaments to cover your tree or gift to the grandparents!
Supplies:
Felt
Needle
Embroidery Thread
Stuffing
Shape Up:
The sky's the limit when making these easy felt ornaments with kids! Whether you want to choose one shape or 10, there's plenty of ideas to make your tree personalized to your taste. I like to let the kids hand draw their shapes but you can also grab a set of cookie cutters and trace the shapes.
Cut It Out:
Fold your felt in half and cut out both layers of felt, using sharp scissors. By cutting your layers at the same time, you'll ensure that your top and bottom pieces are exactly the same size.
Sew: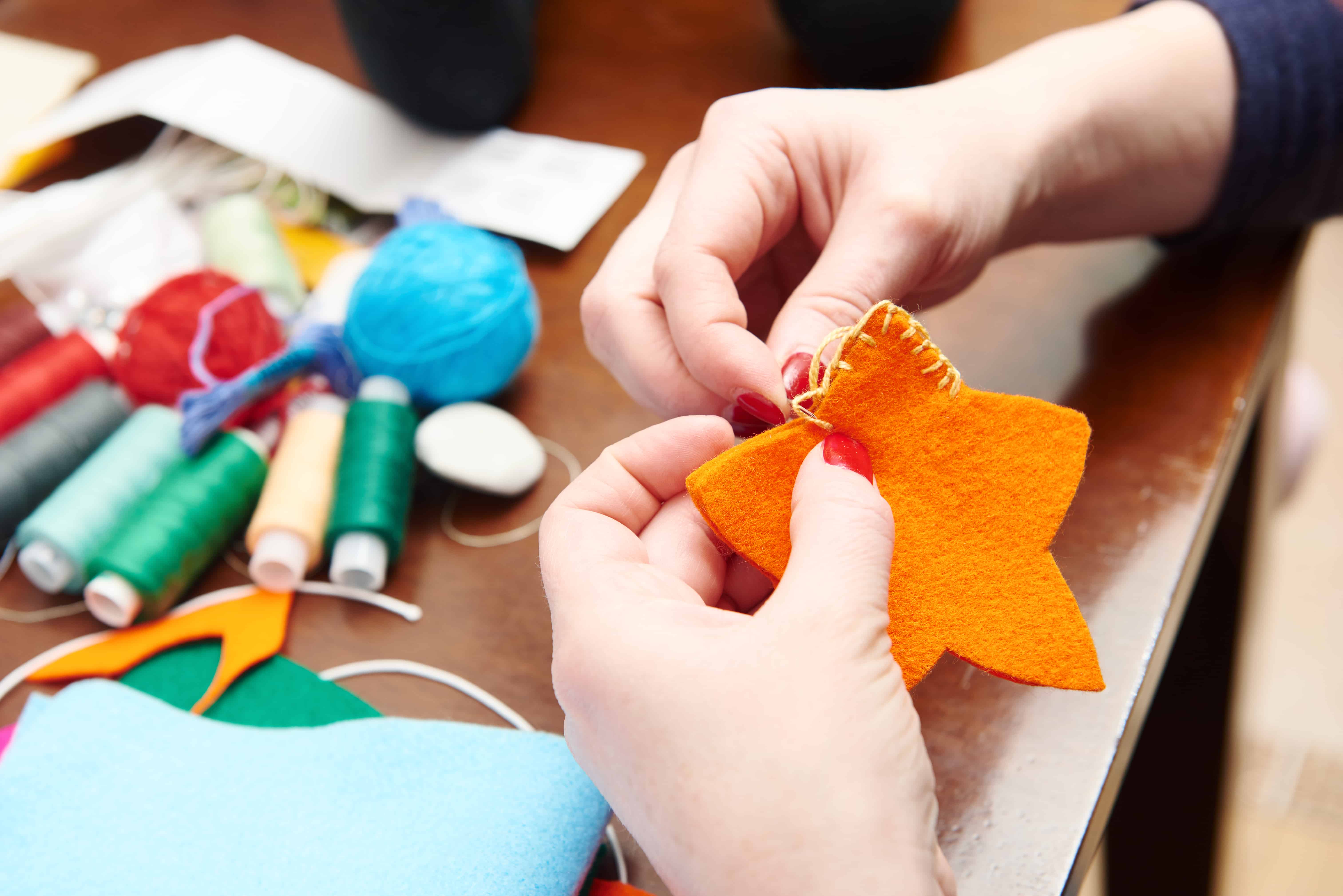 Using a whipstitch, sew the top and bottom pieces of felt together, leaving a small 2 inch opening at the top. You can use brightly colored thread or opt for a white thread, depending on what color matches your decor.
Stuff:
Grab a small amount of stuffing and insert it into the opening. If you don't have any stuffing, don't worry! There are plenty of things you can use instead of buying stuffing. Try bits and pieces of old T-shirts, newspapers, plastic bags or even toilet paper! You don't need a lot of stuffing and you can save the earth by recycling your trash into stuffing!
Loop:
Decide how you want to hang your easy felt ornaments for kids on the tree. Some ideas include ribbon, fishing wire, string or jute. Simply create a loop and lay it in between the felt pieces on the top of your ornament.
Sew Shut:
Being careful to sew the loop between the two pieces of felt, finish sewing the ornament closed. Tie the thread with a double knot to ensure it doesn't come undone.
Decorate:
Now the fun begins! Allow kiddos to decorate their ornaments however they wish. I like to set out some craft supplies in the colors of our Christmas decor. Some fun items include:
Ric Rac
Paint
Ribbons
Sequins
Pom Poms
Jingle Bells
Beads
Enjoy making these easy felt ornaments for kids and creating memories that'll last a lifetime!
Whip up a batch of yummy Christmas treats to snack on while you craft!