Wondering how to approach career exploration for teens? TruSpark can help!
Our homeschooling journey is coming to an end for my oldest daughter and while it's bittersweet, it's also incredibly scary. Of course, graduating an amazing human being was the goal all along but now, the whole wide world lays in front of her. To say it's intimidating is an understatement.
It's been an amazing journey, walking next to her as she learned who she is and what her passions are. But when it comes time to think about her future, she freezes up. She doesn't really want to go to college, and frankly, I don't want to pay for it, if she's not 100% dedicated to furthering her education.
I also don't want to just push her out into the world and make her work her way through entry-level positions until she finds something she loves. But how could I help her find meaningful work, that she wouldn't dread every day for the rest of her life?
The answer was simple…I just didn't know it! 😉
This post is sponsored by TruSpark. I received the product for free and was compensated for my time.
All opinions are my own and 100% honest.
TruSpark: A Simple and Effective Career Exploration for Teens
TruSpark is an interactive online motivations assessment. It's so much more than the oh-so-popular personality tests because it helps you discover exactly what makes you feel fulfilled and drives you. It's also doesn't measure strengths, talents, interests, or aptitude.
TruSpark identifies Core Motivations—the why… the inner drives that propel what we like/dislike and the choices we make.
The online assessment and curriculum work together to help you understand your strengths and weaknesses, while understanding your motivation more and more.
The assessment is broken down into 3 modules. Each module can be completed in one sitting, which I love because we don't need to drag it out for weeks on end. We can take the assessment in just one day and start understanding our motivations and strengths better right away.
This is perfect for folks like me, who waited till the last minute to help their teens find their strengths. In all reality, I wish I would've used TruSpark when my daughter was entering into high school. It sure would have saved us a lot of fights and tears.
Why Teens Need TruSpark:
Creates more self-awareness, which in turn allows them to advocate for themselves
Allows parents to better understand their decisions and chocies in life
Improves self-acceptance as teens understand the drive behind their decisions
Gives plenty of career options to choose from
The 3 Modules:
Core Motivation:
Students will learn all about core motivation, how you're born with it and how it follows you all throughout life. They learn the benefits of working with their strengths, instead of against it.
You'll use your own stories to figure out what makes you unique, leaves you feeling fulfilled and how you can use those assets to better yourself.
Career Exploration:
The second module helps you find meaningful work. What's worst than waking up every single day and punching the clock at a job that you despise? When you find a job that allows you to express your core motivation, you'll feel motivated and fulfilled.
In this module, you'll use resources to find jobs that you'll love. You can quickly and easily compare and contrast job opportunities. You can find the local salary for each job, see if the industry is growing, find out what educational requirements you'll need to meet and even search for local job openings in your area.
Live Our Your Purpose:
Once you've found out what motivates you and leaves you feeling happy, you're ready to get to work! You will complete a fun activity that will help you remember exactly what it is that makes you unique. You'll rehash what you love about yourself, as well as your top 3 core motives.
When I found TruSpark, I was so intrigued, I decided to take the assessment myself. When my kids are grown, I'll likely join the workforce for the first time in my life. There's no reason not to know my own core motivations so I can work with them, instead of against them.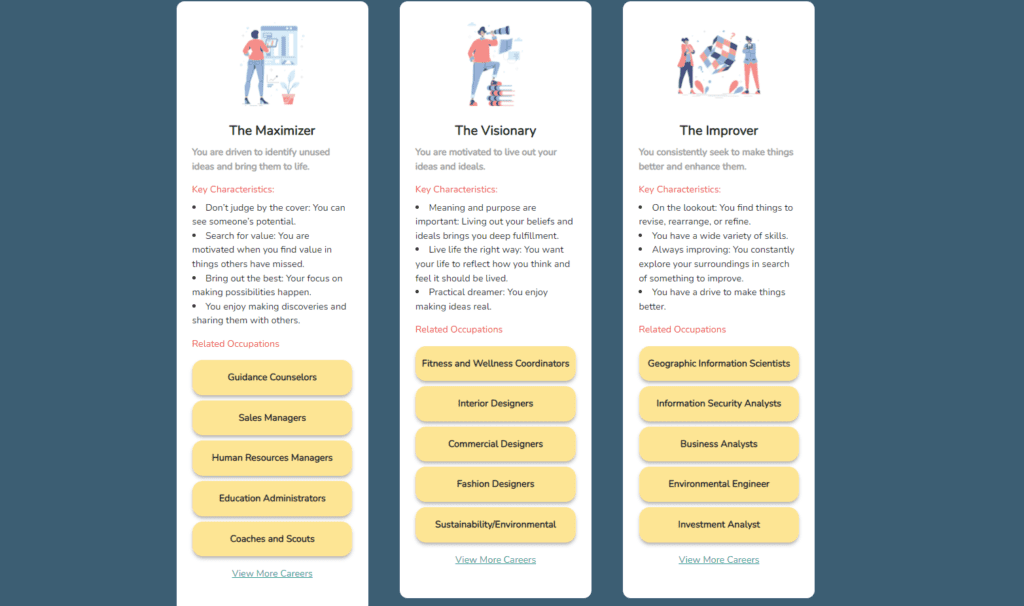 If you have a budding high school or tween, I'd highly suggest signing them up for TruSpark. It's a simple and effective career exploration for teens, who really need the guidance. The sooner you help them understand their core motives, the better!