A doctorate is a graduate-level academic program that can be earned after completing a bachelor's degree. It is the highest level of education one can achieve. You may acquire a doctorate in any field, but most are awarded in either education or business/management. It requires several years of intense study, including research and writing projects. They often culminate in publishing articles or books on your area of expertise.
Online programs allow for flexibility in your schedule, and it's becoming more common to earn degrees online, starting with your bachelor's degree. Here's a comprehensive list of some of the best online bachelor degree programs you can do prior to your Doctorate, and below you can see some best online Doctorate programs which offer opportunities for a lucrative and professional career path.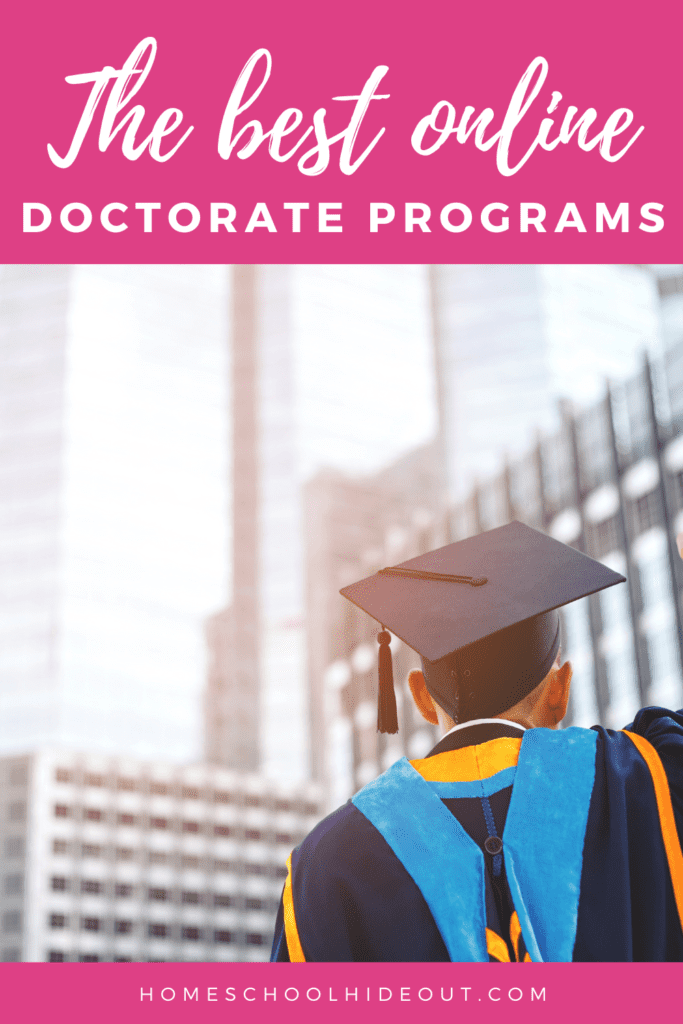 Best Online Doctorate Programs for a Lucrative and Professional Career Path
Ed.D/Ph.D in Educational Leadership and Administration
An EdD is a doctorate one can earn in educational leadership, administration, and other similar fields. A doctorate program prepares students for advanced positions within their field of study. So many students pursue an EdD because they want to earn this degree to advance their careers. The goal of an EdD is often to become more competitive on the job market or move up the corporate ladder.
An EdD in Educational Leadership and Administration focuses on training leaders who will be able to make meaningful contributions not only in academia but also outside it. For example, school leaders like superintendents, principals, or those who work with community organizations concerned with education reform efforts across America's public school system. They should consider pursuing this online doctoral degree program.
If you are interested in getting an EdD degree, you can consider online programs available to help you advance your career as a professional in education. Online EdD programs are affordable and convenient, with flexible schedules and accredited degrees.
Ph.D. in Nursing Practice
Choosing a program that aligns with your goals is essential to making the most of your talent. For example, suppose you have a passion for nursing and are looking for an advanced degree that will allow you to develop your clinical skills and leadership potential further. In that case, a Ph.D. in Nursing Practice could be an excellent option for you. This program requires students to complete coursework on their own time before entering into their dissertation phase of the study.
Several advantages come with pursuing this degree:
It allows nurses who have already worked in their field for many years to continue expanding their knowledge base without having to stop working full-time. They don't require taking time off from work or leaving behind established careers at other hospitals or clinics where they may be employed.
This research-based program encourages students to get more involved with helping others through direct patient care. It also helps find ways for students to use what they learn during research studies and clinical trials involving patients suffering from various illnesses.
Ph.D. in Applied Behavior Analysis
Applied behavior analysis is a growing field of study with diverse career options. A Ph.D. in applied behavior analysis can help you become an expert in the area and open doors to many top-notch positions, including:
Clinical behavior analyst
Learning disability specialist
School psychologist
Behavior analysts work with people who have autism spectrum disorder (ASD), intellectual disabilities, developmental delays, or learning disorders. Suppose you're interested in becoming a clinical behavior analyst. In that case, you'll need to earn your doctorate from an accredited program before applying for one of these roles through state licensure boards or certification organizations.
DNP – Doctor of Nursing Practice
The Doctor of Nursing Practice (DNP) is a professional doctorate in nursing. This advanced degree prepares you for clinical leadership and management roles. It also paves the way to earn a Ph.D. in nursing, which can help you become an expert in your field.
While some DNP programs are focused on research, most are not. Instead, they focus on preparing students for careers as nurse practitioners or educators who manage care for patients with complex health issues.
To earn this degree, you must complete a rigorous program that includes courses on medical ethics and critical thinking skills. In addition, your classes will likely have topics like communication skills training when working with patients or their families. You will know how best to communicate information effectively while respecting patient privacy concerns.
Doctor of Business Administration
A Doctor of Business Administration (DBA) is an advanced degree often a stepping stone to the executive suite. The title is usually reserved for business experts who want to pursue research or teach at the college level.
The DBA program typically takes two years to complete and requires a minimum of 36 credit hours beyond your master's degree. Some programs require more than 50 credits, a full-time load. The exact curriculum will vary from school to school. Still, it will generally include courses in strategy, management, and human behavior and electives in topics like accounting principles and decision analysis.
Suppose you're considering getting your DBA online to keep working while earning credits. Be aware that most schools require students to take at least one class on campus each summer. It is usually spread over two weeks, with no exceptions for commuting students even if they live within driving distance. It means you'll need access to reliable transportation while immersed in all those books!
Careers examples available after earning an online doctoral program include:
Managing partner of an international law firm.
Vice president of operations for a Fortune 500 company
Chief marketing officer for Hollywood studio.
Ph.D. in Computer Science
A Ph.D. in Computer Science is a doctoral degree awarded to students who have completed research and written a dissertation on a particular topic within the field of computer science. To be eligible for this degree, you must complete at least three years of study beyond the bachelor's degree. Most programs require an applicant to have completed one year of graduate studies before being accepted into the program. They then are enrolled as a candidate for their doctoral thesis or dissertation.
A Ph.D.-level education prepares you for an academic career. However, there are many other options available to those with this qualification:
Research at a university or government lab.
Become an industry researcher for software development companies.
Teach computer science courses at an accredited university.
Ph.D. in Psychology
A Ph.D. in Psychology is a research degree. Students pursuing this degree will spend most of their time writing, reading, and publishing academic articles about psychology topics. Many of these students will also conduct experiments on human subjects as part of their research studies. To receive a Ph.D., you must complete an extensive program of coursework and research projects before completing your dissertation. It is the final project required for graduation.
To receive this degree from an accredited university, students must pass comprehensive exams each year until they have finished their dissertation work. They may also be required to take oral examinations before receiving their diploma or certificate if they take classes through distance learning programs.
Advance Your Career as a Professional Through These Courses
We hope this article has helped you decide which is the best online doctorate programs for you. These programs offer various educational options. So whether you want to focus on education or nursing, there's bound to be something here for everyone. Remember that the best way forward is always through research and planning before deciding your future career path!