Check out these free things to do in Vegas!
Sin City is full of entertainment, night life and yummy food but all of these things are super expensive. The tourist town boasts lots of fun but when you're there for an entire week, you can quickly blow through your budget.
These easy and free things to do in Vegas can help you fill your schedule without breaking the bank!
3 Free Things to do in Vegas
Fremont Street
If you've never been to Fremont Street, it's a must-see while in Vegas. It is essentially what used to be the "Vegas Strip." The street is now closed and covered with a crazy-awesome digital screen that's constantly changing.
Vendors are set up along the road and casinos, stores and restaurants line the streets.
At night, there are street performers and the sky screen is amazing.
Be warned, there are a lot of homeless people and day-drinking going on here. As with most things in Vegas, I wouldn't consider it kid-friendly.
Walk the Strip
You can easily spend one day just walking the Strip and checking out the hundreds of stores, restaurants and casinos. From the M&M store to fancy places like Tiffany & Co. there's something for everyone!
There are tons of photo-ops all around you! From giant statues to fun wall decor, there is always something to take a photo with!
See the hotels
The hotels in Vegas are worth taking the time to see! We stopped by each hotel, on our way to do other things, then on the last day, we hit up all the ones we wanted to go to but hadn't yet! Here are the ones we enjoyed the most:
The Venetian
The gondola ride was about $30 each but was a once in a lifetime experience. Our driver was an amazing singer!
Cesear's Palace
The live show was worth catching and the amazing architecture was stunning. Between the fountains and the statues, there is plenty to take in at this hotel!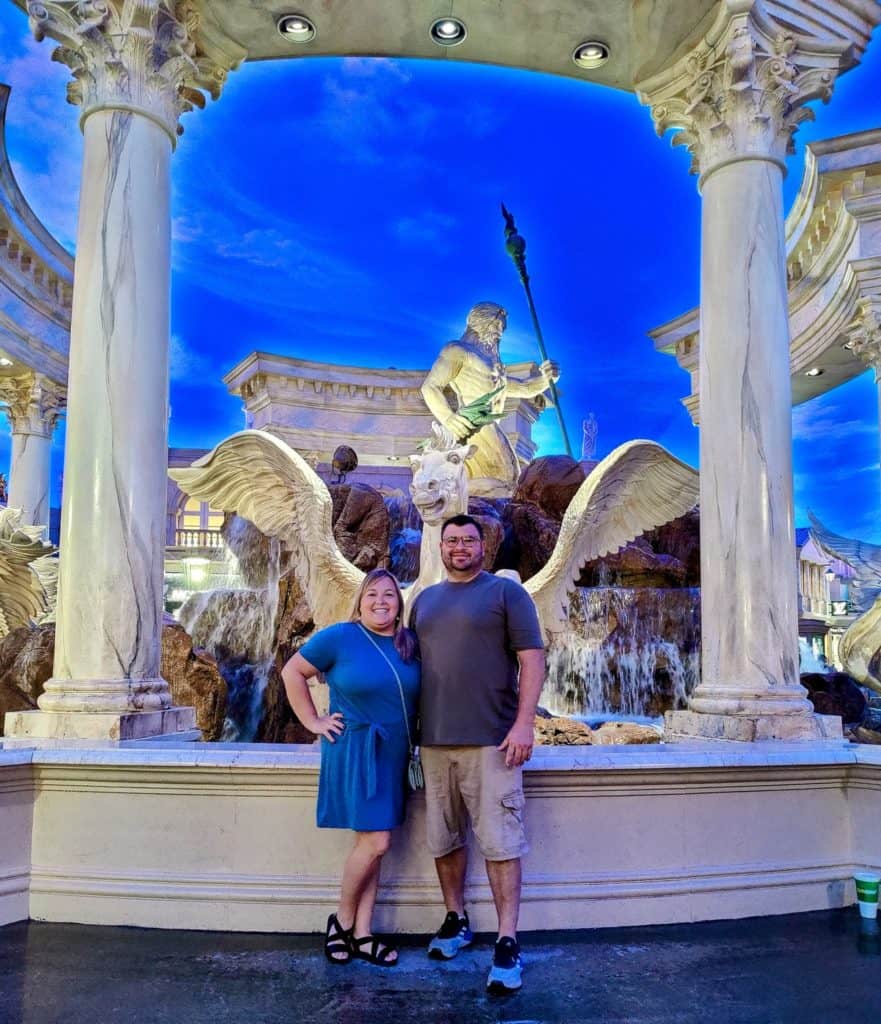 The Bellagio
The Bellagio is hands-down a must-see while in Vegas! They have a garden area that changes 4 times a year! There were amazing creations and the plants were breath-taking. I would definitely recommend visiting here next time you're in town. It was one of my very favorite free things to do in Vegas!
MGM Grand
There isn't a ton to see at the MGM but the lion statue was cool and we were there for a show, so we checked out the hotel. Very pretty!
Next time you're in Vegas, check out one of these free things to do in Vegas! Everything from food to entertainment is SUPER expensive, but you can fill a couple of days with free entertainment, if you do these things!