It's no secret that parenting is exhausting. No one knows what they're doing and we're all just doing our best. But you don't want to get to the end of your child-rearing days and realize you forgot to teach your kiddos something they needed to know. That's why I've decided to make a list of life skills your kids need and update it, year after year.
One huge reason we started our homeschool journey was because of my own lack of life skills. It was no secret that there was a vault of life skills your kids need to know, that I was missing.
I didn't know how to cook. I couldn't get a stain out of a white shirt if my life depended on it. Heck, I didn't even know how to pay a bill. No joke. I still remember when my husband sat down and explained to me that when paying the bill, you fill in the little boxes in the "amount" area from the right, so that your decimal point will be in the correct place.
Unless kiddos are taught these skills, they are things that they simply won't know. And you don't want that to happen. Trust me, I know.
Life skills are so important, I've created a free printable so you can have them handy and mark them off as your kiddos learn them. You can grab our free printable list of life skills your kids need by subscribing to our weekly newsletter. You'll gain immediate access to this freebie, as well as so many others!
29 Life Skills Your Kids Need to Know
Basic Sewing
Clean a Home
Create a budget
Do the laundry & iron
Phone etiquette
Write a letter
Write a thank you note
Follow a recipe
Basic cooking & baking
Shake hands
Introduce yourself
Plant & garden
Ask insightful questions to get to know someone
Socialize without technology
Wash dishes without dishwasher
Good table manners
Interview for a job
Take down a message
Save up for something
Basic car maintenance
Change a tire
Take care of a pet
Basic home improvement
Admit a mistake
Give a genuine apology
Dress for the occasion
Carry on a conversation
This list of skills is a lot different than the one I posted a few years ago.
Over the years, I've noted what my kids need to work on and have created the list from that. It's packed full of great ideas, too, so don't miss it!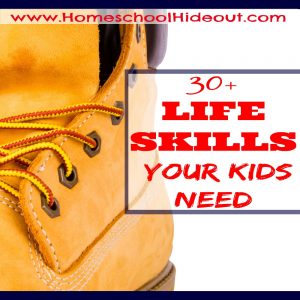 ---
PIN IT FOR LATER!