Board games are an awesome and easy way to add some learning into your day. With this list of the top 20+ science board games, your only struggle will be deciding which ones to buy first! If you're searching for a young gamer specifically, you can check out this list focused on board games for 9-year-olds!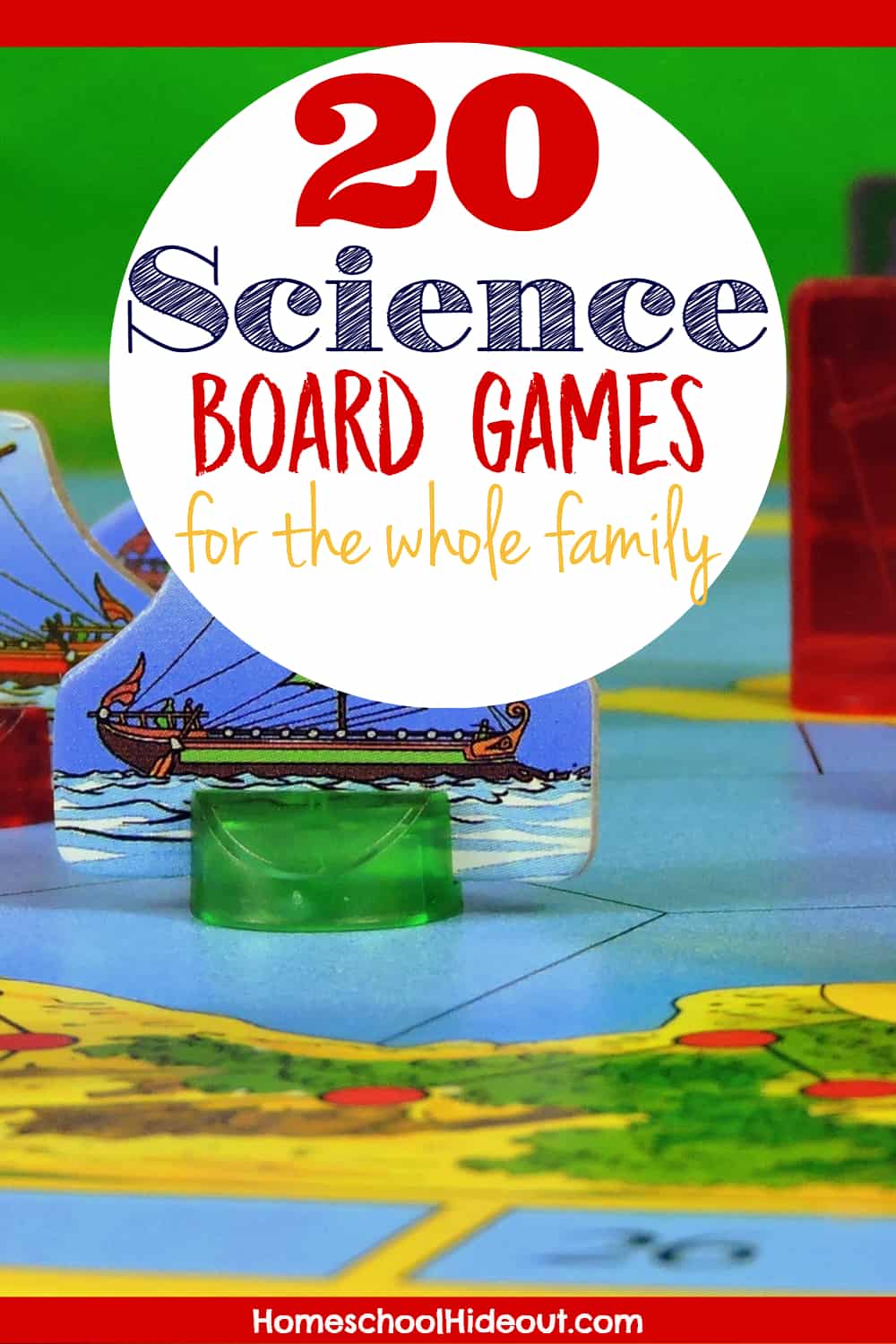 Top 20 Science Board Games You're Sure to Love!
Learn all about experiments using everyday chemicals in this exciting board game. Even people who know nothing about chemistry will enjoy this game, as it's a great way to introduce and help kiddos fall in love with the sometimes difficult subject.
Youger kids can use this game as a puzzle, while older kids will learn the anatomy of a human body. With 5 different games included, this game will be fun for years to come.
This logic race game is fun for the whole family. Following the research rules, use your tweezers to figure out which missing microbes you need. The fun of this game is trying to be careful, like a scientist in the lab, but still quick! Try not to drop any of the microbes while racing to complete the challenge before your opponents. This game by Blue Orange Games is perfect for fine motor skills, too! With 3 different rule variations, the game has excellent replay value and perfect for all ages.
This fun checmistry game brings the elements to life! Kids will love how sodium becomes "Sodium Dragon" and iodine becomes "Iodine Mermaid." With 5 different levels of play, all ages will love this game.
Help kids understand the natural food chain and the importance of plants as energy with this fun game. The food web chart makes it easier for kids to identify the food chain.
This hands-on game helps kids recognize and learn different types of rocks and minerals while having a great time. The vivid cards and gorgeous rocks are fun for all ages.
Your horse-lover will get to experience life as a rancher or from a horse's point of view while learning about horse breeds and other fun facts. With gorgeous and colorful cards, kids and adults alike will enjoy this quick game.
Learn all about how cells convert genes into proteins with this fun card game. This game is a great addition to a high school biology class and it's much more fun!
Any future astronaut will love this hands-on board game. Build rockets, develop space missions and explore the solar system in this fun-for-all-ages game.

There's never a dull moment with this game. Players are constantly playing, making it fun for everyone. The game looks complex but is simple enough for 7-8 year olds to join in. After reading the instructions, you'll feel more confident and ready to play. Game play is easy, even for those who aren't chemistry buffs. This game quickly became one of my top choices when looking for an educational game that is as fun as it is informative.
Learn fun facts, like your body is only 2% of your body weight but contains all of your personality, dreams and imagination. Kids will love the challenge of remembering the most important facts, while trying to get more correct answers than their opponents.
This super fun card game is a great way to drive home the lessons your child is learning in chemistry. It's a strategic and cooperative play game, so it's perfect for kids or adults!
This hilarious game tests your knowledge in chemistry, biology and earth science! This game is just perfect for large groups, as you only need between 2 and 12 players! The game play takes between 40 and 60 minutes but the fast-paced rounds make it feel much quicker! We also love all the add-on packs that are available: Space, Earth, Advanced Biology and Medical.
Not only is Subatomic a gorgeous card-building game, but it's also scientifically accurate. It comes with a booklet that explains the science behind the games. It also introduces you to the scientists that are highlighted in the game. While this is a more complex game, it's perfect for older kiddos and adults.
This exciting game from The Magic School Bus covers all fields of science. Whether you're learning about the human body, weather, the solar system or chemistry, you'll have a blast while racing to set off the erupting volcano. Bonus: This game comes with 2 games, one on each side of the board!!!
Answer trivia questions to earn points in this fun for all ages. Learn about microscopes, liquids and solids, the solar system and anything else related to science!
Do you know which animals have the longest life span? How about which ones weigh the least? Or who is the slowest? Or which is the biggest? With this quick and easy game, kids from all ages will enjoy comparing the animals listed on the cards. The handy answer key is as much fun as the game, making comparing animals a breeze. If you're looking for a fun game to stick in your purse for waiting rooms, this is the one you need!
If you're looking to make the periodic table more fun for your students, this game is a must! It's strategic game-play, along with stunning graphics makes this game a win-win for family game night.
This spin on a classic game is perfect for the younger ages to play along with older kids. Learn all about the birds scientific name, habitat and other fun facts in this easy to play game.
Each player becomes a science ninja, as they weave together elements and create new molecules. Earn point by creating as as many as possible, but be careful as some combinations can harm you!
Kids will learn to balance wildlife and the ecosystem in this biology-inspired game. We love this game because younger kiddos can play but older kids still enjoy it, just as much. The game can be played in about 15-20 minutes!
Kids will work their way around the board by answering sickening questions, participating in revolting activities and taking part in weird experiments. Kids will love answering questions like "What is the purpose of snot?" (The answer: It keeps your lungs clean.)
Outdoor enthusiasts will love playing this game, as they learn the natural remedies to some illnesses. They'll also learn multiple uses for each herb, medicinal and edible plants.
My kiddos love this game that has you racing to rearrange the molecules to match the pattern on the card. Nothing makes kiddos feel like scientists quite like their very own beaker, stirring rod and colored molecules. The challenge is that only one molecule at a time can be moved inside the specially-designed beaker, making strategy and speed a top priority!
Learn all about animals and their habitats as you make your way down the stone trail through the world's habitats. Fun facts precede the questions on each card, so you'll be learning new facts while answering and learning!
With bold and brightly illustrated cards, you will compare sizes, weight and lifespans of animals. The large cards are as gorgeous as they get and kids will enjoy reading the fun facts (Did you know a red tuna weighs 5 times as much as a fallow deer?!?) and learning all about animals.
With so many science board games to choose from, you'll feel like a scientist by the end of your family game nights!
---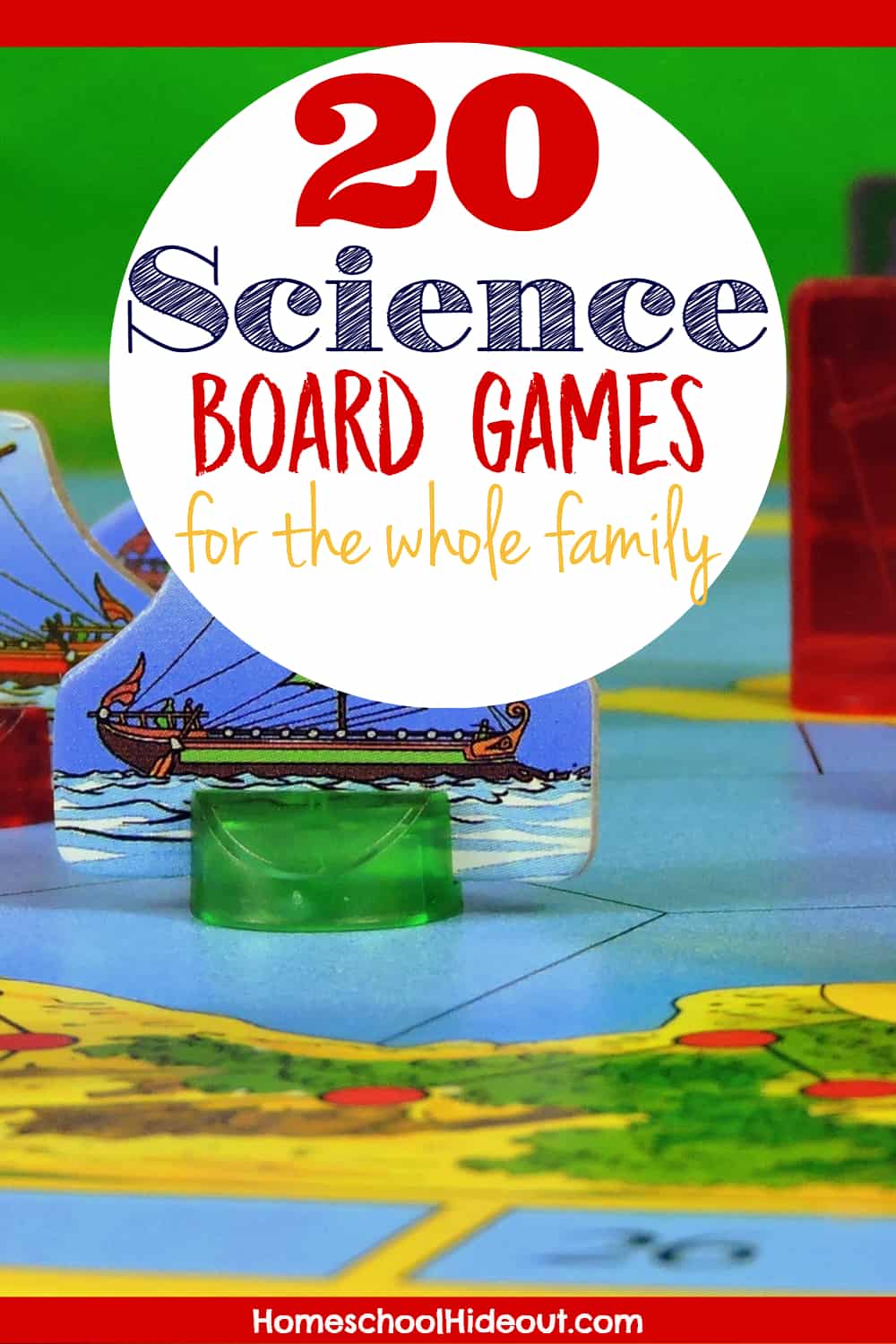 Love these science board games but looking for even more educational board games?