Practicing spelling words can be boring. Diagramming a sentence is certainly no fun. Determining an adverb from an adjective is lame. But it doesn't' have to be! By using educational language arts board games, you'll add some excitement to your learning. But don't blame me if the kids want to practice their spelling words, time and time again!!!

Top 20 Language Arts Board Games that Don't Suck!
Bring some fun to grammar with this fun game that helps expand your vocabulary and imagination. Use one form of each word to complete a sentence. Not so fast, though! Your sentence has to make sense to everyone. Your opponents are the judges!
Use letter tiles to spell out words using these handy tiles. (I say handy because they are perfect for practicing spelling words and many other things!) With no board and a handy bag, this game is perfect for keeping in your purse for waiting rooms, to take to Grandma's or while waiting at a restaurant.
This is the perfect game for learning root words. Knowing the origin and root of words will help kids determine the meaning to words they don't know for years to come. The game is fun but incredibly educational, without being boring!
This fun game teaches homophones, antonyms, synonyms and multiple-meaning words in such a fun way that kids won't even realize they're learning!
Perfect for younger kids, AppLetters is incredibly similar to Banangrams but contains all capital and bold letters, making them easy to read. Play the game much like classic Scrabble but with easier rules and no scoring.
Players will race against the timer to come up with a word that fits in each category, hit the correct letter and pass it on to the next player. Fun for all ages!
Use the cards in your hand and the vowel on your dice to create words. Each words earns points but you've got to think quick. The last word shouted only gets one point. This game is great for up to 8 players and is perfect to take on trips.
This fast-paced game will have you thinking on your toes! Flip a card and be the first to should out an answer that also begins with your selected letter. The simplicity and speed of this game make it a crowd favorite. It's small and easy to transport, making it perfect for playing on roadtrips or in waiting rooms!
Help readers understand and learn the roots in 22 key roots in words. Players will enjoy connecting the meaning of the root to other words that contain that root.
Build words using cards in order to purchase more cards. The game will end when all of your common cards or fame cards are gone. Earn points to claim the victory.
A fun game for all ages, we use this to work on spelling, vocabulary and handwriting in our homeschool. Roll the dice to choose a letter for the round then complete the round using only words that start with that letter. Earn extra points for using double letters. (For example: Name an actor that starts with a D. If you put Danny DeVito, you would earn 2 points, since both his first and last name begin with D.) This game is fun for all ages, whether at family game night or just with adults.
Use cards with letters and point values to create the best words possible, using the cards in your hand. Players can pick up from the discard pile or draw a new card from the draw pile on their turn. The player with the most points at the end of 8 rounds wins the game.
If you're looking for a hilarious way to incorporate vocabulary into your day, this game is a must. Not only will kids learn new words and meanings but will also learn about famous people they may have never heard of. This game is fun for the entire family and will quickly become a family favorite.
The most popular word game is truly a classic. Players build words and earn points. Try to create words on a "Triple Word" square for extra points for only a little more effort.
Blurt out answers to fun questions to work your way around the board. The first player to reach the opposite end of the board is the winner. This fast paced game allows everyone to play at the same time, making it exciting for all!
Create a simple story by rolling the dice and piecing together a fun and hilarious story that includes all of your dice. Stories can get funny and weird but kids of all ages will love these fun dice. This game is perfect for all ages and taking it on the go is simple. With only 9 dice and a travel bag, it's easy to stick in your purse and whip out when needed.
Help kids learn their sight words to up their reading game. Much like Bingo, players strive to match all of the words on your card to the words called. For a quicker version, try to get 3 words in a row.
Played like Scrabble, this game is 3D and you build UP! Each tile is worth one point and can be built upon. Earn more points by building on top of existing words.
Give the game a shake and then ceate words from touching letters. Use letters that touch diagonally, horizontally or vertically. Any common word is allowed but proper nouns are not.
Can a pig go into a bed? Can love go into the toilet? Your cards will create some hilarious scenarios and you'll enjoy fitting words into other words. (But really, can a salamander fit into an orange? I guess it could…)
No longer does spelling mean boring or vocabulary mean lame. With this awesome list of language arts board games, you'll never think about reading or writing practice the same again!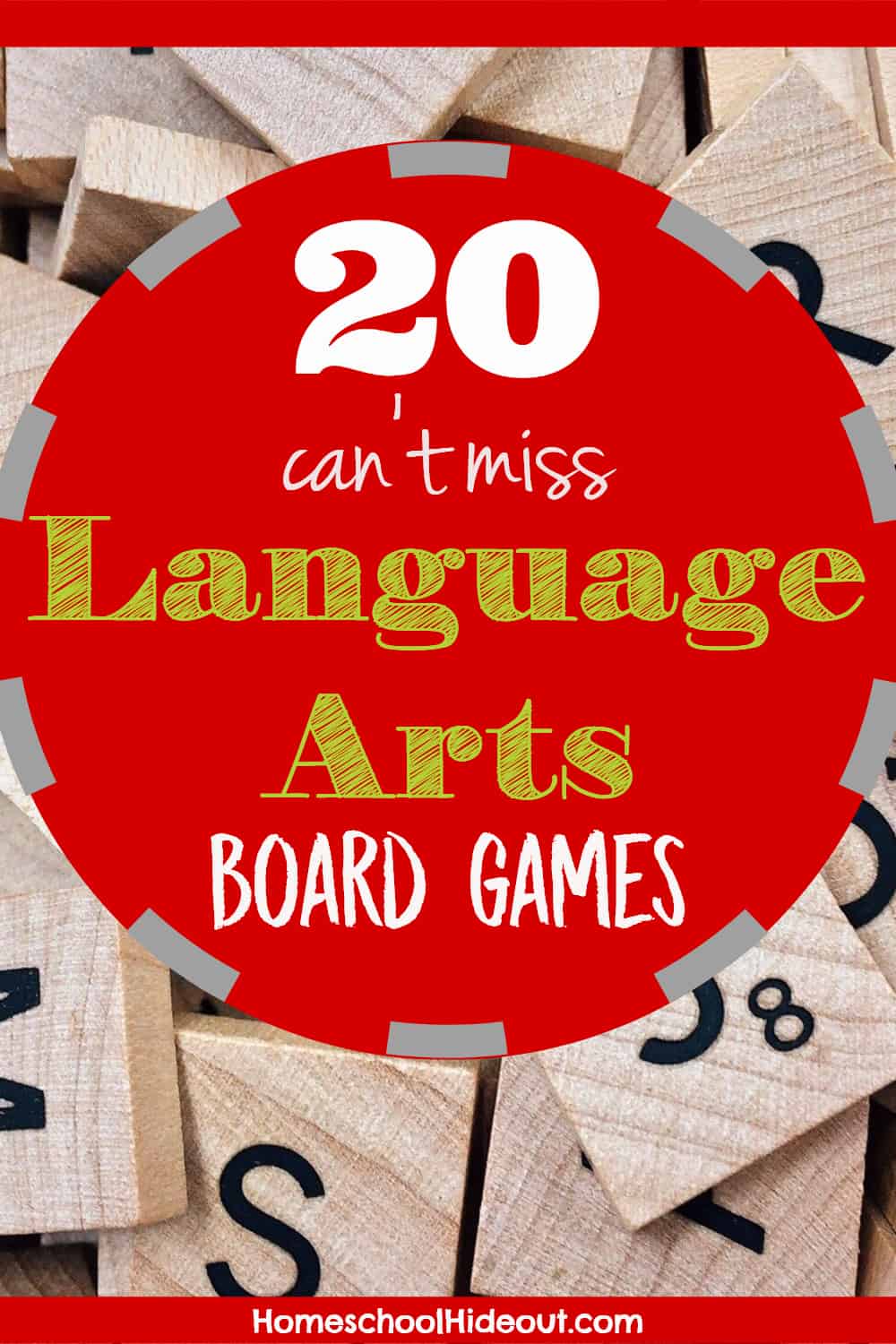 Check out our favorite 150 educational board games, arranged by subject!