Have you ever wanted to take your children on a trip around the world but your bank account says "No way, Jose!" You want so badly to show them the world and create a love of travel in them but it's just not possible. The next best thing is to enjoy talking about the foreign places you dream of with them. With our list of the top geography board games, you can have a ball while you enjoy learning about the world all around!

Top 15 Geography Board Games
Learn the flags of major nations while playing this Uno-inspired game. You'll have to hurry to match each flag to the one in the discard pile but will keep the knowledge you gain during this fun game.
Race to shout out the answer, as you learn all about the United States. Focused on teaching the states shape, nickname and capital, this game is perfect for all ages!
Fun for all ages, Great States offers quick-play and action-packed cards that everyone will love. On your turn, simply give the spinner a flick and answer the question it points you to. Fun multiple choice questions like "What two states are almost square?" will have you racking your brain for answer!
With 6 games in 1, this claims to be the most comprehensive geography game on the market. Not only will you learn vital facts like capitals and major cities, but you'll also learn about major imports and exports from countries around the world.
Played similar to Crazy Eight, players want to get rid of all of their cards before the other players can do so. The game is available in a United States version, as well as a World version.
Fast paced, competitive and easy to learn, this game is fun for all ages. Be the first to match an answer card to the problem card to be the winner.
Famous landmarks, capitals and historical sites will get reviewed as players drive their car across the United States. Cruise controls, flights and alternative routes add some spunk to this game!
Create a 10 day cross country trip using the state and transportation cards in this exciting game. Not only will you learn states and capitals, but also learn organizing and strategic skills, as you race to win.
If you've ever wondered where Camaroon is located, you'll now know with this fun geography board game. With 45 destination countries, you'll be able to locate the countries with ease after a few rounds of this game.

With 57 destination countries, the players in this game will quickly learn the geography of Asia, as well as other pertinent information. Players will travel using trains, planes and cars but you will still need skill and a bit of luck if you want to win this game.
Comparable to the other games in this series, this one is just as fun! With 48 destination countries, you'll quickly learn the geography location of many countries you didn't even know existed!
BrainBoxes are the funnest way to learn! Stare at each card for 10 seconds, then flip it over and answer the questions on the back without looking again. Can you remember which oceans bordered the country? How about the colors of their nation's flag? These are just a few of the fun questions you'll be asked when playing this easy-to-learn geography board game.
Players will have to be quick to know facts and locations of 194 countries! Whether you want to learn the flags, capital cities or location, this game is the perfect way to learn them all! My kids love the game but I've found them studying the cards for "fun" so they can beat their siblings during our next game. That, my friends, is what I call an awesome geography game!
Players will try to get 5 colored tokens in a row by matching the states with their capitals. It's not as easy as you think but you'll learn more than you expected!
One of the most popular specialty games of all-time, Ticket to Ride helps players pick up on geography while enjoying one of the best board games on the market. Players try to travel to the most US cities by train in just 10 days to beat their opponents.
Learn state capitals, geography and famous landmarks with this quick game. Whether you're having a party or just using it with your kids, this game make memorizing fun!
Armed with these 15 geography board games, you can take your kids on adventures all over the world, without ever leaving your house!
---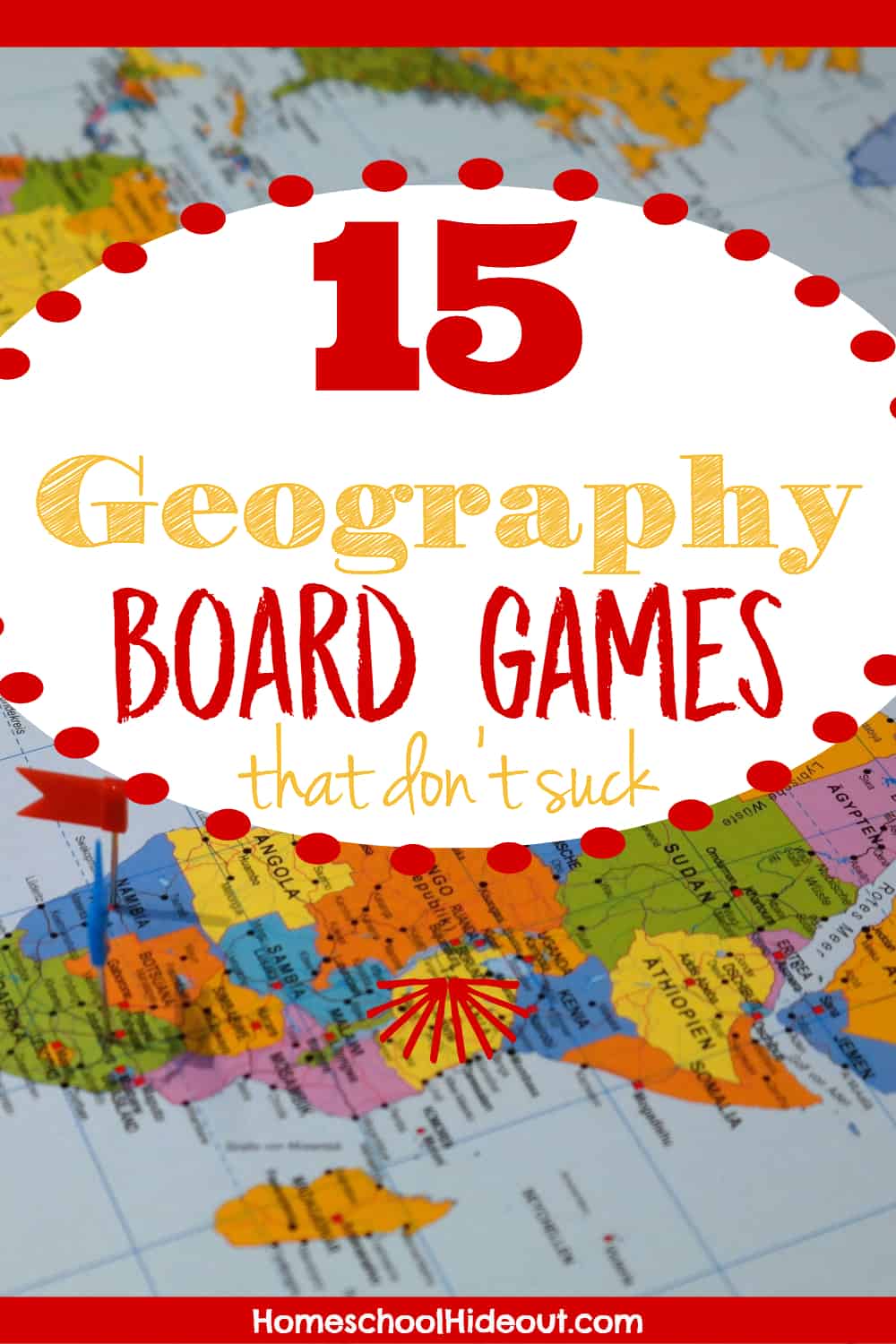 Don't miss these other fun and educational board games, arranged by subject!