High school can be scary but after hours and hours of research, I've finally got Miss Bookworm's 11th grade homeschool plans finalized! It's hard to believe we're nearing the end of our homeschool journey with our oldest. It seems like just yesterday that she was wrapping up 4th grade in public school and starting down our homeschool path.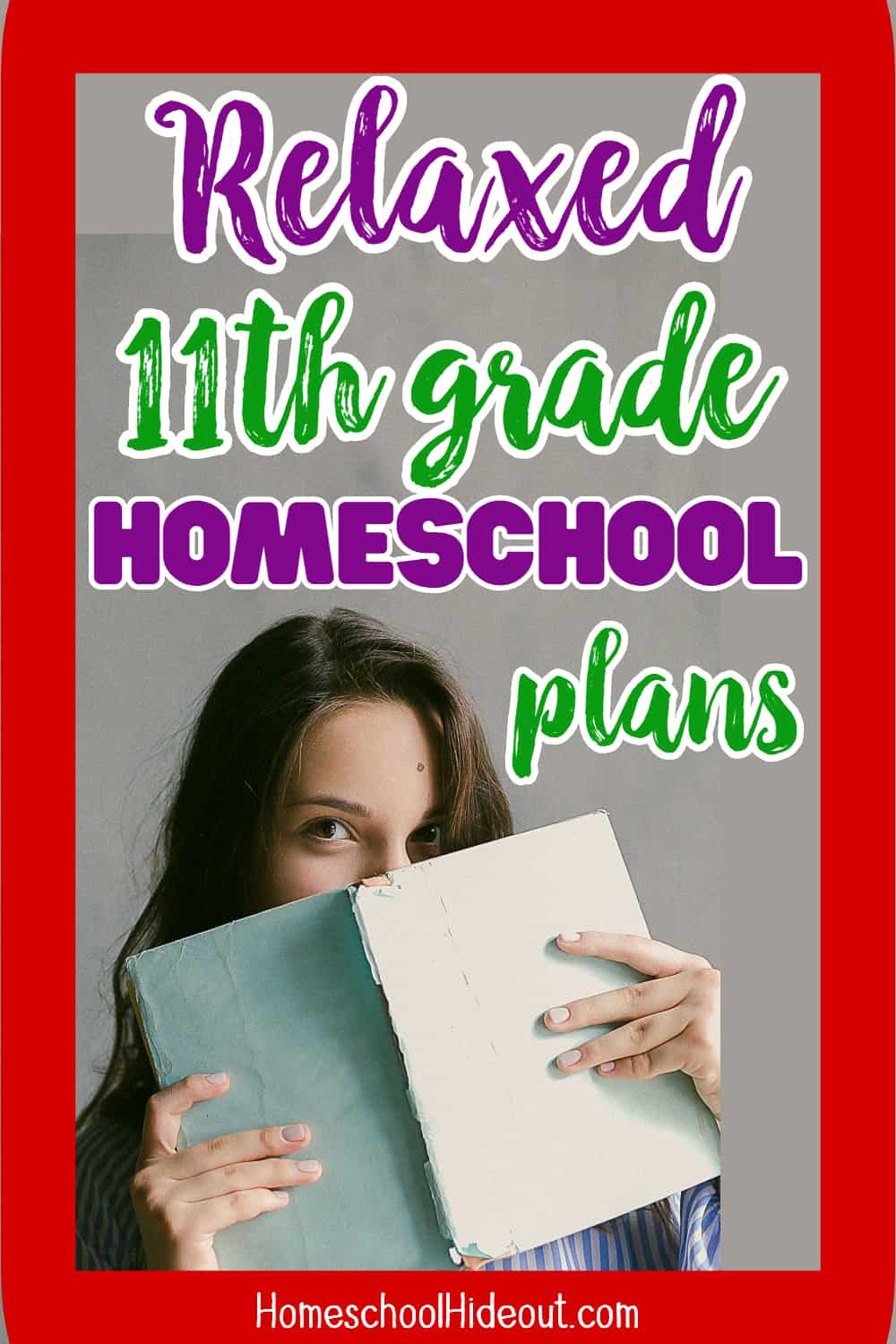 As with all my kids, I like to work with my kids' strengths and weaknesses. I don't feel like we need to focus only on improving the things we struggle with but also grow in the things we succeed at.
Miss Bookworm is really funny. She's reserved and appears to be shy at first but once you get to know her, she will keep you laughing with her "dad jokes." She loves science and history and isn't crazy about reading. (Funny, given her nickname "Miss Bookworm." She used to read constantly but she outgrew that when she discovered The Office.) 😉
She turned this summer and I think it's really hit her that she's growing up. Because of this, she's decided to try her hand at being my virtual assistant instead of getting a "real" job. She is hoping to find a job where she can work from home and still make a good living, so this will be a fun new venture for both of us.
Our Relaxed 11th Grade Homeschool Plans
Language Arts:
Miss Bookworm will be doing The Good and the Beautiful's High School 3. We've fallen in love with their format and when asked if she'd like to change, it was a hard no. The program is broken up into booklets that make it easy to work through. It also integrates art history and geography, which allows her to gain half a credit for each of those subjects.
Math:
Miss Bookworm isn't a huge fan of math so we've decided to stick with Teaching Textbooks again this year. Last year, she struggled for a bit so we switched to CTC Math. Then I learned that Teaching Textbooks offers tutoring, which we could've used instead. So, we're forging ahead with Teaching Textbooks and if we struggle at all, we'll utilize Teaching Textbook's free tutoring service.
Graphic Design:
In an effort to avoid getting a job, Miss Bookworm has agreed to becoming my blog assistant. I will pay her, and she will be earning half a credit for graphic design. She will be taking a few classes to help her learn graphic design, then she will be in charge of all images and graphics I use in my blogging business. It will be a win/win for the whole family!
PE:
Miss Manners has really taken an interest in her health and exercise, on her own. She runs over a mile every day and works out for about an hour in the evenings. As long as she continues this routine, she will earn a full PE credit.

Science:
This year, we'll be using Paradigm Accelerated Curriculum's Biology course. She loved their Integrated Physics and Chemistry so I'm crossing my fingers she enjoys their Biology program just as much.
Women In History:
Miss Bookworm is growing into an independent and strong woman. She is into women's rights, celebrating women and supporting business women. Each week, she researches and writes an essay about a famous women in history. We've bought a new book for this year that will hopefully introduce her to a few women she hasn't studied yet. She did this last year as well and enjoyed it so much, she's kept it up throughout the summer. She will earn another half a credit for this class this year.
Current Events:
With the events of the world swirling out of control, Miss Bookworm's anxiety tends to increase. As a way of staying on top of her mental health, she digs deep into current events. Along with her passion for social justice, educating the uninformed and her interest in the presidential race, she'll be earning half a credit towards current events.
History:
Miss Bookworm will be joining the rest of the family as we create a huge timeline, that will fill our hallway. We'll be using Home School in the Wood's Timeline Trio and digging deeper into the topics we're interested in. Miss Bookworm will also be watching Crash Course history videos and writing summaries of those.
Art:
Our family loves Masterpiece Society's simple art lessons. Miss Bookworm will be working through Mixing with the Masters, which helps students recreate famous works of art. I'm excited to see her explore new techniques, learn some history and expand her creativity.
Geography:
This year, we'll be working our way through Expedition Earth. We completed Roadtrip USA a few years ago and loved it, so we're excited to try this version of the history program. Along with the half a credit she'll earn through the Good and the Beautiful, this will give her a full credit towards geography.
Homeschooling high school can seem scary but it's really not much different than homeschooling any other age. You just need to allow your kiddos to follow their passions and plan accordingly. Our 11th grade homeschool plans were easy to put together because we allowed her to decide what she wants to learn.
With so many electives available to choose from, we tend to go with what my kids are naturally drawn towards. Around Christmas, we begin to reexamine if the classes are something they'd like to continue in the spring semester or if they'd like to explore something else.